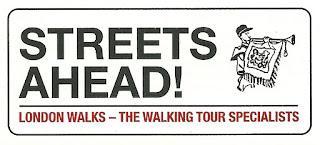 Streets Ahead

is the column from London Walks' Pen David Tucker…
Remember Goose?
The well-­fed guide at the Jack Daniels Distillery in Lynchburg, Tennessee.
When he's not in London. Which of late he has been. A lot. In the, er, shape of the ongoing Jack Daniels poster campaign on the walls of the London Underground.
Goose is in two places at the same time. Well, several places if you count all those posters plus the "in-­the-­flesh" Goose "down in the hollow" in Lynchburg.
There is, so to speak, a lot of Goose.
Dunno exactly how to put this but the more I think about it it seems to me that Goose (and Jack Daniels) is sort of hogging our attention. Trying to, anyway.
Greedy for more than their share, so to speak.
I mean, they're in Lynchburg – dawhn in the hollow – several thousand miles away. Seems to me they want something from us. I mean they ain't runnin' that poster campaign just out of neighbourliness, if you know what I mean.
Cuz when you get right down to it, they ain't neighbours.
Neighbours is the folks who share this island with us. Up north, for example. Scots. Who make the stuff as well. Who've been doing it a lot longer and – I suspect – a lot better.
With Goose hogging our attention – blocking our view – call it what you will – it's easy to forget that this country (and yes, it still is "this country", for another few months at least) makes the best "water of life" in the world.
The other thing is the general principle: local, local, local. With a lot of goods and services local's just, er, world's better than mass produced, globalized, processed, "preservativ'd", corporatised... You know – fresh and local as opposed to the chemical cocktail.
Ok, time to go real Quixotic. Get real local – in the interests of local.
The Brown-­‐Forman Corporation – the giant U.S. corporate multi-­‐national that owns Jack Daniels – is in the face of probably a million Londoners and visitors every day thanks to that poster campaign on the Tube.
A million Londoners and visitors every day. That's "Here's Goose" – ala Jack Nicholson's "Here's Johnny" in The Shining.
What I propose to do is put a tiny speck on the sun of all that Brown-­‐Forman greed for our attention. A sunspot on Goose, if you will. A speck, a sunspot in the shape of a bit of local – London local.
A Londoner who doesn't hog our attention. In fact, we know almost nothing about Hannah Glossop. She lived in Soho. A couple of centuries ago.
We know almost nothing about her – but she's a keyhole into a world that's a whole lot more real than the make-­‐believe those posters want to make us believe.
And that's where we're going – where London "spinster" Hannah Glossop is taking us – in my next post.
David is leading the Westminster Walk this afternoon at 2:00pm. The next part of this post will appear on Saturday.
A London Walk costs £9 – £7 concession. To join a London Walk, simply meet your guide at the designated tube station at the appointed time. Details of all London Walks can be found at
www.walks.com
.