I knew I'd have trouble finding the right book after She Left Me The Gun. What I wanted was something not too long and not too serious, amusing if at all possible, written necessarily by a woman, and this proved extremely hard to find.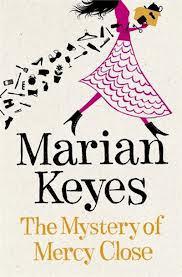 When I first began looking, short wasn't a problem. So I thought I might try Marian Keyes' latest novel,
The Mystery of Mercy Close
(which clocks in around the 500 page mark, but has biggish type and is in any case marketed as quick reading). In my head the notion of 'chick-lit' attaches itself essentially to two authors: Sophie Kinsella and Marian Keyes, and they live together under the chilly light of my general disinterest. For women's writing month I wanted to try all sorts of different books, and I thought that maybe my impressions weren't fair. However, I have to say I didn't last long with Marian Keyes. I could see objectively that it was written to be funny with exaggeration and un-subtle class conflict, but by the time the main protagonist, a down-on-her-luck private investigator, has an old boyfriend conveniently door-stepping her with wads of cash to track the missing member of an Irish boy band… Well, I wasn't in the mood to be quite that far away from any recognisable reality, no matter what the blurbs on the front said about the wonderful honesty and true-to-life qualities of Keyes' writing.
So I tried again, this time a novel I'd been offered a couple of months back for review. This was a dual-time novel, based primarily in the present day and the life of a young married woman who had recently suffered a miscarriage. The emotional repercussions of this had caused great strife in her otherwise happy marriage. And then, as in the way of so many narratives, a bundle of letters from the estate of her husband's grandmother turned up in the post to distract her. The letters dated back to the Second World War and were sent to the grandmother from her friend in London. This friend had decided to visit the National Gallery every month to see whichever painting was on display (the rest of the art having been taken away for safekeeping). So our narrator decides to go see the pictures too, following the paper trail. There was an awful lot of description of the paintings, and I just sort of knew that stuff would happen and eventually the married couple would reconcile over a new pregnancy. Not that it was a bad book; I just wasn't in the mood for that, either. Not after incestuous abuse in South Africa, it felt too much like a fuss over nothing.
So then I found myself hauling lots of books off the shelves and rejecting them one by one. Maine by Courtney Sullivan was by now too long. The Newlyweds by Nell Freudenberger had had such mixed reviews (I still want to read it!), The Darlings by Christina Alger looked good but I've already reviewed a couple of books about the banking collapse in recent memory. Similarly, Sara Paretsky's new novel, Breakdown, was appealing, but I've reviewed her before and I wanted someone new for women's writing month. Sometimes I wonder whether having too much choice actively brings this mood on: this feeling that nothing is quite right, nothing hits the spot.  I was five pages into Beautiful Ruins by Jess Walter and loving it, before realising with chagrin that 'Jess' in this case was a man.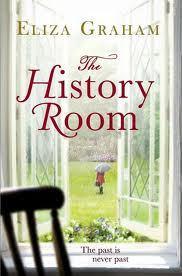 But then I finally did settle down with a novel that wasn't particularly amusing or non-serious, but which had at least engaged my attention with the writing style I wanted: clean, engaging, unpretentious. This book was
The History Room
by Eliza Graham. Meredith Cordingley has returned to teach at Letchford, a gorgeous private school in the Cotswolds where her father is headmaster, after her army husband has been seriously wounded. The loss of his leg has turned Hugh in on himself, focused on the long process of healing and unwilling to have his wife around him. Meredith's mother has recently died, and whilst she is hoping to help her father as he grows accustomed to running the school without her, it's not quite the sanctuary that Meredith had hoped for herself. And then a disturbing prank takes place in the history room, and it seems as if someone in the school is determined to make trouble. Meredith finds herself drawn into the mystery, and realises that it's personal, involving the history of her own family and her father's escape from Prague in 1968.
This was, finally the good palate cleanser I'd wanted. It's an easy and undemanding read but the set-up is intriguing and although the villains are relatively easy to spot, the way in which people are involved with one another is not clear until the very end. Like so many recently published novels, the ending is a tad sensational (note to authors and editors – power is created in fiction by the reader understanding and identifying with the emotions of the characters, and being uncomfortably aware of the way that events will affect them; sensational events are flashes in the pan, with rarely any lasting effect). But I'd really enjoyed it, even if it wasn't perfect. I'm a sucker for stories set in schools, and the army husband part rang true and was very interesting, plus that early prank was genuinely chilling.
At least now the way ahead is clear. I'll be reading some poetry for Friday, and then next week will be given over to the joint reads Dark Puss and I have been enjoying. At the end of that week, it will be time for the next creative non-fiction book, and it will be Ghosting by Jennie Erdal, the memoir of her time as a ghost-writer.