The RLS Trend Indicator (on right) has not flashed a caution sign yet for the intermediate term. I am playing for a cycle reset into either the RLS November or December potential cycle lows (on right). These counter trend plays are not any large thesis. Just a play back to support. A trend change would be required for me to get involved in any significant manner.
I tend to believe the cycle low will come in on the December date. I am uncertain, however. What occurred in October was that we had the smaller cycle hit in mid to late September when we got the initial pop, then the larger October 15 cycle low dragged it down. So, if that was a cycle reset, the December date should be the better date. This does not really matter as the way I use cycle lows is to see where we are at when they occur. That allows me to know the likely strength of the cycle move off the low. October was a large cycle wave, and it delivered the anticipated face ripping rally. I want to trade impulses not corrections. So far, the market has just done the rolling bullish correction which was not unanticipated.
Here was the correction scenario I laid out on November 17: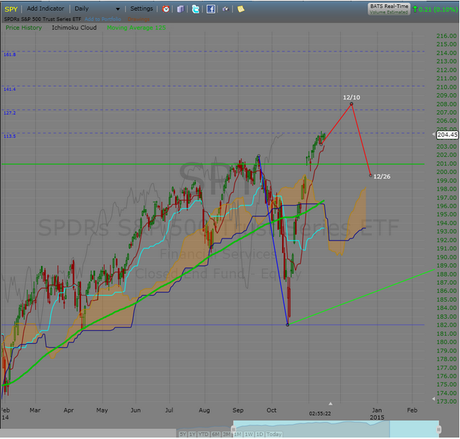 November 17 Correction Analyis.
Once we hit the area of the upper price target, I was willing to speculate on a counter trend short play. Below is the current chart, which has the 21 EMA support area in blue, and the cloud baseline support area in cyan. Those are the areas of interest for me from a price standpoint. Chart: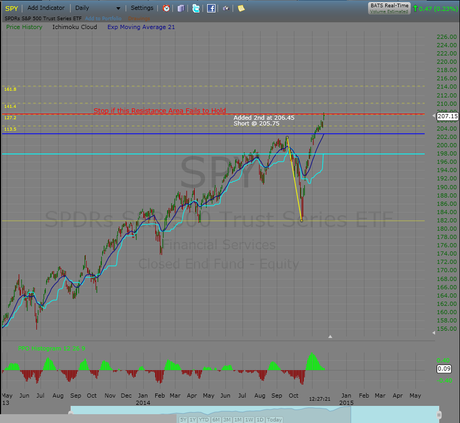 There is always a bull path and a bear path. We cannot know which path our future will choose. As always, do your own due diligence, read the Disclaimer, and make your own investment decisions.
Peace, Om,
SoulJester