Happy Halloween!
Do you have a Halloween party this evening? I'm sure your inner child is ready to be set free tonight, with your extremely scary costume and make up! I know that all your neighbors' kids are excited about Halloween too. They're as anxious and excited to go trick and treating as you're excited to greet them at the door!
Tomorrow starts the official countdown to Thanksgiving and our thoughts shift to the wonderful dinner that goes hand-in-hand with it. If you're hosting, then you may start feeling the urge to plan your duties which include planning your table setting decor. As you may remember, a couple of weeks ago I provided some ideas for your table centerpiece. For today's post, I'll give you a few ideas on place settings for your Thanksgiving Day table. Thanksgiving is the time when we use our best china for the place settings. It always gives us an excuse to bring a little shine and spark (bling!) to the table, because nice settings are a huge mood enhancer for both you and your guests. How you use your china is dependent on whether you're hosting an elegant sit-down affair or something a little more casual.
I've put together some place setting suggestions that are elegant, simple, nature-inspired and hopefully inspiring. For a more rustic or natural decor, use items such as leaves, berries, acorns and branches for your tablescape.  All of these items convey a sense of warmth and welcome. Items with fall colors (brown, orange, gold) make for rich and colorful place settings. Try mixing them with items with a great accent color, like the shiny silver and gold gourds. How gorgeous is the detailed turkey plate? So many colors are there that it's very easy to mix and match. The personalized place cards add a nice personal touch. Your guests will appreciate that extra mile you go for creating this decor. Another idea for adding a personal touch is to look for beautiful patterns and imagery that speaks to your color scheme. Your china (and for that matter your everyday dishes) are a great way to bring color to your tablescape. Remember too, that the simplest tablescapes can be just as stylish and elegant as the more elaborate ones.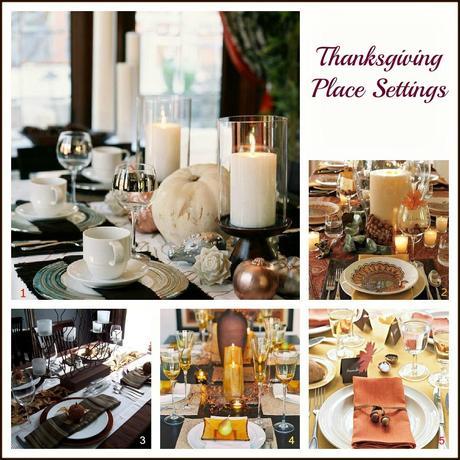 Images source:
1
, 2, 3,
4
,
5
These are just a few small decorating ideas for creating a beautiful and personalized tablescape for your Thanksgiving feast. I hope these suggestions inspire you to set a fun and festive a holiday table in your home.
Simone