This post may contain affiliate links. Please read my disclosure.
These absolutely adorable, Thanksgiving inspired cheese quesadillas are shaped like little turkeys but are completely vegetarian! Not to mention, they are mind-blowing delicious and super kid friendly. Each tasty quesadilla is filled with black beans, Monterey Jack cheese, and bell peppers sandwiched between two whole wheat tortillas. Fun, festive, and perfect for the holidays!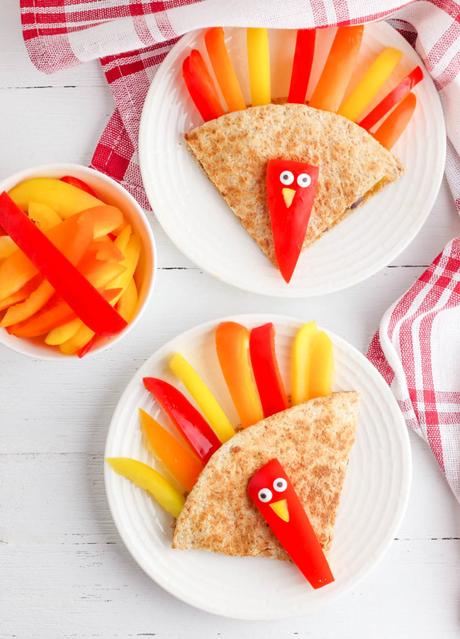 If you've been on the hunt to find easy and tasty recipes to get your kids in the kitchen, this is exactly what you've been waiting for. This recipe is the perfect quesadilla for kids, but honestly adults really enjoy them too! The best part is, they are super healthy and a great dinner option any time of the year - so if you're struggling with picky eating, you might want to try this quesadilla recipe!
Kids and adults cannot resist how adorable these cheese quesadillas are, and the fact they look like little miniature turkeys is a huge plus.
Whether you're hosting Thanksgiving, or you just want something extra special to feed your family, these turkey-shaped bean and cheese quesadillas are exactly what you need!
Tools and Equipment You'll Need
What You Need To Make A Cheese Quesadilla
Tortillas: We used whole wheat tortillas to get some extra whole grains, but you could use sprouted wheat tortillas, spelt, or even gluten-free tortillas to make this recipe gluten-free friendly.
Cheese: We chose Monterey Jack, but any cheese that melts will will do!
Beans: Black beans are the star here, but any bean or refried bean would work.
Veggies: The bell peppers are key to making these quesadillas look like little turkeys!
Candy Eyes: You only need a few of them, and they really transform these into the perfect quesadilla for kids.
Step by Step Instructions
Step 1: Heat a large skillet or griddle over medium high heat. Spread the black beans evenly over one tortilla.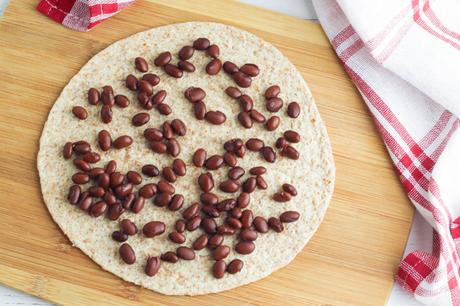 Step 2: Top the beans with the cheese. Place the second tortilla on top.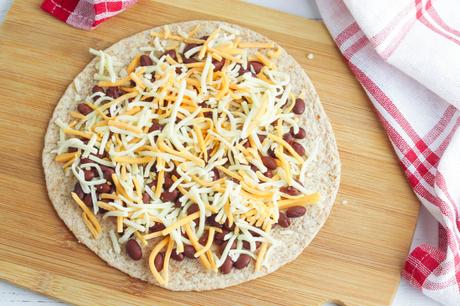 Step 3: Carefully place the quesadilla on the hot skillet and cook for 5 to 6 minutes. When the cheese begins to melt, flip the quesadilla and cook on the other side for 4 to five minutes. When the quesadilla is browned on both sides, remove it to a plate to cool.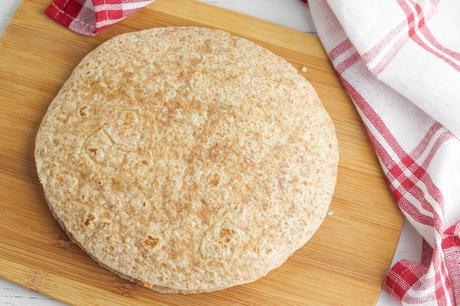 Step 4: While the quesadilla is cooling, slice each of the peppers into thin strips.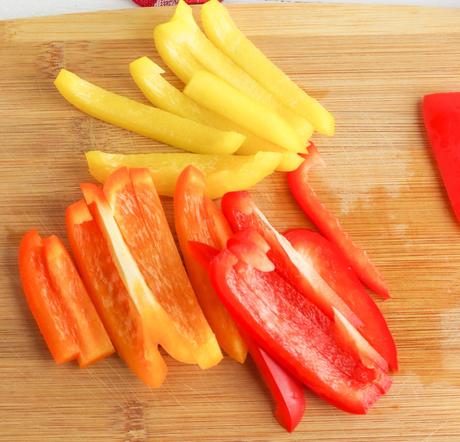 Step 5: Cut out four larger strips from the red pepper to serve as the turkey's bodies. Cut four small triangles out of the yellow pepper to use as the turkey's beak.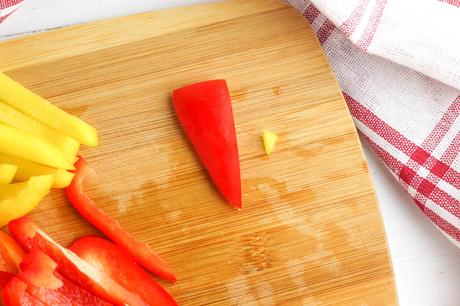 Step 6: Cut the quesadilla into four wedges.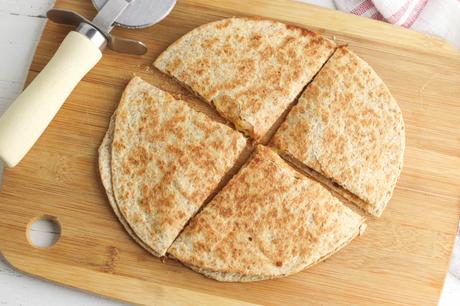 Step 7: Push the pepper strips into the round part of each web to make the turkey's feathers.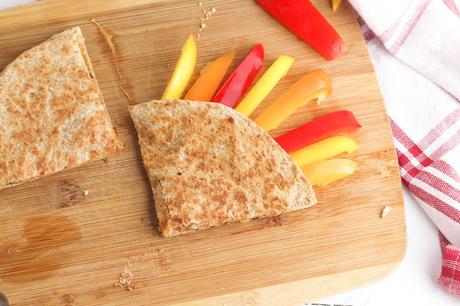 Step 7: Place the larger strip of red pepper on top of the quesadilla to make the turkey's body. You can "stick" the pepper to the quesadilla using some refried beans or melted cheese. Decorate the pepper with a small yellow triangle for the beak and two candy eyes - sticking them on using a tiny drop of honey, maple syrup or agave.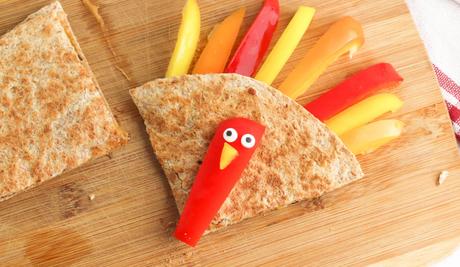 What Makes This Cheese Quesadilla Healthy?
High in Protein: Thanks to the black beans, Monterey Jack cheese, and bell peppers, each bean and cheese quesadilla has over 7 grams of vegetarian friendly protein! Protein helps keep you fuller longer and is a building block of bones, muscles, cartilage, skin, and blood.
Fiber: The whole wheat tortillas and black beans provide a healthy dose of fiber (4 grams) in each of these kid friendly quesadillas. Fiber helps you maintain a healthy weight, aids in digestion, and also keeps you full.
Vitamins and Minerals: There are lots of valuable vitamins andminerals in these cheese quesadillas. Iron, folate, vitamin K, calcium, magnesium, potassium, phosphorus, and niacin can all be found in these Thanksgiving quesadillas.
Will Kids Enjoy This Quesadilla Recipe?
Kids are going to love everything about these cute turkey shaped cheese quesadillas! Not only are they appealing because they are so festive, but they also happen to taste really good too. These cheese quesadillas are packed with beans and lots of cheesy goodness to keep the kiddos happy, content, and coming back for more.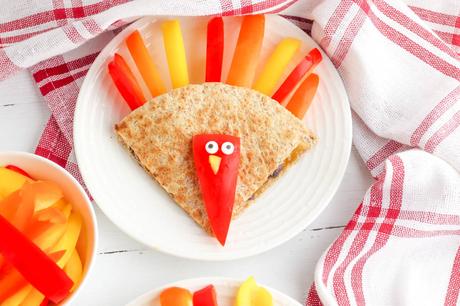 Recipe FAQs
How Do You Store Leftover Quesadillas?
If you end up with leftover cheese quesadillas, let them cool down before refrigerating. Be sure to wrap each of the quesadillas in plastic wrap or aluminum foil to protect them. Store them in an airtight container for up to three days. You can easily reheat the quesadillas in the microwave, on the stovetop, or even in your air fryer.
Can You Freeze Quesadillas?
Yes, you can freeze quesadillas. Let them cool completely, then wrap them in foil or plastic wrap to give them an added layer of protection. Then place the quesadillas in a freezer-safe bag or airtight container. They will last in the freezer for up to two months. Thaw in the fridge the night before serving, and then heat on the stove for best results.
Quesadilla Recipe Variations
There are so many different ways you can adjust this bean and cheese quesadilla. Here are a few of our favorite variations to this dish:
Cheese: You can swap out the Monterey Jack cheese for any other variety that you enjoy. Mozzarella, cheddar, and even colby jack would all be fantastic options.
Refried Beans: Try this bean and cheese quesadilla with refried black beans or refried pinto beans instead of whole black beans. You can add a bit of taco seasoning to your beans to give them some extra flavor!
Veggies: For some extra "hidden" veggies, chop up 2 cups of baby spinach and toss them into a skillet with your black beans before adding them to your quesadilla. The spinach cooks down to be so small that your kids won't even notice they're getting even more veggies in this dish.
Toppings: You can serve these kid friendly quesadillas with any toppings your family enjoys! Sour cream, Plain Greek Yogurt, Guacamole, Salsa, Green Onions, and Cilantro are some of our favorites.
Filling Variations: You can switch up the filling completely by using roasted mushrooms, wilted spinach, and cheese; or diced onion, diced peppers, corn and cheese; or any combination of veggies & cheese you like!
Top Tips For Making The Best Cheese Quesadilla
Don't overstuff quesadillas or the filling will seep out of the sides. This could end up with a huge mess that you don't want to do it.
Be sure to keep an eye on the quesadilla as it cooks so you do not burn it. Cook them on medium low heat so that the cheese melts slowly and the tortilla crisps up at the same time.
Feel free to serve these turkey-shaped quesadillas with all of your favorite toppings such as sour cream, guacamole, salsa, and just about any other quesadilla topping you love.
Spray your pan with olive oil cooking spray before you add the quesadillas to the pan - that helps to give the tortilla its crispy outer layer without adding a ton of calories and fat.
If you have tried this Cheese Quesadilla Recipe or any other recipe on my blog, then please rate it and let me know how it turned out in the comments below! You can also FOLLOW ME on
FACEBOOK
,
TWITTER
, INSTAGRAM, and
PINTEREST
to see more delicious, healthy, family friendly food!
Check Out These Other Drool-Worthy Mexican Recipes!
Turkey Shaped Cheese Quesadillas