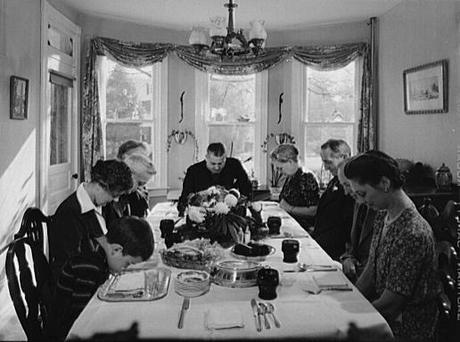 Don't feel like cooking and want to treat yourself or the family to a fine Thanksgiving meal at one of our local restaurants? Maybe pick that holiday dinner up to serve with ease in the comforts of home? Look no further as 30A EATS has you covered! Here are but a few suggestions!
Great Southern Cafe, Seaside
Make your reservations today as Thanksgiving is right around the corner! Thanksgiving Buffet from 11am to 3pm with reservations encouraged.
Organic Rosemary Roasted Turkey With cornbread stuffing and giblet gravy, Brown Bag Ham with Coca Cola Glaze, Warm Herb-Boiled Shrimp, Garlic Roasted Pork with Porcini Broth, Caesar Salad, Texas Caviar, Smoked Gouda Cheese Grits, Scallion Mashed Potatoes with Gravy Collard Greens, Green Bean Casserole, Asparagus Jack Daniel's-glazed Sweet Potatoes Cornbread Dressing, and Crawfish and Tasso Dressing. Grandma's Corn Pudding Biscuits and Cornbread Key Lime Pie, Chocolate Ganache with Macerated Cherries, Pecan Pie, and Sweet Potato Pie.
$24 per person, children 12 and under $12
Modica Market, Seaside
Taking orders now until November 15 for Thanksgiving organic free range Turkeys!
They will also have the following side items available, first come, first serve:
Cornbread Dressing, Oyster Dressing, Corn Souffle, Sweet Potato Casserole, Green Bean Casserole, Squash Casserole, Mashed Potatoes, Gravy, Cranberry Relish, Pecan Pie, Pumpkin Pie, Sweet Potato Pie, Apple Pie
Remember to order your holiday gift baskets from Modica too!
850-231-1214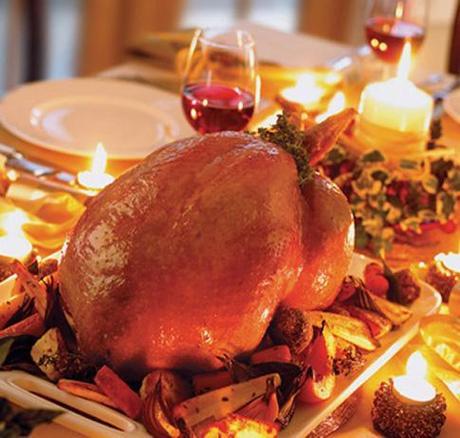 Cowgirl Kitchen Market
Every year, Cowgirl Kitchen whips up a great Thanksgiving feast for over 250 families! They are accepting online orders now until 5pm on Saturday, November 17. Orders will be ready for pickup at either the Seagrove Beach or Rosemary Beach locations on Thanksgiving Day from 9am to noon only! Menu offerings like whole smoked turkey from Hilltop Meats & gravy, cornbread dressing, mashed potatoes, praline sweet potatoes, broccoli & cheese casserole, 7-layer salad, bourbon pecan pie and all kinds of dips and sides to enjoy!
Order here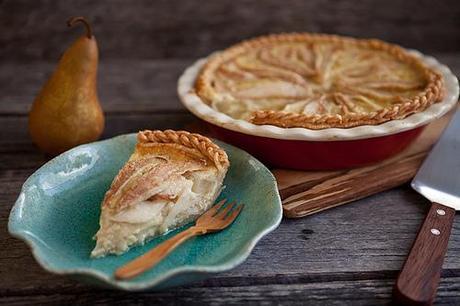 Cuvee Bistro
Cuvee Bistro's Turkey-To-Go is the perfect solution for anyone who wants a traditional Thanksgiving meal without the hassle of all the cooking and cleaning. Features a fantastic selection of Chef Tim Creehan's famous Thanksgiving Day Buffet items. Cuvee Bistro Turkey-To-Go orders must be placed by noon Friday November 16, 2012. Pickup time is between 9:30-10:30 am or 2:30-3:30 pm Thanksgiving Day, Thursday November 22, 2012. A valid credit card is required to purchase Cuvee Bistro Turkey-To-Go orders and will be processed when order form is received.
Download the Cuvee Bistro Turkey-To-Go menu order form here. You can email the form back to them, order by phone at 850-650-8900, or just drop it off with the staff at the restaurant!
Thanksgiving Day Buffet Menu
Time: 11am-3pm Cost: $34.99 Adults, 12 and under $16.99
Family Style Salads: Tuscan Bread with Whipped Butter, Mixed Greens, Feta Cheese, Kalamata Olives, Tomatoes, Roasted Bell Pepper, Balsamic Vinaigrette Cucumber and Bell Pepper Salad
Thanksgiving Dinner Buffet: Seafood Gumbo with Steamed Rice Corn and Crab Bisque Fried Louisiana Turkey carved with Chef Tim Creehan's Traditional Gravy Pork Tenderloin New Orleans BBQ Shrimp and Grits Cranberry Dressing Ms. Pam's Famous Cornbread Dressing Mashed Yukon Gold Potatoes Baked Sweet Potatoes with Toasted Pecans, Butter and Brown Sugar Roasted Brussel Sprouts Butter Poached Squash and Zucchini Fresh Creamed Corn Dessert Menu: Mini Pumpkin Banana Cream Pie Chocolate Chip Bread Pudding with Butter Rum Sauce Pecan Pie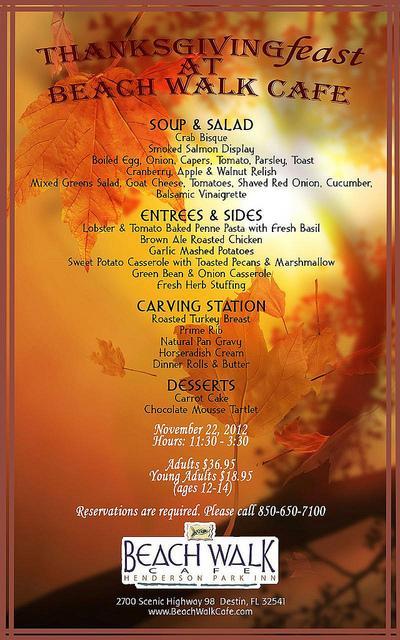 Adult dining with Gulf Views at Henderson Beach Inn for Thanksgiving
Harbor Docks: Dine In and Give Back!
If you are looking for a way to give back this holiday season consider joining Habitat Okaloosa for a traditional dinner.  Doors open on Thanksgiving at 11:00 a.m. with dinner being served until 7:00 p.m. at Harbor Docks, 538 East Highway 98 in Destin; a cash bar will be made available. Proceeds from the dinner benefit Habitat Okaloosa.
Sail Away on Thanksgiving Day upon The Solaris 
Looking for something unique to do with the family on Thanksgiving? Take a cruise on the picturesque Choctawhatchee Bay aboard the SOLARIS yacht for a memorable Thanksgiving afternoon or evening cruise. SunQuest Cruises is offering a lavish holiday buffet on November 22, from 1 to 3 pm., or 6 – 8 pm., departing from the Baytowne Marina at Sandestin Golf and Beach Resort.
Choose from a variety of sumptuous chef prepared buffet items to include Brine Roasted Turkey, Bourbon and Honey Ham, Dijon and Brown Sugar Glazed Salmon, and a variety of all the traditional trimmings and desserts. Adults $55, children 3 – 10, $35 and infants 0 – 2, $15. Seating is limited, call today to book a reservation.
Seaside Farmer's Market, Seaside
Shop November 18 from 9am to 1pm for the freshest ingredients to use in your Thanksgiving recipes, and pick up locally prepared goods ready to eat! Ocheesee Creamery, Moonlight Micro-Farms, Twin Oaks Farm and Chanticleer Bakery will be on hand to name a few. You can order your Chanticleer breads, rolls and pies for local delivery or pick up by going here.
Hilltop Meats
Hilltop Meat Co. is a family owned and operated Business of 37 years located in Andalusia, Alabama.  They smoke their famous butts, hams and turkey's the old-fashioned way-in a smokehouse-no liquid smoke! Call 334-388-2393 or 2394 for pickup, or shipping information.
St Andrew's Bay Center is selling Hilltop Smoked Hams, Cooked butts and Turkeys for Thanksgiving and Christmas. All are fully cooked ready to eat. They do this each year for their fundraiser. Call 850-265-2951 for more information.
Happy Thanksgiving from 30A EATS!
"Gratitude unlocks the fullness of life.
It turns what we have into enough, and more.
It turns denial into acceptance, chaos to order, confusion to clarity.
It can turn a meal into a feast, a house into a home, a stranger into a friend.
Gratitude makes sense of our past, brings peace for today and creates a vision for tomorrow."
– Melody Beattie
Note: If you have a restaurant in South Walton or Destin that you want included in this post, please leave a comment below, on 30A EATS Facebook page, or shoot over an email!