copyright 2018 Art of Living, PrimaMedia, Inc/Maria Liberati
When I remember Thanksgiving dinner with my grandparents. I can hear my grandmother's voice singing an Italian song from one of the Italian operas. But the dinners themselves were akin to a theatrical opera performance...
. My grandmother (nonna) Maria loved Italian opera..she loved to sing.... Whenever I see or listen to one of the great Italian Classic operas they bring me back to some of my most spectacular food memories because of her singing at our Holiday meals..
My grandmother even sang with a young Mario Lanza in a local church produced opera in South Philadelphia. But being that nonna loved opera... when I look back on memories of her dinners, what comes to mind is the theatrics of her preparation to the presentation..always almost the same thrill as witnessing an opera-from the overture to the final act.. One of her grandest 'operas' was Thanksgiving dinner. It had many acts..from the grand opening act of a table full of appetizers to the first course which was almost always her scrumptious lasagna made from freshly made pasta dough ..then the turkey arrived as the second course and everything else arrived separately as its' own course..the roasted potatoes with fresh rosemary, the spinach sauteed in garlic and olive oil, then the salad (salad is typically served last in Italian households and in Italy).Plates of fresh fruits and nuts..then fresh fruit macedonia (A type of fruit salad-made with fresh fruits in season or fruits she had preserved from the summer)..then the desserts taking stage one after the other..Every course being so special and made with such care that you had to focus on one course at a time..just like at the opera..one act at a time... And nonna was always the 'diva' of the opera from it's preparation to the presentation and the final act... And I can't forget about the audience..an audience of 35 or more-family and friends gathered around as many tables as one can fit in a kitchen..old and young and in between all 'oohed' and 'aahed' at the arrival of another course..just like the beginning of the acts of an opera... And upon the arrival of an act or course the audience became quiet... anxious to savor what was before them.. The tastes were as pleasing to the palate as the sounds of a great tenor like Pavarotti and Caruso or Mario Lanza or soprano Maria Callas..you don't want to miss a minute of a memorable performance... The Opera... and the Final Act And after dinner and all the plates had been cleared away, the memorable final act was nonna serenading us with one of her opera classics..and then when nonna took a break nonno (my grandfather) would do his part by singing one of the Italian love songs he serenaded her with when they first met...Oh what a beautiful opera and unfortunately one that I can never experience again. So I am thankful this Thanksgiving for not just the food on the table... but thankful for being given that gift of all those special memories that I can look back on. The Thanksgiving Opera...
If you also have some special Thanksgiving memories..please share with us here.... Memories are special gifts to be shared....to be thankful for!
For great Holiday recipes and this Gourmand World winning book makes a great Holiday gift, get your copy of The Basic Art of Italian Cooking: Holidays and Special Occasions-2nd edition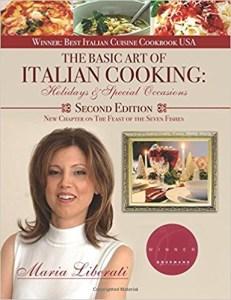 Maria Liberati