I'm honored to have this fabulous review in the book publishing industry's trade magazine,PUBLISHERS WEEKLY.
What a great way to start a Monday!
The Baby Planner
Josie Brown. S&S/Gallery, $15 trade paper (352p) ISBN 978-1-4391-9712-7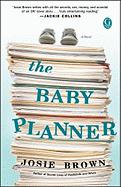 Brown (Secret Lives of Husbands and Wives) takes baby mania to its illogical, hysterical extreme in this bubbly romp. Thirty-seven-year-old Katie's biological clock is ticking like a time bomb, and she turns her baby obsession into a wildly successful consultant gig planning nurseries for pregnant women too rich, clueless, bedridden, or busy to do the task themselves. Even grieving widower Seth, who works with Katie's child-shy husband, Alex, on a demanding new business venture, needs Katie's services to help him manage his perplexing new role as a single dad. But what begins as yet another vanilla chick lit foray into Bugaboo country turns into something bigger than a satire of status-obsessed Bay Area yummy mummies as Brown takes a dark look at the fears of parenthood and family, with Katie's heartbreaking longing for a child unveiling a disturbing reality about her marriage and family. Still, the message from the somber realities is one full of hope: love makes a family, commitment keeps it together. (Apr. 2011)
Want to read an excerpt? Click here. You can also enter my contest, for a $100 gift card to the bookstore of your choice.  
Enjoy and good luck!
I have mine, now you have a chance to have yours, too,