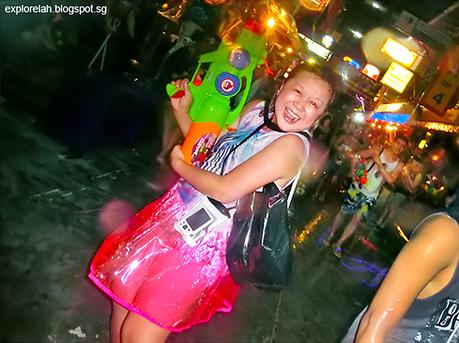 All ready for Songkran – check out my big 'gun' and vinyl fluorescent skirt!
One of the items on my bucket list is experiencing Songkran, otherwise known as the Thai New Year or Thailand Water Festival. Celebrated every 13-15 April, Thais traditionally celebrate by politely sprinkling water on the hands of family members and close friends for good blessing, pay their respects to Buddha and engage in merit-making. Today, visitors to the Land of Smiles would know Songkran more as a water play extravaganza rather than a cultural event with it taking on a more festive mood, where the gentle sprinkling on family elders' hands transforms into dousing complete strangers with water hoses and Super Soakers. I hesistated going for a long time cos' I heard that the locals only target pretty girls – what if I come home all nice and dry? That would be the biggest embarrassment of my life! So armed with a small bottle of water (just in case the 'worst' happens and I need to douse myself) and an adventurous spirit, I conquered my first Songkran with a group of fun pals.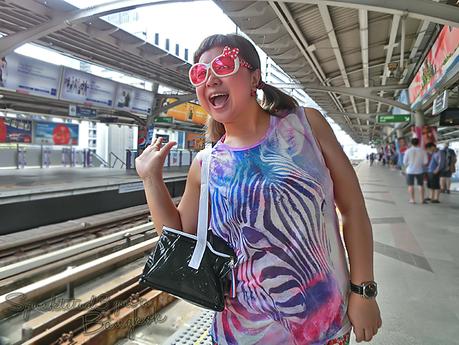 Sawadee ka! We arrived a day earlier to suss out our 'battlefield'. Look what I brought for a waterproof bag – a lunch warmer bag from Daiso lol! It worked beautifully :)
Songkran is celebrated in around Thailand, with major celebrations happening in Bangkok, Chiang Mai (the epicentre of Songkran), Hua Hin, Khon Kaen, Pattaya and Phuket. Smaller towns may celebrate in a more traditional and religious manner rather than water fights and merry-making. Half of Bangkok's residents travel back to their home towns for family re-unions, but in their place an entire world of merrymakers descend upon the city like throngs of bees. Most offices, banks and shops/restaurants are closed during Songkran, so do ask if there is a particular shop/restaurant that you are planning to visit during your trip. Shopping malls and some stalls at Chatuchak do stay open.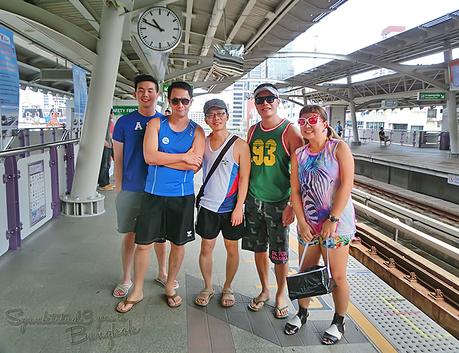 My water 'comrades"!
Songkran, traditionally…
Until Thailand adopted the International Calendar, Songkran originally followed the solar calendar which meant it fell on different dates every year. Now it happens every 13-15 April, which means it's easier for us to plan our holidays lol! The significance of the water festival is about cleansing, purification and receiving blessings for the new year. It is also a time for family reunions, temple visiting, doing good deeds and spring-cleaning the house.
Thais perform the Rod Nam Dum Hua ritual (National Elderly Day) on the first day of Songkran, where young people would sprinkle water into the elders' palms as a form of respect and to ask for blessings. The second day of Songkran is National Family Day where families spend quality time together. The Thais would also partake in religious activities such as giving alms to the monks and 'bathing' Buddha statues both at home and at the temple as well as engage in merit-making activities during the festival.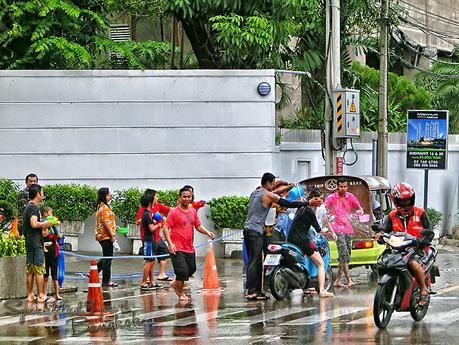 Motorcyclists are splashed with glee, although this is not encouraged due to road safety concerns. This person was doused cos' he stopped for the tuk-tuk in front.
Songkran now…as the world knows it
As the world gets to know of Songkran over the years, the festival starts to take on a more merry-making spirit, and splashing complete strangers with water has become the main attraction of the festival. Festivities have stretched to almost a week-long. The only constant is the symbolism of water washing away misfortunes in the past year, and welcoming the new year with good luck. Songkrans happens during the hottest time of the year too, so it's the perfect time for water play!
Water fights take place in the form of water guns, buckets to merry-makers on pickups spraying pedestrains with garden hoses attached to a gallon of water. (Firetrucks also get into the action with their firehoses!) Some go for hardcore by adding ice in the water. People will also smear a white paste on your face, which is suppoused to bring protection and ward off bad spirits. I was more worried about welcoming pimples (which thankfully didn't happen). As the night approaches, dancing and partying takes place till the wee hours, only to resume when day breaks. Wicked.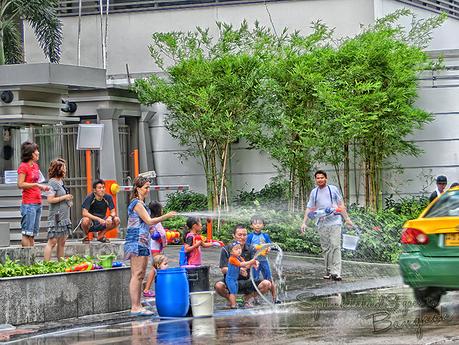 Even expatriates join in the fun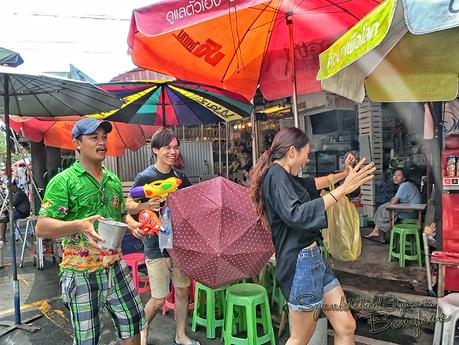 See what I meant by them only going for the pretty girls lol
Getting chased by revelers while walking on the street is a common sight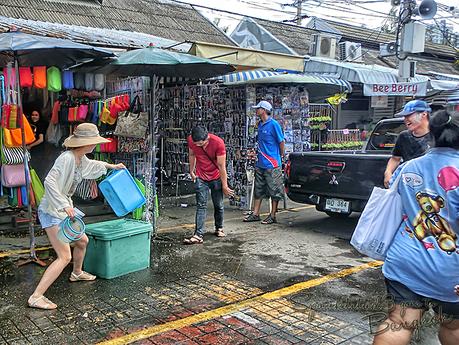 This Japanese tourist is no pushover – she retaliates with a fierce splash at the Thai stallowner! She couldn't speak much English not Thai, but I could still clearly hear a "What the f***!" when she was ambushed with a splash haha. But it's all in good fun.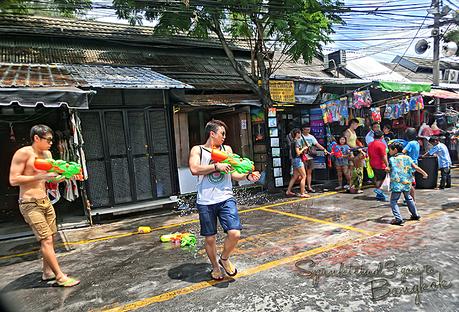 Chatuchak turns into a battlezone
The splashing happens mainly around the building exterior, so quickly scoot inside the shops if you want to avoid the splashing. (although I doubt you will escape totally dry) Remember to ask the stall owners to give your purchases double protection.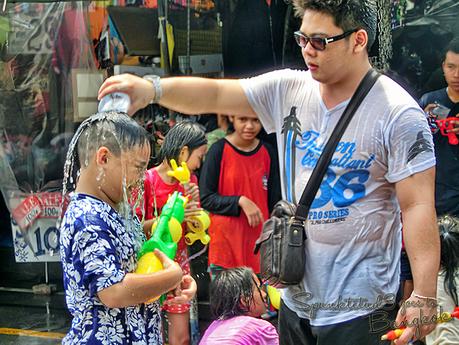 Aiyoh, why you bully the boy?!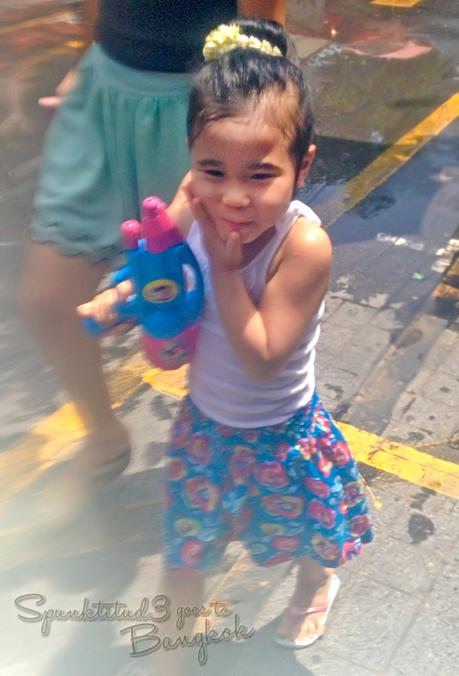 This little girl was obviously having the time of her life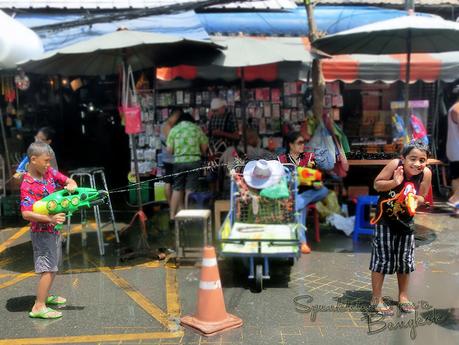 At temperatures averaging 40 degree Celsius, the water drenching is actually cooling & nice!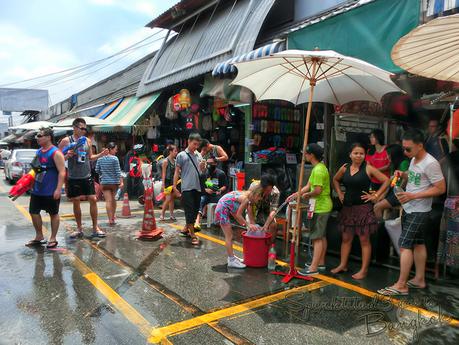 Some nice stalls will put out a pail of water for revelers to refill their water guns. Thank you, you will be abundantly blessed for the new year!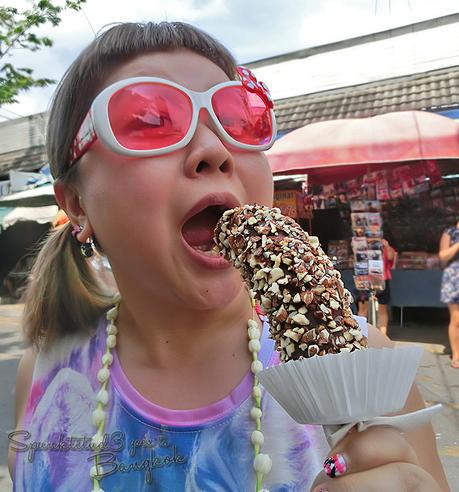 Meanwhile, I indulge in my favorite cooling activity at Chatuchak – a chocolate-coated frozen banana, uber yummz! I also received a jasmine garland from a food stall there, so I smelled pretty awesome the entire day :)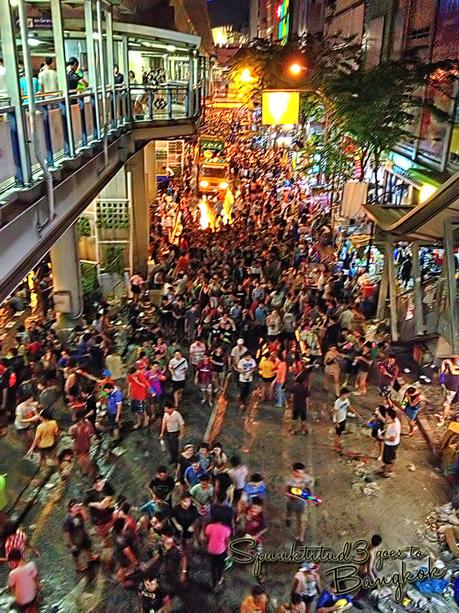 The largest and wildest crowd in Bangkok has to be at Patpong/Silom near Sala Daeng BTS. I couldn't believe the number of people in sight (this was taken when the crowds were already dispersing)! You can get a pretty good bird's eye view of the merry-making on the second level walkway.
Otherwise head to Khao San Road to be in the thick of action. Both Silom and Khao San Road are closed to traffic for 2 days of festivities.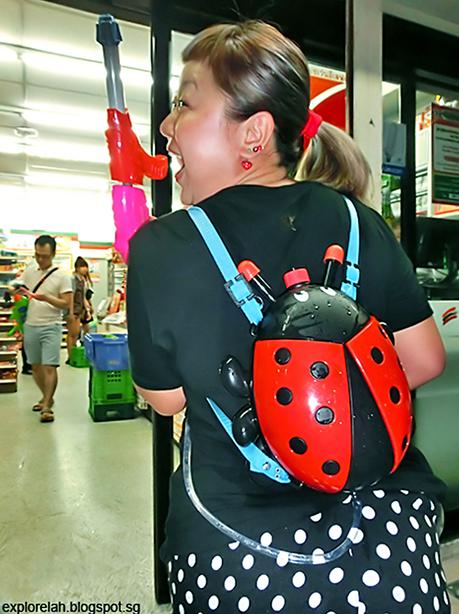 I wasted no time in getting 'armed' with a cute ladybug bought at the convenience stall. Water guns can cost anywhere from 199bht to 500bht (mine was 250 baht), and our experience was that street vendors might be more likely to charge more so get ready to bargain. You can check the 'market rate' for the various sizes at a nearby convenience stall before embarking on your bargaining.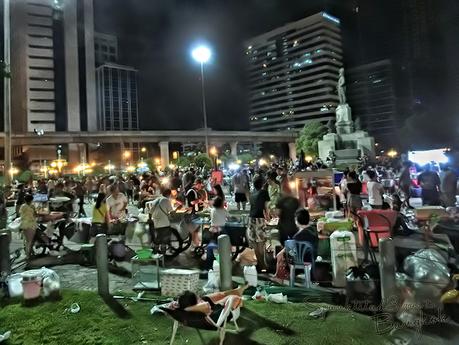 The square at Silom BTS turns into a marketplace selling water guns, food and an endless supply of beer.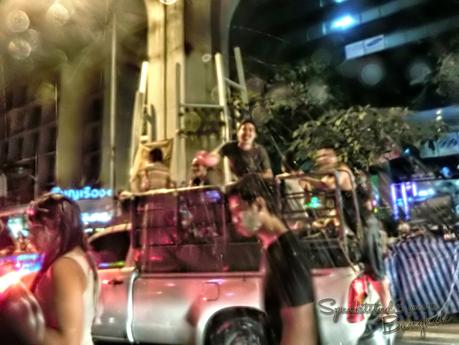 Watch out for passing vehicles spraying! This one caught us by surprise so I could only manage a 'dreamy' shot lol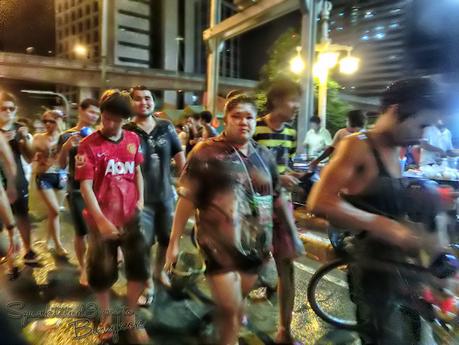 She must be so prosperously blessed with white paste on her face and drenched from head-to-toe.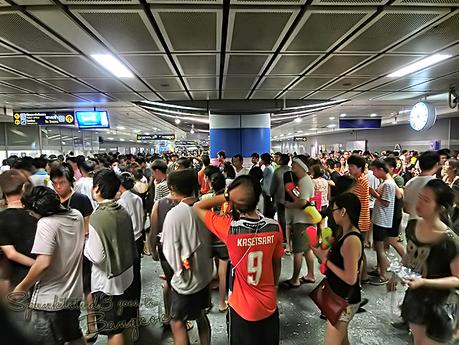 Silom BTS was a nightmare! We were scratching our heads too on how to get to our next destination.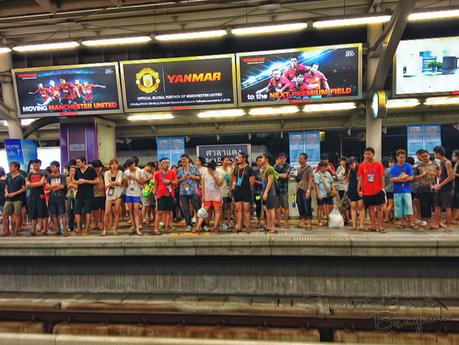 I must say the people were quite a sight; I was pretty amused :D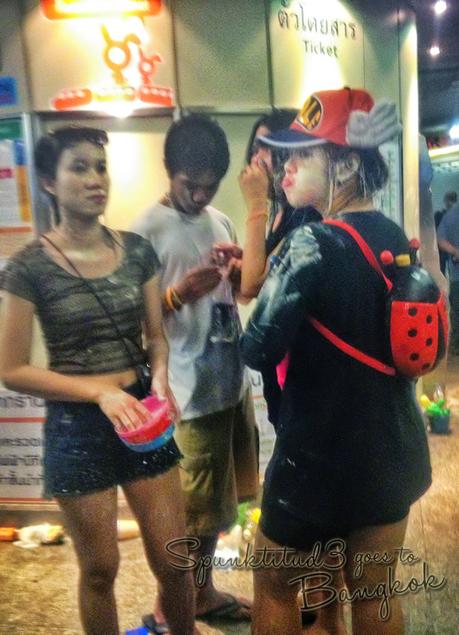 The winged lass has the same ladybug as me!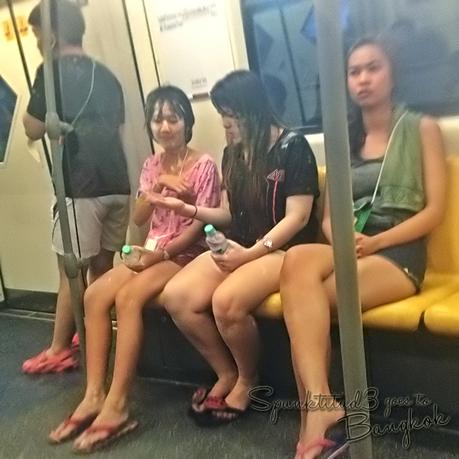 I am amazed the BTS actually allowed revelers to take the trains; poor cleaners!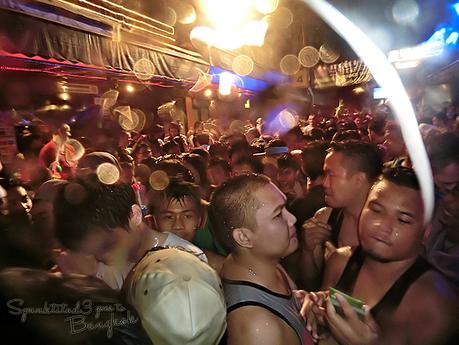 We had the most fun at this little street we stumbled upon at Silom Road; it was lined with watering holes and lots of revelers! We enjoyed the action so much we went back the next night as well.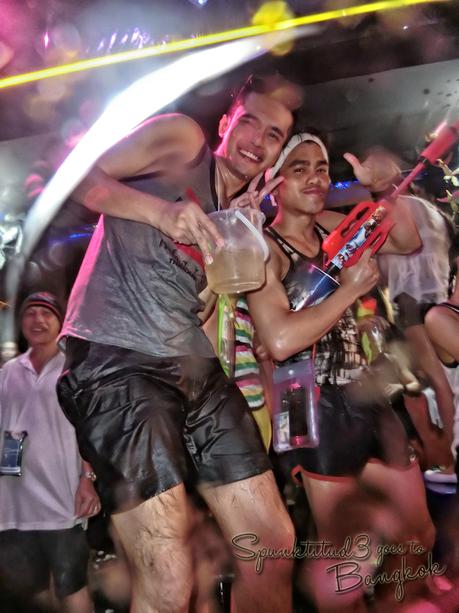 Tag team – A watergun in one hand and a pail of beer in the other
The good-natured Thais were always ready for a picture. In fact, a few tapped on my shoulder and insisted I take a picture of them :)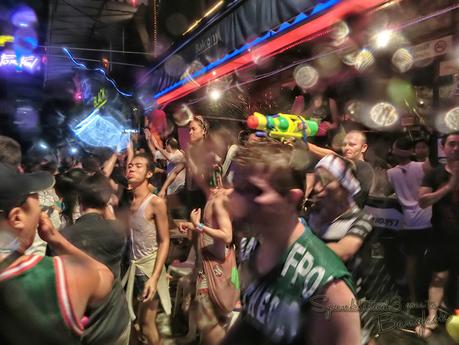 Let the Games begin!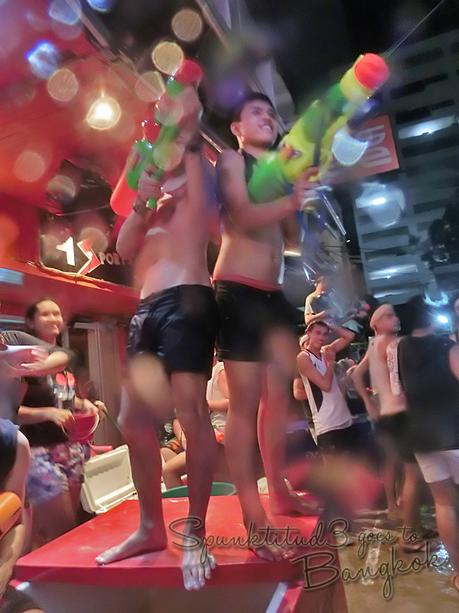 Super soakers and a high vantage point reign – you become easy targets lol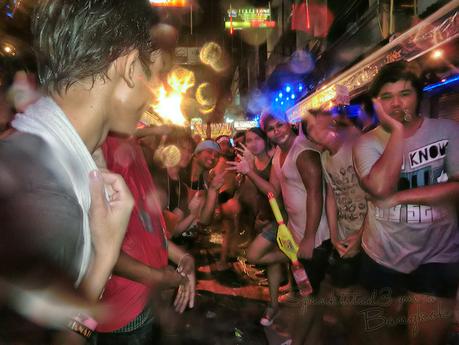 Hello everyone!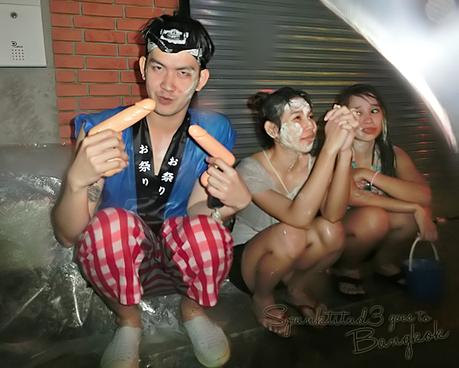 Hmmm, I think your tools are too tiny for a good fight, but very suggestive squirts indeed… I was more game to carry the squirting ice cream cone I got as a free gift hee.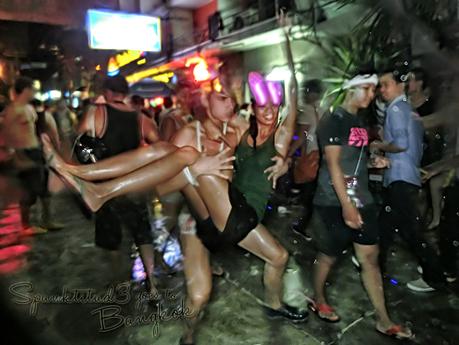 We have Tarzan and a Miss Minnie.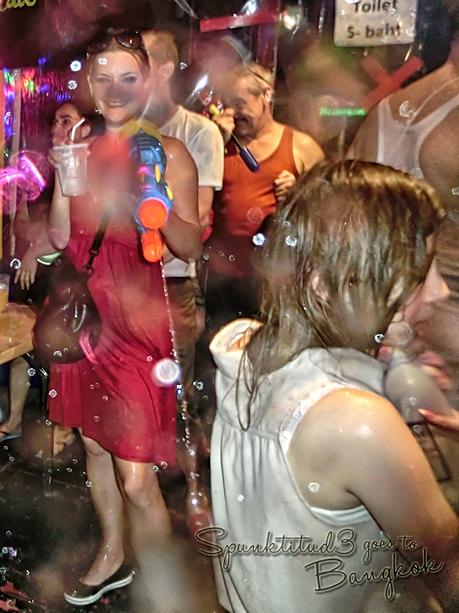 Talk about multi-tasking – this lady could sip her drink and take aim at me.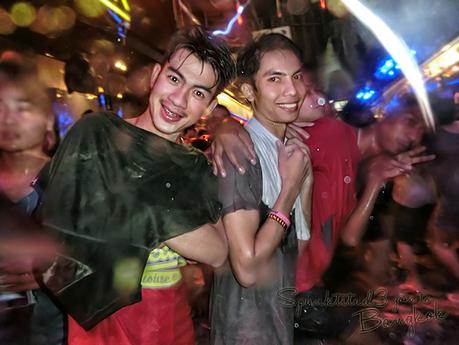 Thailand is indeed the Land of Smiles! :)
Watch the 'live' action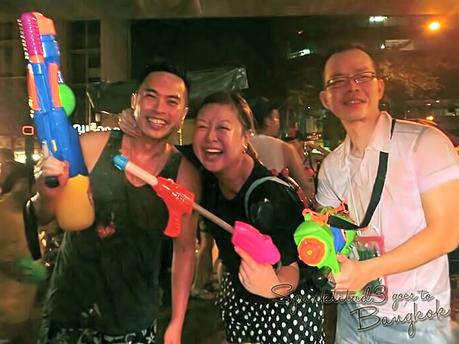 We had so much fun! The festival brought our great teamwork amongst friends and we thoroughly enjoyed our times together. This will definitely not be the last Songkran we visit!
If water fights and partying are too wild for your liking, you can still celebrate Songkran the traditional way by visiting temples where they have religious activities. You can visit temples in the Rattanokosin area like Wat Pho, Wat Phra Kaeo, Wat Suthat Thepphawararam, Wat Chana Songkhram, Wat Boworn, Wat Benchamabophit, Wat Rakhang Khositaram, Wat Arun and Wat Kanlaya.
Songkran Survival Tips
Keep all electronics and valuables in waterproof bags once you step out of the plane (you never know when you are gonna get splashed). There are street vendors selling waterproof vinyl bags for mobile phones if you forget to bring; for cameras I would strongly encourage you to bring or in desperate times, use Ziploc bags – they are a life saver.
Go with a group of friends! You'll have more fun during 'water fights' with comrades standing by you.
Bring lightweight and cheap clothes, since you will be wet (& dirty) 80% of the time (20% is when you are sleeping or hiding in the malls). Do bring an extra set (or two) of clothes just in case your clothes do not dry in time. Otherwise, just buy there.
Please, please put on some clothes – I have seen drenched men wearing only boxer shorts, and what I saw was enough to make me lose my appetite. Both lunch and dinner.
Try not to bring too many things out as you will be busy dodging water pistols and to prevent pickpocketing.
Take the public transport if you are heading out –traffic is paralyzed to a snail's pace during festivities.
You can bring your own water guns or easily buy one at a convenience stall/ along the streets.
Do not throw dirty water – no one wants to smell like the sewer or grow pimples/rashes after!
'Ammunition refill stations' are aplenty – you can buy water from the numerous stores/street vendors who have set up stalls along the street, or simply buy a drink from the stall and politely ask to refill your water guns.
Go easy on the splashing – Remember the main objective is to give others blessing, not start World War Three.
After you have been splashed (blessed), wish the person "Sawasdee Pee Mai" which means "Happy New Year!" or "Suk San Wan Songkran" which means "Happy Songkran Day!"
Do not throw water at motorcyclists or use whistles to stop them, to prevent road accidents. Every year, hundreds of motorists die during Songkran (granted half of them were drunk).
Lock your car/taxi door – some over-enthusiastic/drunk reveler (occasionally) may attempt to open your car door to give you a splash.
Drunken revelry is a big part of Songkran. Expect hordes of people dancing and drinking in the streets. If you are uncomfortable with such scenes, stay inside the shopping malls or your hotel (then why did you even bother to come during this period???). Also avoid Silom and Khao San Road, the main merry-making districts.
Safety is of utmost importance – take care of your valuables and your chastity – my guy friend got molested when we went into an overly crowded street. If the person is too close for comfort, simply walk/run away.
Visit a temple or give alms to a monk! Making merit is a key part of Songkran.
Last and most importantly – Go in good spirit and have some good-natured fun; you'll be abundantly blessed for the year to come! :)