This is my version of Thai yellow curry, its got easy to find ingredients and is packed full of vegetables, its also one of the most amazing things I've ever eaten.
I'm also trying to consume more turmeric for the health benefits, but boy oh boy, that tea, that tea is really disgusting!  and one little spill and you are stained yellow forever.  This is an easier way to get turmeric in and yet its so delicious.  This curry is also packed with ginger, cayenne pepper and garlic making it a great meal to have for those sick days.
THAI YELLOW CURRY - serves 6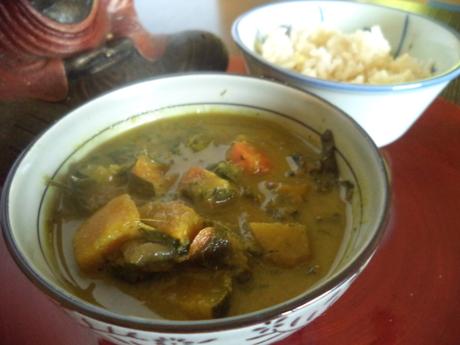 Ingredients
Curry Paste
1 small onion
3 garlic cloves
2 tsp coriander powder
2 tsp cumin powder
1/2 tsp cayenne pepper
1/2 tsp black pepper
2 tsp turmeric powder
1/2 inch fresh ginger
1 chilli, I used a roasted green chilli, choose any one you like or leave it out
1 tsp lemon zest
1 stalk  lemon grass
3 tbsp coconut milk
Main ingredients
1 large carrot, chopped
1 medium sweet potato, peeled and chopped.  I cut mine on the smaller side so they cook faster
1 tiny butternut, peeled and chopped
4 brown mushrooms, washed and chopped
1 red pepper, chopped
1 cup spinach, chopped
1/2 cup kale, chopped
1 cup coconut milk
1 tsp sugar, or liquid sweetener of choice
2 tbsp soy sauce
1 1/2 cups vegetable stock
salt if needed
Directions
Place all the curry paste ingredients in a blender and blend until smooth.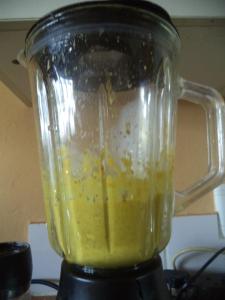 Heat a large pan over medium heat.  Drizzle a little bit of oil in the pan and saute the paste for 2 minutes.   Add in 1/2 cup of coconut milk.
Add all the veggies except the spinach, give it a good old stir.
Pour in the vegetable stock, lower heat, cover the pan and let simmer until the vegetables are tender.
Add the spinach into the pan, rest of coconut milk, soy sauce and sugar.  Let cook for 2 -3 more minutes.  Taste and adjust seasoning.
Serve with brown rice or quinoa.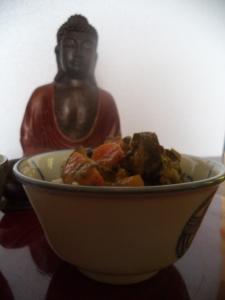 This is a very versatile recipe, play around with your vegetable selection.  Or just raid your fridge and use what you have on hand.
Happy almost Easter weekend!