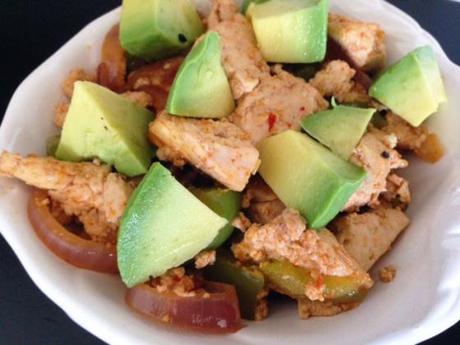 American breakfast is not traditionally vegan-friendly. Eggs are often a huge part of breakfast whether the meal includes scrambled eggs, an omelet, muffins or an egg sandwich. Eggs are also very difficult to replicate. However, tofu scramble can come pretty close to scrambled eggs. Of course, throwing in a few veggies and seasoning makes the dish even better than simple scrambled eggs. This was my first time adding some Thai flavoring to my basic tofu scramble recipe and it was delicious.
Ingredients:
2 Tbsp vegetable oil
1 tsp red curry paste
1 tsp Thai chili garlic paste
1 Tbsp soy sauce
1 Tbsp brown sugar
1/2 red onion, diced
1/2 green bell pepper, diced
2 cloves garlic, minced
1 block tofu, drained and pressed, crumbled into bite-sized pieces
1 tsp onion powder
Salt and pepper, to taste
1/2 avocado chopped into bite-sized pieces
Directions:
1. Heat the vegetable oil in a large skillet or heavy wok over medium-high heat. Add the red curry paste, Thai chili garlic paste, soy sauce, and brown sugar. Bring ingredients to a boil and reduce heat to low so that the sauce is simmering.
2. Saute the onion, bell pepper, garlic and tofu in the sauce until onions are translucent.
3. Season with onion powder, salt and pepper and cook for an additional 5-7 minutes.
4. Top the dish with fresh avocado.
Yields 2-3 servings.