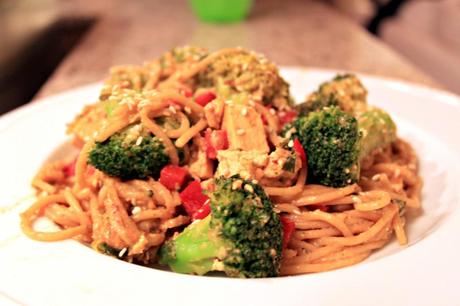 We've all had those days: you leave the house at 6:30am, have a crazy busy long day at work, run a bunch of errands before you get home and end up walking in the door when you'd normally like to be done with dinner, knowing that you still have some work to finish up at night. That was my day on Tuesday and by the time I got home I was about ready to collapse!
But I couldn't because somehow, the husband had managed to have an even crazier day than I did. And when I called him on my way home and asked what we were doing for dinner, he said, "Do you think you could make something? I'd really like that."
How could I say no to that?? If there's one thing I've learned since I got married, it's that sometimes you gotta take one for the team. My husband doesn't usually ask for stuff like that, so I know that when he does, it's because he's really had a hard day. So even though the last thing I wanted to be doing was cooking dinner (I wanted to curl up on the couch with a bowl of ice cream and watch Glee), I opened our fridge and created this dish in about 40 minutes.
So here it is: my Thai-inspired Noodle dish with peanut sauce; or: The Hubby's Noodle Dinner.
The Ingredients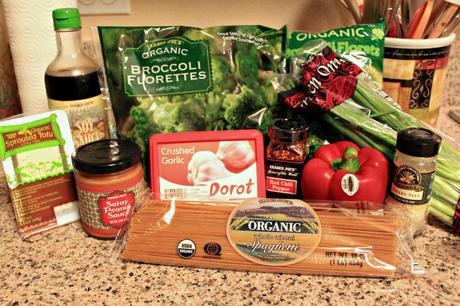 Everything I used in this dish was literally stuff I had in my pantry or fridge:
Whole wheat spaghetti
Soy Sauce (a few Tbsp)
Firm Tofu
3 cloves garlic
1 package frozen Broccoli florets
1 red pepper, diced
1/3 cup green onions, diced
1/3 jar of Trader Joe's Satay Peanut Sauce
A couple Tbsp of crunchy peanut butter (not pictured above)
1 Tbsp sesame seeds, plus more to garnish
A pinch of crushed red pepper, to taste
Olive oil cooking spray
The Directions
d
Step 1:
Dice the red pepper, green onion and tofu into bite sized chunks
d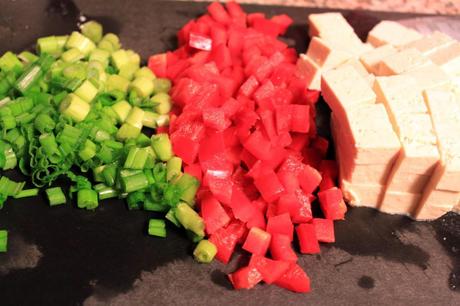 d
Step 2:
Heat a large pan over medium heat. Spray the olive oil cooking spray to coat the pan, and toss the tofu in. Lightly fry the tofu until it's slightly browned, and then add the red pepper, green onion and garlic.
d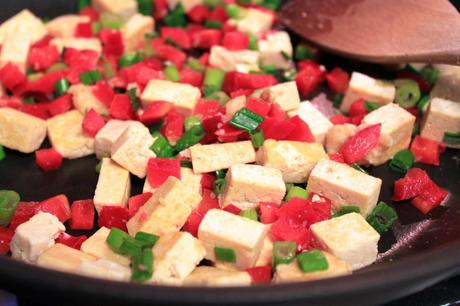 d
Step 3: Cook your whole wheat spaghetti according to package directions.
Step 4: While the spaghetti is cooking, add the frozen broccoli, soy sauce, peanut butter, and satay peanut sauce to the tofu mixture. Once the spaghetti is done, transfer the noodles to the veggie mixture and stir to combine. Sprinkle the sesame seeds and stir them in as well.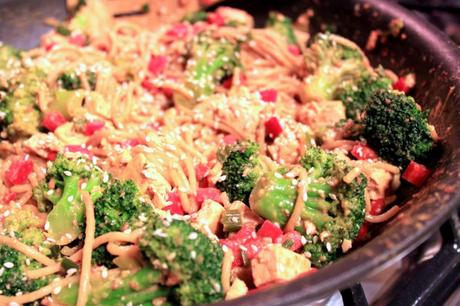 Quick tip: Make sure your peanut butter is at room temperature, so it easily combines with the rest of the ingredients! Otherwise you'll be waiting for it to heat through for a while.
Step 5: Add the crushed red pepper to taste and heat through. Add soy sauce or salt to taste (if needed – mine didn't need any more).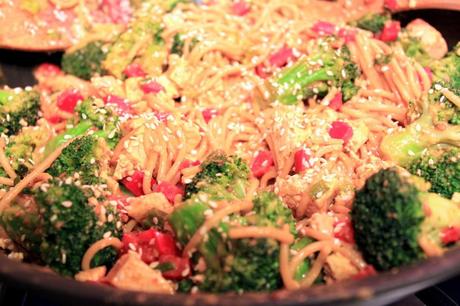 Serve and enjoy!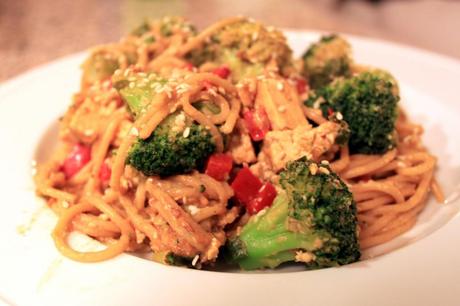 I wasn't sure how this dish would turn out because I literally threw it together, but the husband absolutely loved it. He said it was really tasty and flavorful and once I tasted it, I was pretty happy with it too! Next time I'll probably add more tofu, and cut the broccoli florets smaller because the husband likes smaller chunks of veggies

Hope you enjoy this recipe as much as we did!