Blogging Marathon# 62: Week 3/ Day 2
Theme: Cook with Coconut
Dish: Thai Coconut Lime Dressing
Today's dish uses coconut milk in a very interesting way, in a salad dressing. I bookmarked
this recipe
from
Food52
a while back and made it for this week's 'Cook with coconut' theme because who doesn't like creamy coconut dressing with Thai flavors and served with colorful veggies. I sure do :-)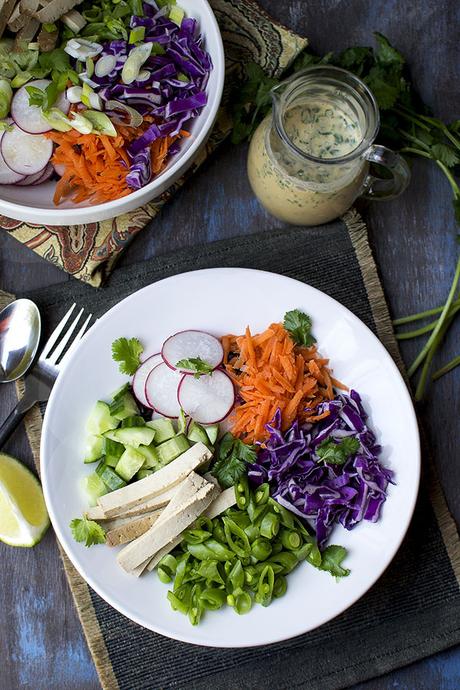 This recipe could not be simpler, mix all the ingredients for the dressing, chop all the ingredients for the salad, cook rice and assemble. Original recipe used fish sauce in the dressing and I subbed it with low-sodium tamari (soy sauce would work well too). I'm sure fish sauce is much more flavorful than just soy sauce, so if you can your hands on some vegan or vegetarian fish sauce, by all means use that. This dressing is great for salads or as a dipping sauce for spring rolls or lettuce cups.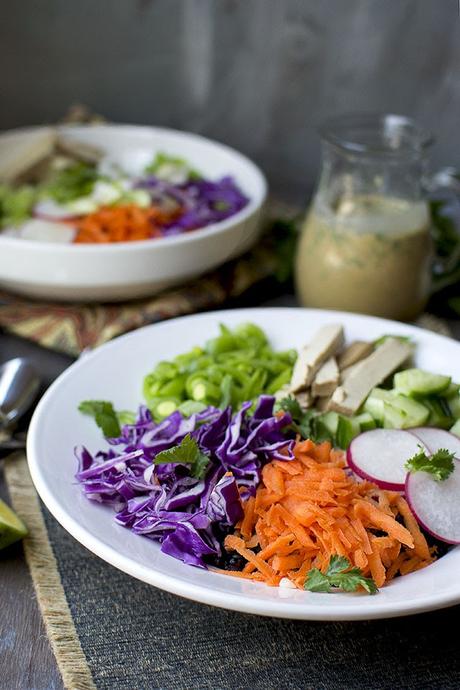 The coconut & lime dressing is then poured our a colorful assortment of veggies and black rice. I didn't notice until later that veggies completely covered up my rice in the photos, but if you look real close (I guess) you can see a few grains of black rice. Brown rice would be a great alternate too.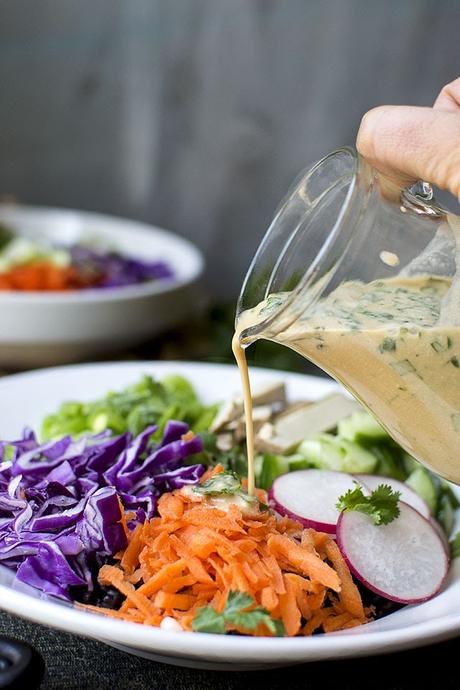 Also original recipe had shredded chicken which I subbed with some store bought baked tofu. But you can bake your own tofu or simply stir fry until light brown, season with soy sauce, salt and pepper. Or use cooked chickpeas or even paneer to add protein to the dish. This salad would be great to serve for lunch or light dinner.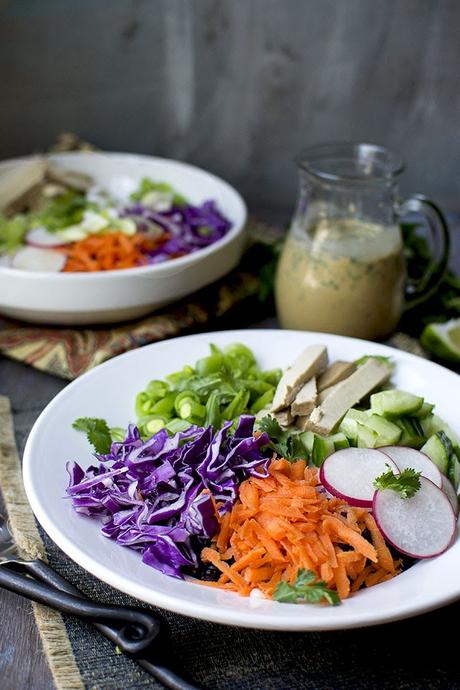 Thai Coconut Lime Dressing (Serves 2)
Ingredients
:
For the Dressing:

½cup

Coconut Milk

3tbsp

Lime juice

1tbsp

Palm sugar or light brown sugar

2tbsp

Fresh Lemongrass, finely minced

1

Green Chili, finely chopped

1

Garlic clove, finely minced

2tbsp

Cilantro, finely chopped

2~3tbsp

Low sodium Tamari (or low-sodium Soy sauce)

For the Salad:

1½cups

Brown Rice or Black Rice

As needed

Baked Tofu

1

Small English Cucumber, diced

2

Large Radishes, thinly sliced

½cup

Red Cabbage, thinly shredded

1

Small Carrot, shredded

1cup

Snap Peas, cut on bias

2

Scallions, thinly sliced
Method
:
To make the dressing: Whisk together lime juice, tamari (or soy sauce), coconut milk and palm sugar in a small bowl until the sugar is dissolved. Add chili, lemongrass, garlic and cilantro; stir until combined and set aside.
To serve: Divide the rice equally between 2 serving bowls. Arrange all the veggies on top of the rice. Drizzle with the dressing and serve right away.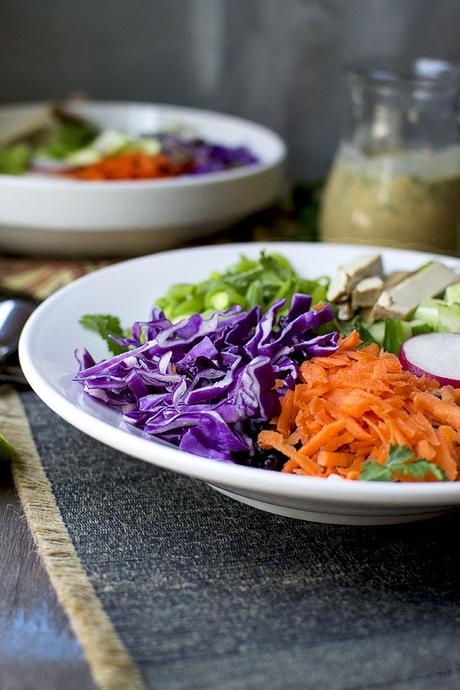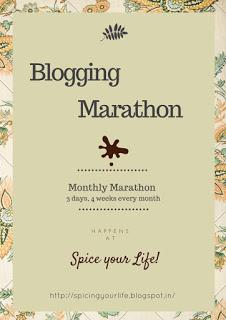 Lets check out what my fellow marathoners have cooked today for 
BM# 62
.