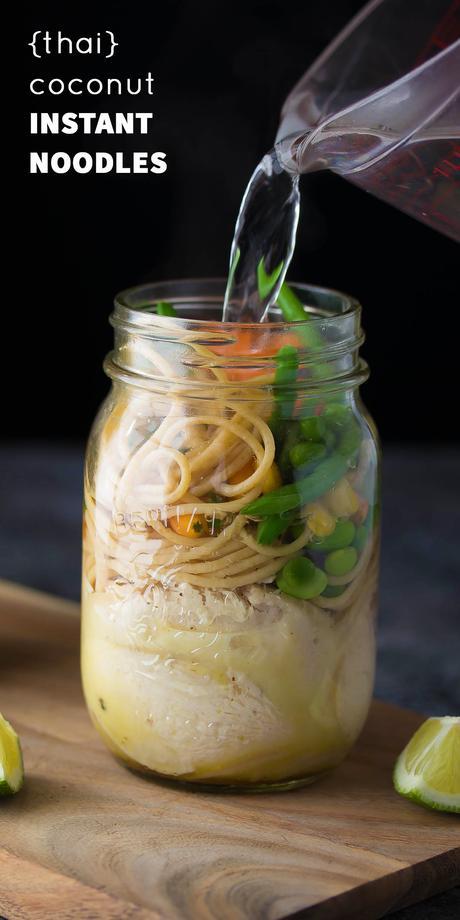 Make your own Thai coconut healthy homemade instant noodles!  Much healthier than the store-bought kind, and they have so much flavor.
Do you know when this post was first drafted?  February 26.  I've been sitting on it that long!
Actually I trashed the post thinking that no one would be interested in another healthy homemade instant noodles recipe.
But then I shot a video for the Sesame Ginger Healthy Homemade Instant Noodles recipe I posted way back in November and I remembered how fun and just how tasty these noodle cups are!
So I decided that it was worth posting this Thai coconut healthy homemade instant noodles recipe after all.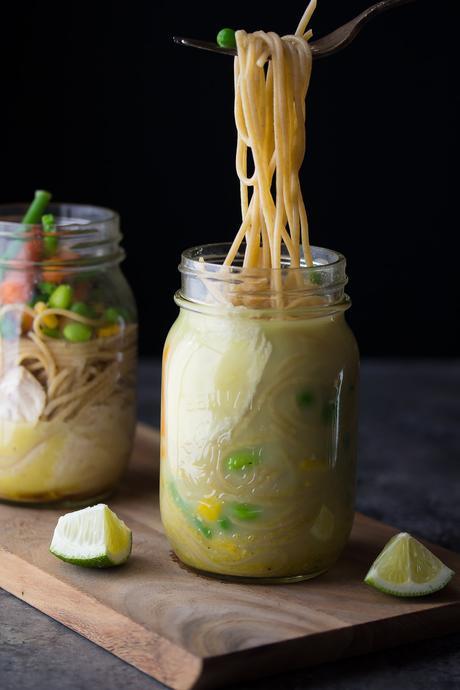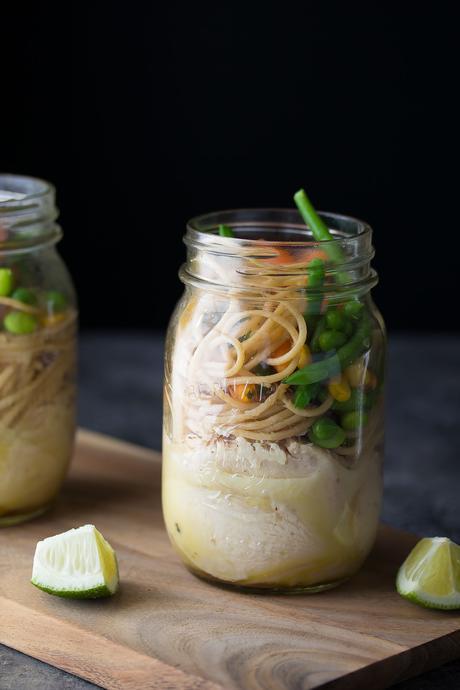 These guys are very similar to the sesame ginger instant noodles in concept.  But the flavor base is definitely different: Thai green curry paste, some lime juice and brown sugar give these noodles a distinct, sightly spicy Thai flavor.
And coconut milk definitely gives these noodle cups a creamier consistency.  I actually tried it with coconut cream and full fat coconut milk and vastly preferred the texture using the coconut milk.
And while I've used whole wheat spaghetti again in these noodle cups, vermicelli works as well (and you don't need to pre-cook it!).  I personally find that rice noodles don't stay with me and that's why I used the spaghetti noodles.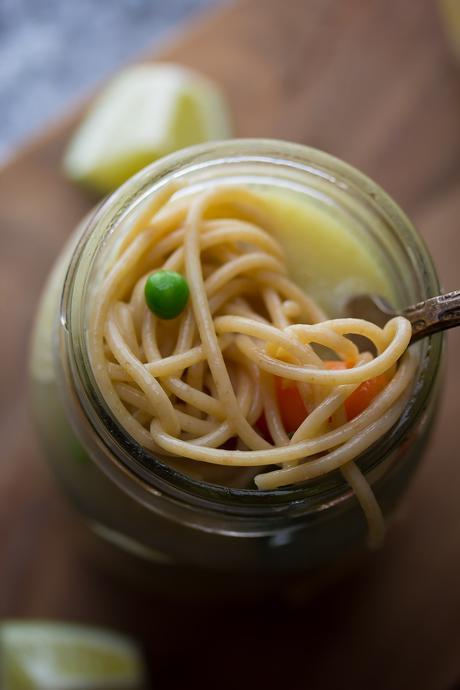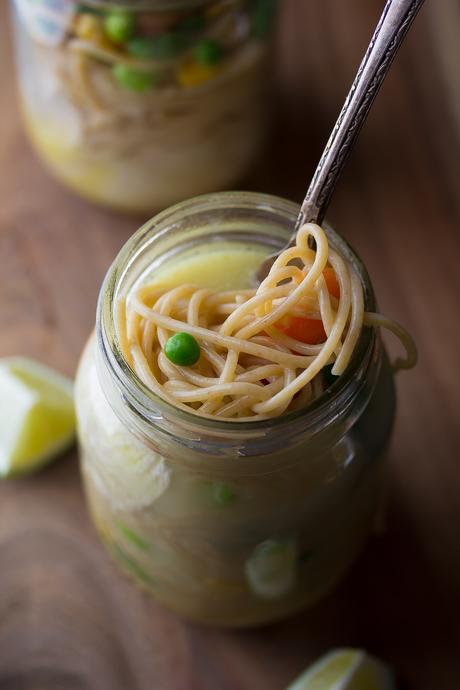 Feel free to customize the veggies and protein in these Thai coconut healthy homemade instant noodles.  I used frozen veggies again: a mix of peas, carrots and green beans, but you could also use zoodles, shredded carrots, mushrooms etc.
And I used a cooked chicken breast for these, but chickpeas would be great as well!
These noodle cups are good up to about 3 days in the fridge, so they make a great make ahead work lunch recipe, especially if you want to mix things up a bit.  You would be the envy of all the office!
NOTE: Much like the sesame ginger healthy homemade instant noodles, I recommend these stoneware portable mugs
, as they are much safer to pour boiling water in than glass jars.  I LOVE mine and use them all the time!  And again, I recommend using the
Better Than Bouillon Chicken Base
as it contains natural ingredients.
More healthy work lunch ideas for us!
these insanely popular Chicken Fajita Lunch Bowls
or how about these vegetarian Cauliflower Cashew Lunch Bowls
or you can check out these 19 Healthy Make Ahead Lunch Bowls for TONS of great ideas!
Thai Coconut Healthy HomemadeInstant Noodles  
Print
Prep time 5 mins Total time 5 mins   Author:
Denise
Recipe type:
lunch
Serves:
1
Ingredients
¼ cup full fat coconut milk (I love this one!

)
2 teaspoons chicken stock concentrate (I highly recommend this one!

)
1 teaspoon Thai green curry paste

1 teaspoon lime juice
½ teaspoon brown sugar
1 cup whole wheat spaghetti, cooked al dente (see note)
½ cup frozen vegetables, thawed
½ cup chicken breast, cooked and cut into small pieces
Instructions
In the following order, place in a portable stoneware mug: coconut milk, green curry paste, chicken stock concentrate, lime juice, brown sugar, spaghetti, veggies and chicken breast.
Store in the fridge for up to 3 days.
When ready to serve, pour boiling water up to the top of the cup. Allow to sit for 3 minutes, then put a lid on it and shake until everything is completely combined.
Serve immediately.
Notes I highly recommend
Better Than Bouillon Chicken Base
because it contains natural ingredients.
Vermicelli or zucchini noodles may be used in place of spaghetti and does not need to be cooked.
Frozen veggies can be replaced with fresh veggies but they must be blanched or pre-cooked slightly. Mushrooms, shredded carrots and shelled peas do not need to be pre-cooked.
Chickpeas are a great substitute for chicken. 3.5.3208