Last year, the parent volunteers cooked for visitors visiting the school open house.  One of the item offered was Thai Basil Pork Rice (Pat Krapaw Moo Sap).
Don't laugh for this is the first time I remembered this dish.  Though it is a popular dish, my limited knowledge of Thai food that came to mind each time only have tom yum soup, thai fish cake, pineapple rice, mango salad  and etc.
I am sure I ate this before but the impression was not deep until that day.   I had the impression that this dish is hard to replicate but A who is the main chef said that it was an easy dish to prepare.
So inspired that today I know I have to cook it myself.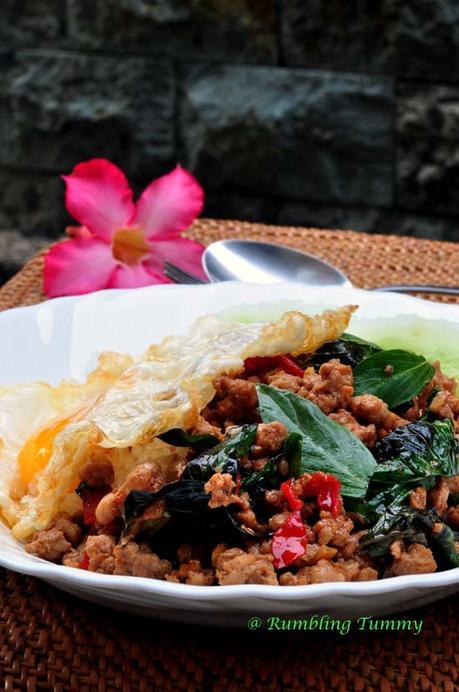 What you need:Serve 4
400g minced pork8 cloves minced garlic5 chilli padi (adjust to your heat level)3 tbsp oil1 tsp fish sauce1 tsp light soya sauce1 tsp dark soya sauce3 tsp oyster sauce1 tsp sugar2 tbsp water20g thai basil (leaves only)
Garnish 
Chilli, slicedCucumber, sliced
Method:
Pound chilli padi and minced garlic lightly.
Heat oil in wok, stir fry chilli and minced garlic until fragrant.
Add in minced pork and stir fry until fragrant and cooked.
Add in the seasoning and water and continue to stir fry the pork until well combined.
Turn off heat and add in the thai basil.
Serve with jasmine rice and an egg omelet.
Garnish with cucumber and chilli
Term 2 has started and very soon it will be mid year exam.  How time flies isn't it?
Enjoy your day.
Cheers
If you have enjoyed this post by Rumbling Tummy, be sure to follow this Rumbling Tummy on Facebook, Instagram, Pinterest, Twitter and Google+.