This post may contain affiliate links. Please read my disclosure.
Thai Basil Eggplant is a delicious vegetarian dish made with eggplant, peppers, onions, garlic, and a blend of fresh Asian sauces and spices. This vegan stir-fry is quick and easy to make and can be served as a side dish or a light main dish for simple weeknight dinners!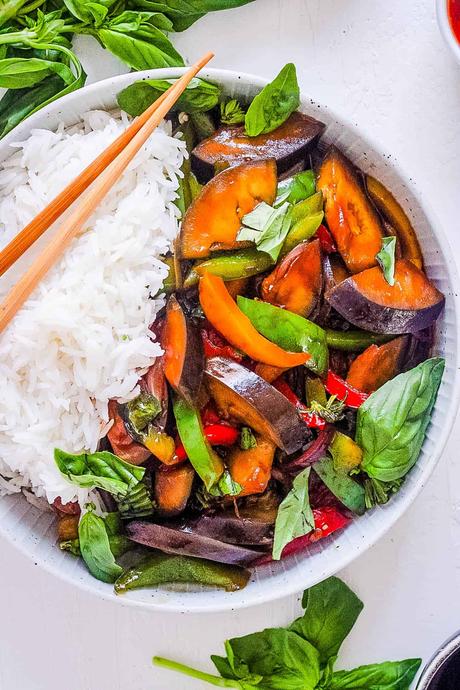 This Thai basil eggplant recipe is filled with crispy bell peppers, caramelized onions, and tender Japanese eggplant and tossed in a salty, slightly spicy sauce. It balances savory, salty, sweet, bitter, umami, and spicy flavors and is a healthier version of a dish commonly found in most Thai restaurants!
Latest Recipe Video!
If you're an eggplant fan, you'll love this dish. And if you're not an eggplant fan, I encourage you to try it anyway - it's so flavorful it might make you actually love eggplant!
Tossed in a rich sauce made with soy sauce, hoisin sauce, a bit of cornstarch to thicken it up, and a dash (or more!) of chili sauce for some heat, this authentic Thai basil eggplant recipe is a true crowd pleaser.
Feel free to add some salt and crushed red pepper to taste if you want it spicier too!
👩🏽‍🍳 Why This Recipe Works
Quick and easy
Vegetarian and Vegan
Easily made gluten free
Can be bulked up with protein like tofu or chicken (if you're not vegan!)
Fast cooking time
You can make it as spicy (or not) as you like!
Better than takeout!
🥘 Ingredients
This main ingredients this recipe calls for can easily be found at most grocery stores! See the recipe card below for exact ingredient amounts and detailed instructions.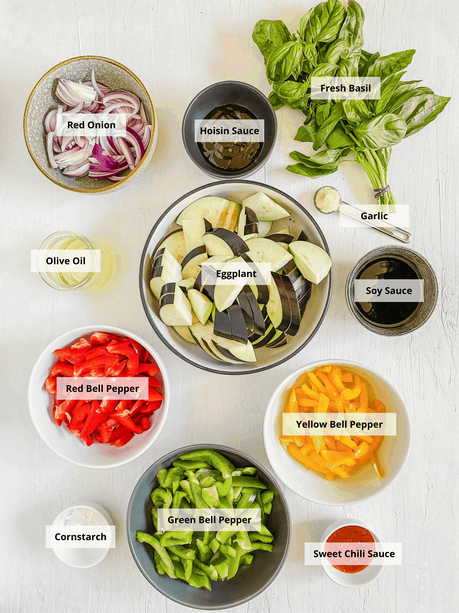 Vegetables and Spices
Eggplant: Japanese eggplant is the star of this dish. We recommend you use this variety instead of Italian eggplants, Chinese eggplants, or different types of eggplants. It has better flavor and stays firmer while cooking instead of turning into watery mushy eggplant. Be sure to cut the eggplant pieces into similar sizes. Irregular shapes are alright as well, as long as they are about the same size. This will ensure they all cook evenly.
Green, Yellow, and Red Bell Pepper: A blend of bell peppers add crunch and loads of flavor to eggplant basil stir-fries.
Red Onions: Red onions have a bold flavor, but you can use white onion instead.
Garlic Cloves: A few cloves of garlic really punches up this dish and adds depth.
Thai Basil: Lots of Thai basil gives the best results. Regular basil or Italian basil isn't recommended because it doesn't have the right flavor for this Thai eggplant dish.
Sauce
Soy Sauce: The recipe calls for regular soy sauce, but you can also use a less-sodium or light soy sauce so the dish won't be too salty.
Hoisin Sauce: Hoisin sauce adds a depth of flavor to this delicious sauce. I really like Koon Chun Hoisin Sauce or the Sun-Luck brand hoisin sauce for a gluten free option.
Cornstarch: It's best to add the corn starch to the water and whisk it together before adding the cornstarch mixture to the rest of the dish. Otherwise, it can get lumpy.
Water: A small cup of water is used to help make the sauce just the right consistency.
Sweet Chili Sauce: Thai chili sauce or chili paste rounds out this eggplant recipe. You can find this in Asian grocery stores and usually your local stores as well.
🍽 Equipment
📖 Variations
Add Protein: If you'd like to add meat to this Thai basil eggplant stir fry, consider sauteed and sliced chicken breasts or ground chicken. You can also add a block of firm tofu cut into bite-sized pieces.
Make It Gluten-Free: It's easy to make this Thai spicy eggplant dish gluten-free. All you need to do is change out the soy sauce and hoisin sauces for a gluten-free version.
Try Different Vegetables: The difference between Asian eggplants and American eggplants is subtle and if you'd like to see which one you like best, you can experiment with them both. You can also add mushrooms, green beans, carrots, cabbage, daikon, and other veggies.
Use Different Types Of Basil: Thai basil leaves have a different flavor than Italian which is more of sweet basil. You can try either, but this recipe calls for the Thai version. The most important thing is that its fresh basil!
Mix Up The Sauces: The sauce combination is very tasty in this recipe, but you can play with different kinds. Try a garlic sauce, oyster sauce, fish sauce, Huy Fong chili sauce, or sesame oil. You can even use a vegan fish sauce if you're trying to keep this dish vegan.
Increase The Spice! This recipe calls for sweet chili sauce, but you can use red chili pepper or flakes, eye chilis, hot peppers, or Thai chili paste. Use as much or as little as you'd like.
🔪 Instructions
Here are the instructions on how to make this Thai eggplant stir fry.
Combine the sauce: In a small mixing bowl mix all of the sauce ingredients together. Set aside.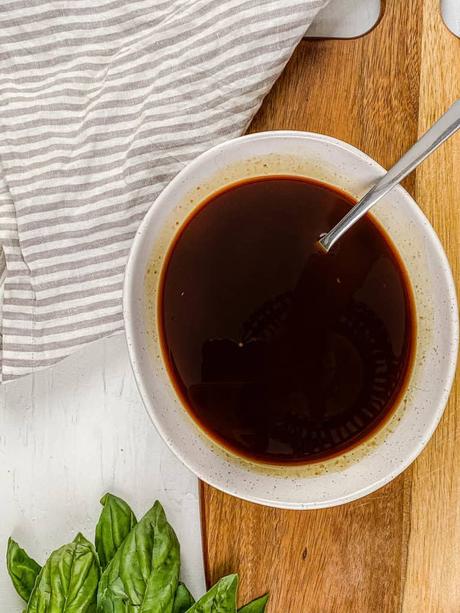 Cook the eggplant: Heat oil in a large skillet on medium-high heat. Sauté the eggplant slices in a single layer if possible. Add a little water to help the eggplant to cook through. Eggplant is cooked when it's tender, don't overcook as this will make the eggplant mushy. Remove the cooked eggplant from the skillet.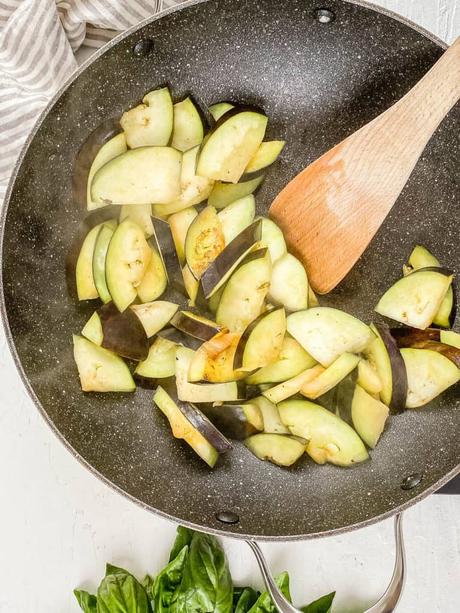 Cook the peppers and onion: Heat 1 tablespoon vegetable oil, add the peppers and onion, and sauté until soft. Add the minced garlic and continue to cook for 1-2 minutes more.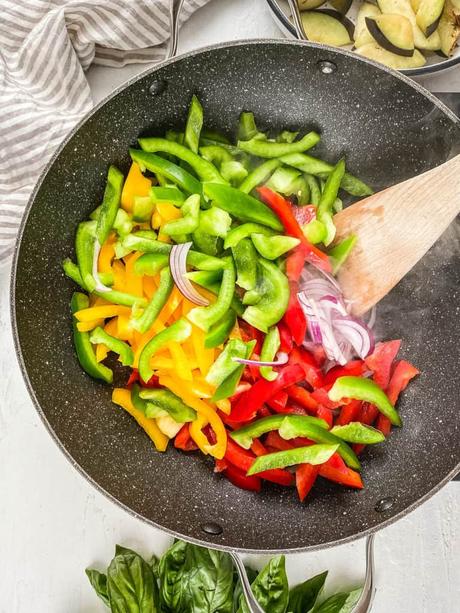 Add the eggplant back in: Add the fried eggplant and stir through.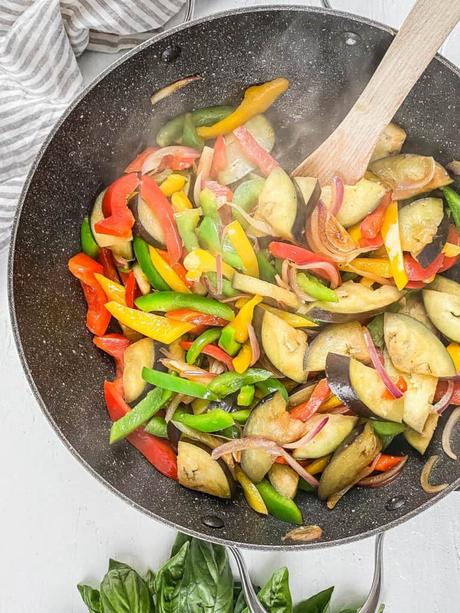 Pour in the sauce: Pour the sauce mixture into the cooked vegetables and cook for 2-3 minutes until the sauce has thickened and coated all of the vegetables.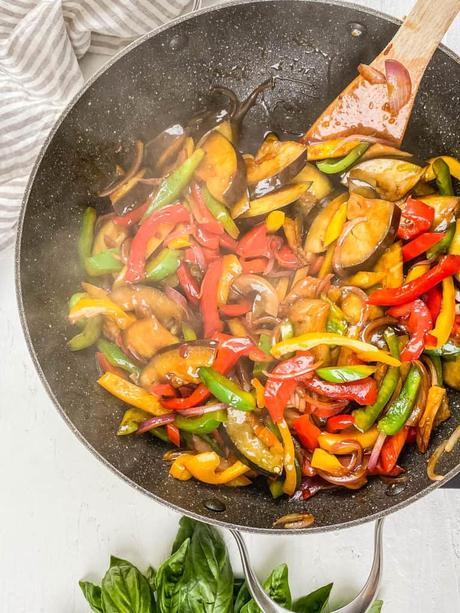 Add in the basil: Tear the basil leaves and toss them in the rest of the dish and through the vegetables. Stir to combine. Let cook for 1 minute then remove from heat.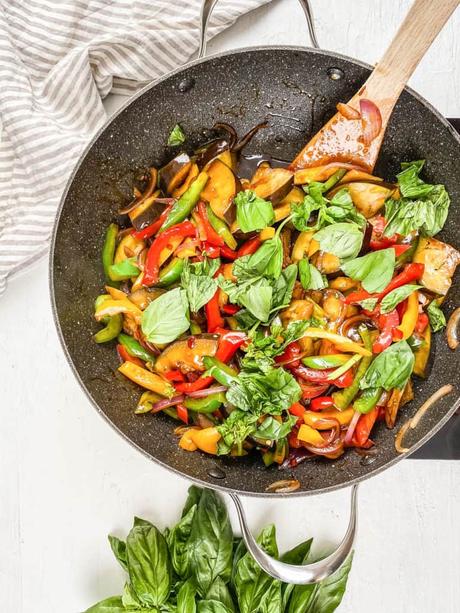 Serve: Serve with quinoa, white rice, or brown rice.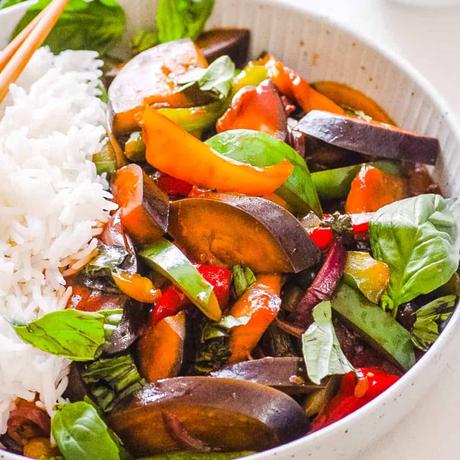 ❓Recipe FAQs
Is Thai eggplant healthy?
Yes, eggplant is very healthy for you! It's packed with antioxidants and polyphenols that help protect against inflammation. It's also high in Vitamins A, C, Copper, Manganese, B6, Potassium and Fiber. It's a hearty veggie that is filling but also happens to be low in calories, so it's great for bulking up dishes like this one!
How much oil should I use when cooking Thai eggplant?
You don't need much oil to cook eggplant. A small amount added to the pan is enough. You need more water to cook all the way through the eggplant.
What herbs go with Thai basil?
Oregano, mint, and coriander go well together in different types of Thai food.
👨‍👩‍👧 How To Serve
This eggplant Thai recipe goes well with so many dishes. Here are some great examples.
🧊 How To Store
To Store: This dish is best eaten hot right after cooking. Leftovers will keep in the fridge in an airtight container for up to 3 days.
To Reheat: Reheat the dish in the microwave in short bursts until it's hot all the way through.
Note: This isn't a great dish to freeze since the vegetables won't hold up well after thawing.
💭 Expert Tips
Here are some tips to make this eggplant Thai recipe the absolute best meal for eggplant lovers everywhere.
Use high-quality sauces and you'll have better flavor
Eggplant requires a lot of liquid to cook through, add a tbsp of water at a time to the skillet and cover with a lid helps to speed up the cooking process.
Overcooking the eggplant will result in mushy vegetables.
Use gluten-free soy sauce and hoisin sauce to create a great gluten-free dish.
Serve immediately as this dish is not suitable for freezing.
You can also deep fry the eggplant for a crispier texture instead of sauteeing. Keep in mind this will increase the fat and calories in the dish though!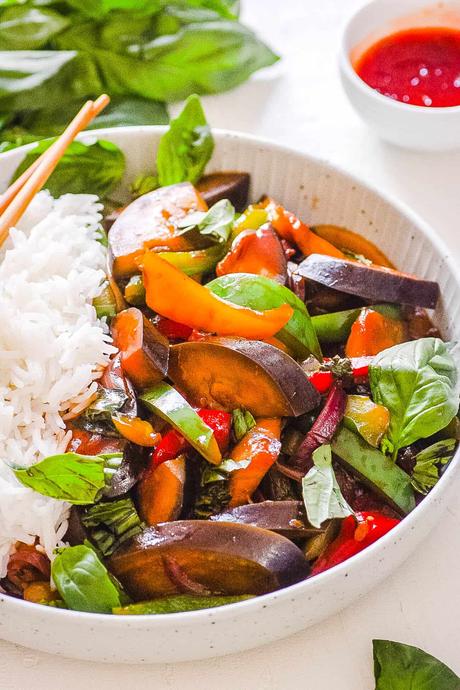 🍲 More Delicious Vegan Thai Recipes!
📋 Recipe Card
Thai Basil Eggplant Recipe