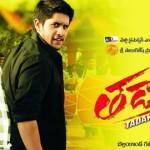 It is Thaman once again. The music director has been churning out albums non stop for the past one year. This summer especially has been pretty hectic for the music director with almost an album releasing every fortnight. Can the music director keep up the quality and deliver a pleasing popular album. Let's check out.
"Nuvvu Nenu Bomma Boruse" and "Gana Gana Bottu" are the standard template mass number from Thaman factory. They have the energy but lack the distinctive quality in them to make them stand out. "Viyyalavaru" is very situational number that should work well within the film. "Subhanallah" owes its catchy beat to 'Jiya Ho' from Gangs of Wasseypur. Its passable number much the like the other number "Mara O Mara". The later lacks the catchiness of the former though.
On the whole as was feared initially too much of works seems to have taken a toll on the music director or maybe it could simply be what the director asked for. Whatever may be the reason the album disappoints. Or has the Thaman fatigue set in?

Picks of the album: Subhanallah, Nuvvu Nenu Bomma
Rating: 2.25/5