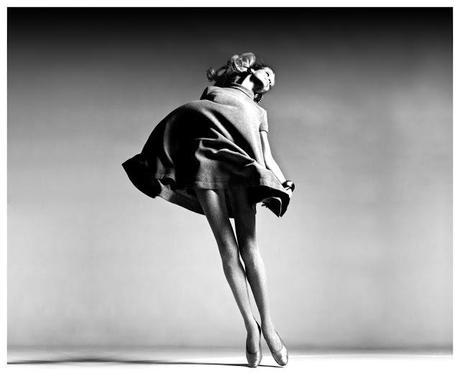 In Session: I have always loved this photograph by Richard Avedon.  Her movement seems to radiate right off the page and flow into the viewer - I dare you to look at this picture and not feel it. Hopefully this inspiration will help me today in my photo session with the lovely and talented Catherine Rhodes. It's no secret that I'm not exactly comfortable in front of the camera, so wish me luck!
Must See TV: Have y'all seen Netflix's new original series House of Cards? It's a gritty telling of a Congressman's ruthless and calculated quest for power (holla!). Although none of the characters are what you would call likable, Kevin Spacey and Robin Wright Penn's performances have me  wanting desperately to move to DC at the end of each episode. *For those of you cinema nerds - take note of an interesting varied use of the 'pat the dog' technique in the first episode. 
Sidewalk Runway: One of my favorite parts of Fashion Month, in addition the  Runway shows, is the street style. I love seeing all of my favorite editors, bloggers, and models strutting their stuff on the Sidewalk Runway in their most fabulous outfits. Thank goodness for Pinterest otherwise I don't know how I'd keep them all straight! 
More to Minkoff: Usually when I hear Rebecca Minkoff I think two things: Mac and Mini Mac. Of course I referring to her wildly popular handbag design that is available in just about every color imaginable and are classic staple for her line. However, lately I have been venturing beyond the bags and discovering that there is a lot more to this brand. For example: Have you seen some of here shoes? I am completely in love with the Bettina sandal! I am convinced that is the perfect shoe and lucky for me it comes in several colors. And I can almost guarantee that these Python Leather shorts will be making an appearance in an outfit post very soon.
SideSmile Defined (Sort of): Up until this point I have had a very  hard time explaining the meaning of SideSmile beyond "Uh...it's a made up word my best friend Kathryn and I came up with in high school that we used when we did, said, or wore silly things that other people didn't get...but that we got so that was all that mattered...and yeah." Not exactly the easiest line of thought to follow. And while I still am having a hard time fully articulating the meaning, I recently had a epiphany that led me to a slightly more tangible definition. SideSmile is basically the 'Sorry I'm not Sorry' of fashion. Furthermore, SideSmile means never having to say you're sorry because you should never have to apologize for personal style. I hope this gives you a little more insight into the naming of my blog and why I love to SideSmile.