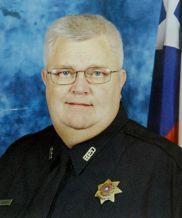 The Houston Chronicle reports
Norman, a corporal with the Bellaire Police Department and a 24-year law enforcement veteran, was mortally wounded following a brief struggle with a young man who had sped away when Norman pulled him over for a traffic violation. Seconds later, Taylor, the owner of a Maaco body shop, was shot by the same suspect when he emerged from the shop to see what the commotion was about.

The 21-year-old suspect, Harlem Harold Lewis, was shot during a gunfight with other Bellaire officers at the scene. Police say he ran away but a trail of blood led to his nearby hiding spot beneath a truck, where he was arrested and taken to Memorial Hermann Hospital. He was charged with capital murder of a police officer and was listed in critical but stable condition and is expected to survive his wounds. A .380-caliber pistol, the suspected murder weapon, was recovered nearby, police said.
They could blame this on the Muslims, I suppose, or maybe on the angry-black-man syndrome.  Perhaps it's the general breakdown of society or the video games.  The one thing they won't do, the gun-rights fanatics, is blame it on gun availability. The proliferation of handguns and the ease with which they can be acquired by ANYONE, would never even be mentioned as a contributing factor.
What's your opinion?  Please leave a comment.