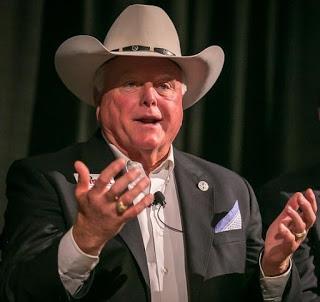 Republicans like to say they oppose raising taxes -- and that is especially true of Texas Republicans. Sid Miller (pictured at left by KETR Public Radio). Sid Miller is no different. He has run on a no-tax platform for both the legislature, and for his current office (Commissioner of Agriculture).
So what did he do once he took office? He raised 117 different fees imposed by his department -- some of them as much as six times what they were.
He and his GOP friends will be quick to tell you that this was not a raising of taxes. But that is just a game of semantics. Anytime the government takes money from a citizen, it is a tax -- and calling it a fee doesn't change that.
The truth is that Republicans don't mind raising taxes at all. They just want to do it under-the-table -- by calling it something other than a tax raise. But that makes little difference to the citizen who has to pay more of his hard-earned money to the government. To him, it's a tax raise. And it's just one more way in which the Republicans lie to the voters. "We won't raise taxes" simply means they won't call the raise a tax.