They could sell their cattle and, usually, their horses.  But, in times of drought, no one in Texas or surrounding drought-ridden states wants a donkey... unless they still have their cattle and horses.  A donkey's job is to guard the cattle and the horses.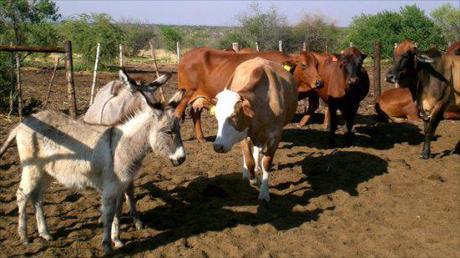 Guard donkeys are great for cattle and other livestock: image via bbc.co.uk

Mark Meyers, executive director of Peaceful Valley Donkey Rescue, which has centers in 15 states nation-wide, says that he recently spent two days on the road rescuing donkeys in Texas, he took in 20 donkeys each day.

Normally the Peaceful Valley shelters take in about 400 donkeys and burros a year, but in the past 12 months they've taken in 800, some abandoned, and others rounded up from federal lands. Meyers said that owners often sneak their donkeys into other people's property.  "I get a call at least once a week from somebody saying, "I woke up and found donkeys on my property," Meyers told the Associated Press.

While the donkeys make great guards for grazers, even sheep and goats, they are not typically too friendly to dogs, which is what makes them such good guards, as they keep dogs, wolves, foxes, and coyotes away from their herds.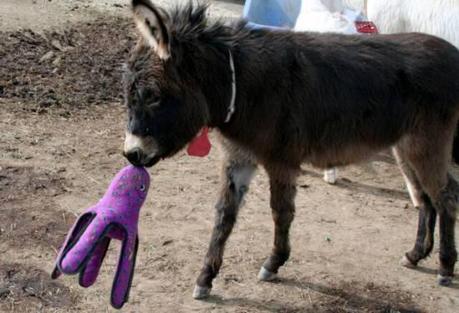 Are there toys especially for donkeys?: image via donkeyrescue.donordrive.com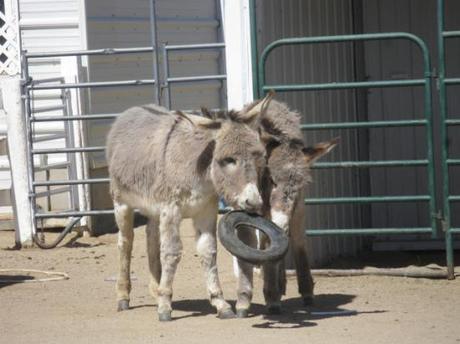 Donkeys at play: image via donkeyrescue.donordrive.com

Fortunately, donkey rescues are for the most part, no-kill shelters.  Donkeys can be found playing, grazing, and just hanging out at the rescues.  Most of them are adoptable, but if you would like to help out in other ways you can by becoming a sponsor of a donkey.  With the price of hay so high since the drought in Texas and surrounding states, donkeys cost a lot to feed. 

To adopt or sponsor a donkey, go to Peaceful Valley Donkey Rescue or contact another donkey rescue in your area.

Sources: AP, Peaceful Valley Donkey Rescue