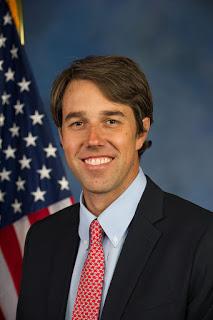 If you were worried that Texas Democrats didn't have a good candidate to run against Ted Cruz in the next election, you can now rest a bit easier. On the last day of March, Rep. Beto O'Rourke (pictured) of El Paso announced his candidacy for the U.S. Senate in the 2018 election.
O'Rourke is a credible candidate, a good progressive, and has shown in the past that he can wage a good campaign and come from behind to win. Here is his statement upon tossing his hat in the ring:


There's an opportunity to do better for Texas and better for this country. To move past the anxiety and fear, the walls and the refugee bans, and strongly and confidently work together on bringing this state and this country together on jobs, on improving our immigration laws, and on ensuring that we have a Senator working full time for Texas.

During my time on the road traveling across Texas, meeting with folks like you in communities from El Paso to Houston, Wichita Falls to Laredo, and everywhere in between, I've seen that you are not discouraged by what's happening. You're more fired up than ever before.

And that's what we need to create real change in Texas and this country. Folks like you and me, ready to do the work it'll take to make a difference.

That's why I'm asking you to join our campaign to take back the Senate and defeat Ted Cruz right here and right now.

We cannot wait four more years until 2020 and

hope

that we're able to elect a president to replace the one we have now. We must work together now to elect a Senate that has the guts and the grit to fight back against the White House and win.

Here's the quick math: the balance of power in the Senate right now is 52 Republicans and 48 Democrats. If we hold on to the seats we have, and if we pick up a few more -- including Texas -- we won't just change what happens in our state. We'll change the direction of the entire country.

This is something we can only accomplish if we work together. We're going to fight like hell and run like we have nothing to lose.

Our campaign won't be "politics as usual." I'm going to get started today on meeting with folks in counties across the state -- including the ones that aren't typically Democratic strongholds. I'm going to meet with Texans in Odessa and Midland and Big Spring and Lubbock. Because that's the only way we're going to do this the right way.

And just as I've always done, I will not accept a dime of PAC money, and I refuse to be beholden to big donors. Our campaign will be powered by folks like you pitching in what they can.

If you're with me, will you become one of the founding members of our campaign? Chip in $5, $10, or whatever you can and help me get to work.

The fight to take back the U.S. Senate starts right here and right now, with you and me and thousands of other dedicated Texans. Thanks for standing with us.

Thanks for your support,

Beto

NOTE -- We could have a harvest of riches in this race. Rep. Joaquin Castro of San Antonio is still considering running for Cruz's seat. He says he will probably make a decision by the end of this month. If he runs, Texas Democrats will have a choice between two excellent candidates.