I hope you didn't miss my Inaugural Progressive Eats event; a new series I'm spearheading with a group of food blogging friends. We're bringing back Progressive Dinners but in a virtual way so each month between the dozen of us we'll have a host who chooses a theme and prepares the main course and then everyone else 'brings' something to the table. We plan to mix it up a bit too so it's not always going to be dinners; coming up in the next couple of months I'm going to have an anniversary celebration of my Friday Cocktails with appetizers, drinks and dessert; we'll have a Dessert extravaganza for the holidays and I know we already have an ice cream social planned for next year!
Progressive Eats will always be the last Tuesday of the month so on the following Friday I thought it would be fun to include a cocktail for Friday Cocktails that matched our theme. This month it's all about Summer in the South so our menu included some amazing dishes that you could expect to find down where people say y'all and welcome you into their home with such graciousness. A Creole Chicken started things off and added to that amazing main course were some great appetizers, vegetable side dishes including my Creamed Corn with Bacon and Caramelized Onion (seriously to die for), a fresh Watermelon drink and two amazing desserts. This fabulous food called for both something Southern and crowd friendly; Southerners are always having a picnic, potluck or big family backyard get together and what better than this Texas Bourbon Punch With Pink Grapefruit and Mint?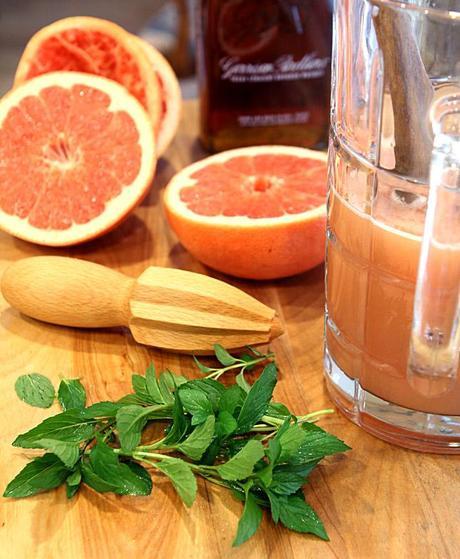 I wrote a couple of weeks ago about being lucky enough to meet one of the owners of Garrison Brothers, a Texas bourbon distillery. Yes, you read that right. Texas, not Kentucky. Love their bourbon, loved Charlie and thought what better than the recipe HE had given to me for a Texas Bourbon Punch with Pink Grapefruit and Mint. It was perfect. It's definitely got bourbon in it but it's the refreshing citrus that leads the way. My friend Sandy came over to help me, or so she said, she even brought me those gorgeous grapefruit. But we started chatting and had a glass of wine and somehow my best efforts got waylaid. I think I know why. She is not particularly fond of bourbon so her plan worked; ply me with Chinese food and good conversation and we wouldn't have to go there. Big mistake my friend, I'm betting even you would love this one and I saved some for you to test. Go on, take me up on the bet…I can always use some extra cash! :)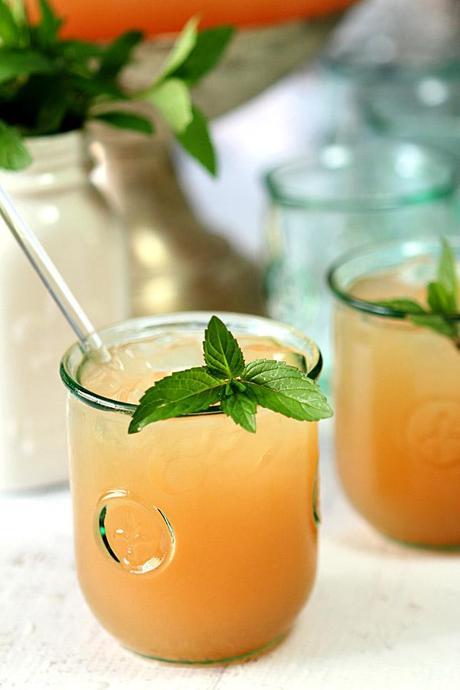 Just a great summer cocktail for one or for many; hope you'll try it…and look for next month's Progressive Eats when we'll continue the summer fest with Summer Barbecue! YUM!! Want to participate; I'm thinking of starting additional groups there has been so much interest. Let me know through my Contact form (PLEASE include Progressive Eats as Subject) and I'll let you when there is enough interest to start a new Progressive Eats; it's fun!


Texas Bourbon Punch With Pink Grapefruit and Mint
Prep Time: 10 minutes
Yield: Serves 16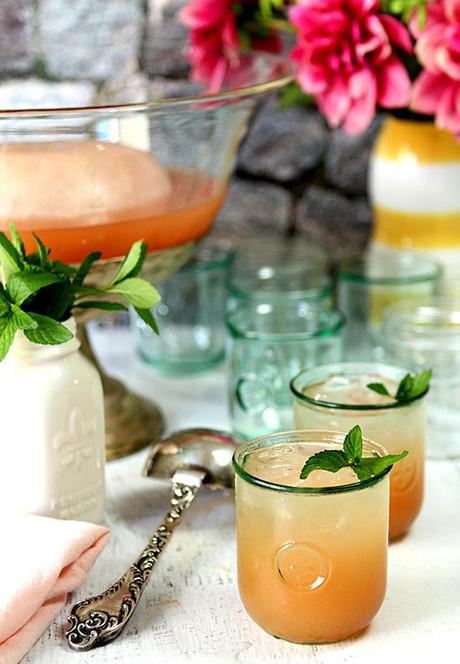 Ingredients
1/3 cup water
1/3 cup sugar
15 fresh mint sprigs, divided use
4 cups freshly squeezed pink grapefruit juice, strained
21/2 cups Garrison Brothers Texas Straight bourbon whiskey (or other premium bourbon)
12 dashes Angostura bitters
1 ice block (for punchbowl)
Club soda or grapefruit soda (Squirt)
Mint leaves for garnish
Preparation
Combine water and sugar in small saucepan over low heat until sugar dissolves.
Increase heat and bring to boil. Add five mint sprigs. Remove from heat; let cool completely.
Strain syrup into a large pitcher. Add grapefruit juice, bourbon and bitters and 10 mint sprigs.
Chill for several hours or overnight.
Add ice block to bowl.
Pour grapefruit and bourbon mixture over ice through a strainer.
Top with chilled soda and stir.
Garnish with mint leaves.
Makes about 16 servings.
Notes
The recipe calls for a block of ice. A what? I can not remember the last time I saw a block of ice!
So, I filled a bowl with ice cubes and poured a mixture of soda and grapefruit juide over them and put them in the freezer. By the time the juice had chilled I had my own 'ice bowl!' I put it in a large pan with warm water and within a minute or two was able to remove the ice from the bowl in one piece.
Flip it over and put it in a punch bowl and there you have it!
2.5
http://www.creative-culinary.com/texas-bourbon-punch-with-pink-grapefruit-and-mint/
This recipe brought to you by Creative Culinary | A Food and Cocktail Blog | Website: www.creative-culinary.com