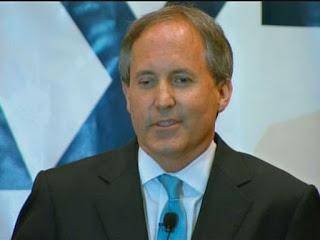 It looks like Texas Attorney General Ken Paxton's legal troubles may be much more serious than previously thought. Paxton (pictured in photo by WFAA) had admitted during the campaign that he broke the law by selling securities with registering as a broker -- and the voters elected him anyway (showing the iron grip the GOP has on this state currently).
But Texas Rangers have uncovered evidence that Paxton's crimes were much more serious than just failing to register. He seems to have committed securities fraud -- a first degree felony punishable by up to life in prison.
Here is how Tanya Eiserer of WFAA describes Paxton's new legal problem:
The criminal investigation against Texas Attorney General Ken Paxton has taken a more serious turn, with special prosecutors now planning to present a first-degree felony securities fraud case against him to a Collin County grand jury, News 8 has learned.

Special prosecutor Kent Schaffer told News 8 Wednesday afternoon that the Texas Rangers uncovered new evidence during the investigation that led to the securities fraud allegations against the sitting attorney general.

"The Rangers went out to investigate one thing, and they came back with information on something else," Schaffer told News 8. "It's turned into something different than when they started."

Schaffer, a Houston criminal defense attorney, said the securities fraud allegations involve amounts well in excess of $100,000. He declined to comment specifics of the fraud allegations.

A first-degree felony conviction is punishable by up to life in prison.