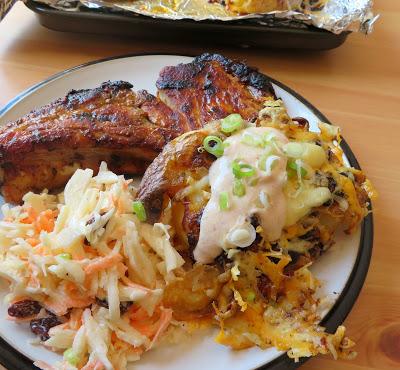 We have been enjoying some gorgeous weather over here in the UK during the month of April. It would have been so lovely had my children been here like they should have been.  We could have gone to lots of places with such lovely weather.  Oh well! It is what it is!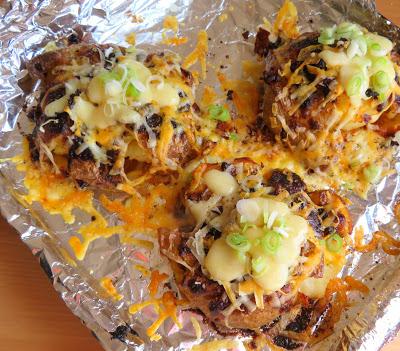 Yesterday we had our first BBQ of the season.  I found some lovely bone in meaty chops in the freezer and brined them all morning and then we cooked them on the BBQ.  Oh my but they were so tender and delicious!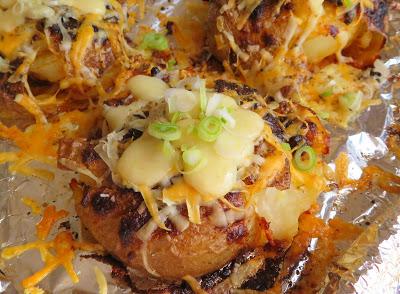 I kept things simple on the side.  I made a bowl of coleslaw with some cabbage and carrots.  I like to throw in some raisins sometimes.  They give a nice flavor and a bit of color to the slaw.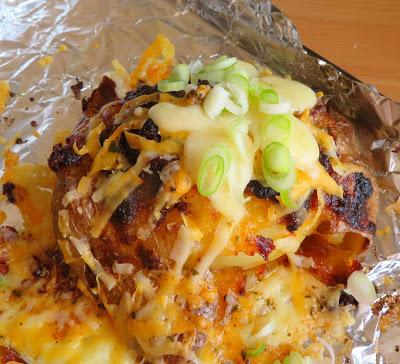 I also did this Tex Mex version of my Road Kill Potatoes.  I love, Love, LOVE Road Kill Potatoes.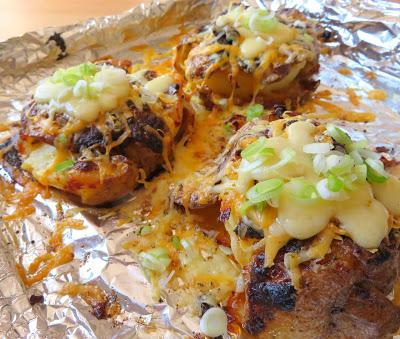 Don't let the name put you off.  You boil potatoes in their skins and then smash them down with a potato masher on a baking sheet, brushing them with some oil and then baking them until they are golden brown with lots of crispy bits.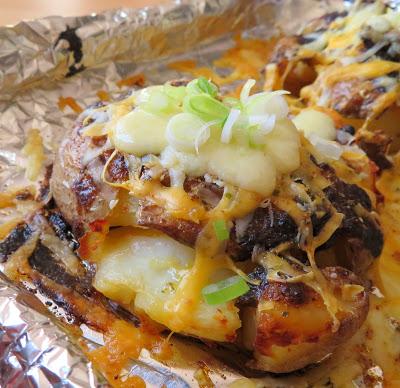 You can then top with cheese and all sorts for serving.  Today I brushed them with Tex Mex flavours.  It was relatively easy to do  . . .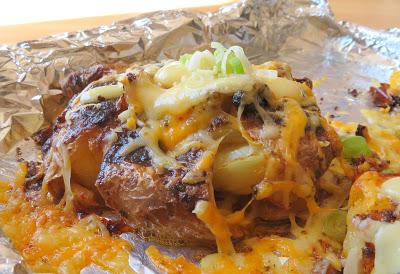 I just mixed some oil with some taco seasoning and brushed it over top. I make my own Taco seasoning and have included the recipe for that in my recipe notes.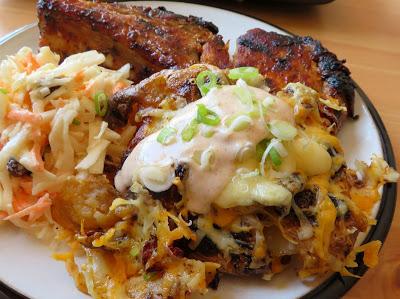 Today I topped them with a mix of dyed and undyed strong cheddar.  Someone had picked me up a bac of dyed cheddar.  I normally don't use dyed cheddar.  I basically only ever use white.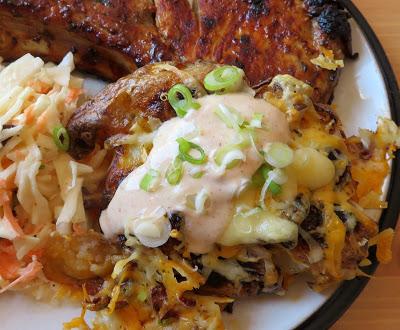 The cheddar over here in the UK is simply gorgeous, but then again, they did  invent it.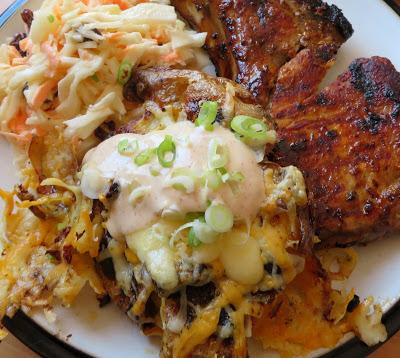 When done these potatoes are golden brown and crispy with plenty of melted cheese on top. I serve them with a spicy yogurt drizzled over top and some chopped spring onions for the win!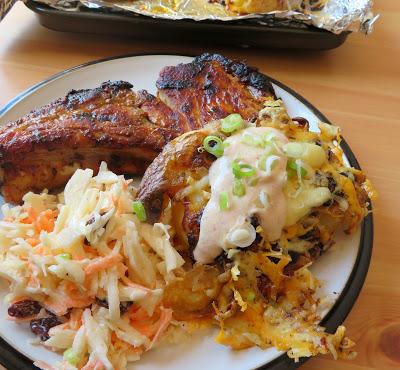 Tex Mex Smashed Potatoes
Yield:
6
Author:
Marie Rayner
Nothing could be simpler.
Ingredients:
For the potatoes:
6 medium potatoes
2 TBS olive oil
1 TBS taco seasoning
85g grated cheddar cheese (3/4 cup)
To serve:
125g thick plain yogurt (1/2 cup)
1 TBS taco seasoning
finely chopped spring onions
Instructions:
How to cook Tex Mex Smashed Potatoes
Preheat the oven to 220*C/425*F/ gas mark 7.  Line a baking tray with some aluminum foil.
Whisk together the yogurt and taco seasoning.  Refrigerate until needed.
Place the potatoes into a saucepan and cover with lightly salted water.  Bring to the boil and boil for 20 to 25 minutes until fork tender. (A knife tip should insert into one easily.)  Carefully drain and then place onto the baking sheet, leaving plenty of space in between.
Using a flat potato masher or the bottom of a glass, gently smash each one down until slightly flattened.
Whisk together the oil and remaining taco seasoning. Brush some of this on top of each potato.  Bake in the preheated oven for 20 to 25 minutes until golden brown with crispy edges.
Remove from the oven and sprinkle with the cheese.  Return to the oven just long enough to melt the cheese.
Serve the potatoes hot with some of the spiced yogurt spooned over top and a sprinkle of spring onions.
Notes:
Make Your Own Taco Seasoning:
Mix together 1 TBS mild chili powder, 2 tsp onion powder, 1 tsp ground cumin, 1 tsp garlic powder, 1 tsp paprika, 1 tsp oregano, 1 tsp brown sugar, and 1/2 tsp salt in a small bowl.  This is enough for one recipe of tacos. Add the seasoning and 120ml of water (1/2 cup) to one pound of ground meat that you have browned well. Simmer for about 5 minutes, or until most of the liquid has been absorbed.
Did you make this recipe?
Tag @marierayner5530 on instagram and hashtag it #EnglishKitchenCreated using
The Recipes Generator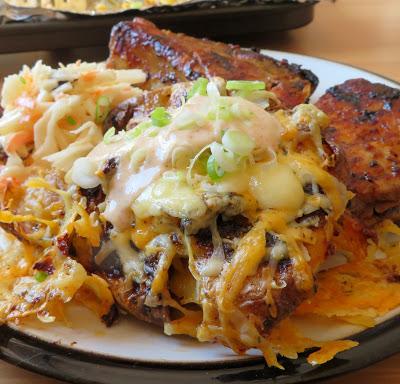 This was the perfect meal!  Our chops were so tender from the brining and the potatoes so delicious. The coleslaw was the perfect addition.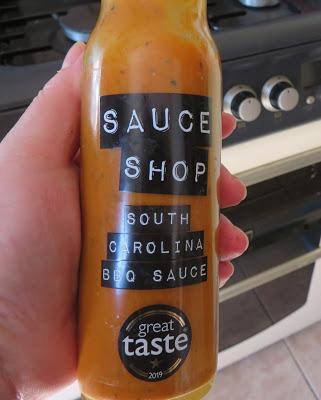 I had bought a set of sauces from
The Sauce Shop
a few months back, including Tomato Sauce (Ketchup), Brown Sauce (HP Sauce) and this South Carolina BBQ Sauce.  We love all of these sauces and this was the perfect excuse to use this BBQ sauce.  I had not used it before and I have fallen in love with it. No wonder it was a great taste winner in 2019!  They have closed down for the time being with the virus and all. I sure hope that they open up again at the end of it all.  I love LOVE their sauces!  (And no, nobody paid me to say that.  Simply calling it like it is!)

Follow my blog with Bloglovin