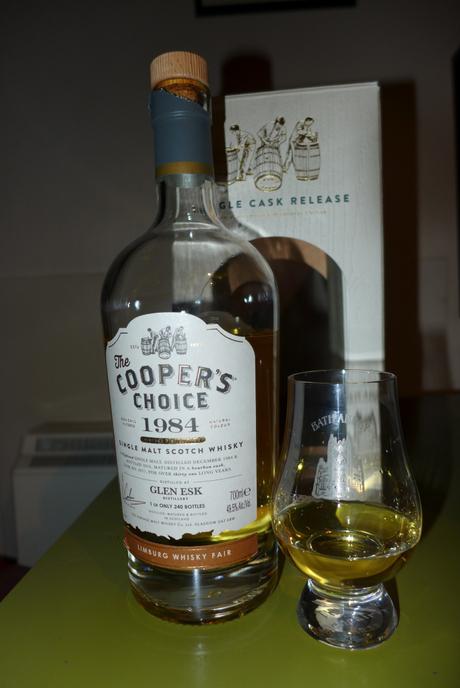 Cooper's Choice: Glen Esk: 1984: Limburg Whisky Fair (Scottish Highland Single Malt Whisky: 31 Year: 49.5% ABV)
Visual: Pale, slight yellow gold color. Slow thick streaks come from the spirit.
Nose: Tingling alcohol. Vanilla. Pencil shavings. Toffee. Soft lime sorbet. Oak. Water makes cleaner. Lightly grassy. Still notable alcohol.
Body: Strong alcohol. Fatty butter. Vanilla. Peppery. Toffee. Water adds light strawberry. Still an alcohol presence. Pear drops. Polish air.
Finish: Fatty butter. Peppery. Oak. Alcohol tingle. Water adds tinned tropical fruit. A polish air. Flour dusted baps. Soft lemon sorbet.
Conclusion: This is very, well, neutral. At 49.5% abv I was expecting a bit of alcohol, so the alcohol weight is not a problem, but with 30 years in the oak I have to admit I was expecting it to be smoothed just a bit, and made into something more complex than what we have here.
It shows the weight mainly through alcohol and a fatty buttery feel – the cask strength and non chill filtered character means that there is a lot or raw, oily, fatty character there, but unfortunately it seems not much else.
It is a peppery, vanilla and toffee thing at its core. Some of which is expected character from the bourbon ageing, but, again, considering the time in the wood this has had I would expect more to it than that. The raw oak character is there fairly heavily, stomping into the spirit.
Overall it is, adequate I guess, water never really removed the rough character, though it does give more lemon and lime sorbet character over time. The peak in interesting and unusual notes is a strawberry touch that comes out from time to time, but 90% of the time it is generic vanilla, peppery and oak. It is not actively bad, it is just average, and for the cost, age and available abv, it needs and deserves more.
If this sums up the Glen Esk/Hillside experience then I can see why they went under.
Background: So, every now and then I can afford to get one of the dead distilleries I have not tried before. So, this is another one – Glen Esk, a distillery also called Hillside sometimes – that has been closed since 1985. I went with this one as it seemed fairly reasonably priced for a dead distillery, especially considering the age and cask strength, non chill filtered as well which is nice. Also as a bourbon cask aged one, I figured it would show more of the distilleries base character. It was grabbed from The Whisky Exchange a while back, and saved for a special occasion. Then lockdown hit and I though … fuck it. So here we are. This is one of 240 bottles, bottled for the Limburg Whisky Fair – which I know nothing about. Put on IDLES new album while drinking – Ultra Mono. I prefer their second album so far, but still a good album.