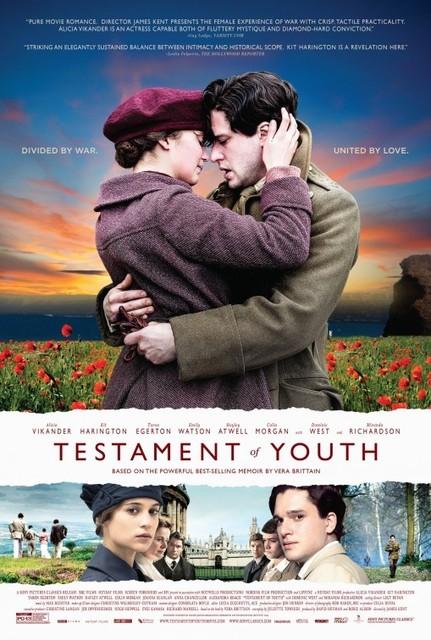 A young British woman Vera recalls her story from World War I and how she must deal with everything it has thrown at her as she is growing up.
I tried to watch this film for the first time a few weeks ago when it appeared on Netflix as I really did fancy seeing it when it was at the cinema but somehow missed it. Think it only had a quick release. But the first time I tried to watch it I just couldn't get into it. when I realised that Alicia Vikander was in the leading role thought it must be worth another attempt.
I was certainly right about that, so I guess something good came out of watching The Danish Girl!
Everything all started in a very innocent spring with Vera enjoying the company of her brother Edward and his friends. Especially Roland who she falls in love with, they share a passion for wanting to write and this is something that sees their relationship blossom and grow as they keep in touch by writing letters to each other. Vera is very outspoken for the time and has plenty of things she wants to achieve and do, the main thing to attend Oxford. Something that her father is very against, it takes help from Edward for him to even let her take the entrance exam. But as you think everything is starting to fall into place the War is going to take everything away from them all, as the young men must be sent to help fight for their country.
The film took quite a few turns that I was not expecting and was so much more depressing than I ever imagined, I think that should be a warning to anyone who watches this film as it really does appear to be about a great love story. It still has that but not in the way you will want it, the thing is though this story feels so real and helps to show the devastation war can cause for people and how many are effected by it all. Vera even put her dreams on hold to be closer to her brother who was fighting in France being a nurse for the wounded.
I found the first 45-50 minutes pretty slow going but I understand it was really trying to build up the characters so that we would care about them, but trust me and make sure you keep watching. I mean it was even my second attempt after turning it off after about 15-20 minutes on my first attempt but stick with it for the performance from Vikander if nothing else. I think something that made me unsure of this film was Kit Harington as I am not really his biggest fan, but he was good enough in this. I have quickly become a fan of Vikander after watching quite a few of her films in a short space of time. The same can be said for Taron Egerton I am very interested to see what he does next.
I think the film is an important one to really show what women had to suffer through during the War as it often isn't something that is mentioned enough in my opinion. It is horrendous how many men died, especially the very young men. But that doesn't mean it was easy for the women (and parents) they then left behind. It has to be remembered how hard it was for everyone. Films based around the First and Second World War's really do capture my interest.
Another thing I really hate is that we have totally lost the art of writing letters, a film like this shows how much people depended on them even if it could take weeks and weeks to reach the destination but imagine the excitement of eventually receiving a reply. I used to have pen friends and it really was a different experience to sending an email or text message, but I guess this is something that is now a lost art. I am certainly showing that I am a romantic at heart with this whole letter thing but its special as someone has taken the time with a pen to write you something special. Who's with me in bringing this back?
I actually reached the point where I didn't think it was possible for anything else bad to happen and I had even tried to fool myself that a mistake was made, but I guess that would have been the Hollywood ending! Another thing I must mention is a very good percentage of the cast being British, showing what great talent we have! I really do recommend that you watch this one (stick with it, trust me).