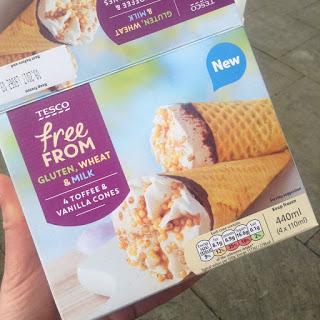 Coeliac Awareness week has nearly come to a close, but you can still expect the Gluten Free reviews to keep on coming...I've got a big stash in the archives! Today's treat is not only Gluten Free, but Dairy Free too and also suitable for vegans.
I love Tesco's Strawberry & Vanilla Free From Ice Cream cones, and I always buy them when I'm in the mood for cone ice creams, and recently I spotted a new variety in my local Tesco...Toffee and Vanilla. Straight into my basket they went! Like the Strawberry variety these cost £2 a box, and contain 4 gluten free cones filled with dairy free vanilla and caramel ice creams, a caramel flavor sauce and a topping of toffee pieces. The ice cream is made with lupin protein, which is derived from a type of legume. I'd never heard of it before so did a quick google...apparently it can cause allergic reactions in sensitive individuals, so please be wary of these if you're sensitive to legumes and peanuts (click here for a list of the ingredients).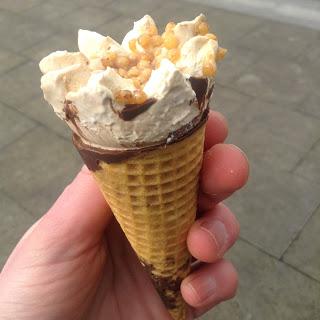 Opening the pack the ice cream had a lovely toffee aroma, and looked just like a Cornetto! Taking a bite, the ice cream was very creamy and soft, and not as sickly sweet as regular dairy ice cream. I liked this as it felt fresher and less cloying and heavy. The caramel flavor was strong and sweet, with the crunchy toffee pieces on top adding a nice crunchy bite. The sauce was lovely and I didn't realize that it ran right to the bottom of the cone! I bit off the end and it was oozing out - just look at that caramel!: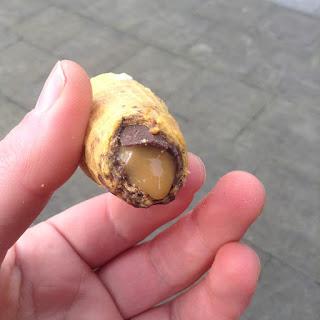 Overall, these are some pretty tasty gluten and dairy free ice creams from Tesco, some of the best I've had in fact; it's mighty hard to find decent ones so I'm glad Tesco are adding new varieties to their range. These don't beat the Strawberry & Vanilla variety which are hands down the best, but they're still very yummy and ones I would buy again.  
Tesco have also done some Free From Magnum-style Chocolate Ice Creams, which I'll be reviewing in the near future, so do stay tuned for that! 


8 out of 10.