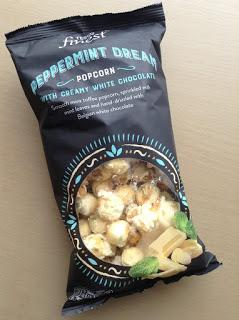 Tesco recently launched a new range of fancy popcorn flavours in their Finest range, from Mango Chilli & Coconut, to Strawberry & Dark Chocolate, Fiery Ginger and Apple, and this lush sounding Toffee Nut Latte Popcorn (reviewed by the lovely Marmey aka One Treat). I really want to try those, but instead I opted for this Peppermint Dream variety when I saw the range reduced to £1.50 recently in Tesco.
This flavor is described as "Peppermint flavoured toffee popcorn with dried mint leaves and Belgian white chocolate", and is suitable for vegetarians, as well as being gluten free. However it's made in an environment that uses nuts, so may not be suitable for nut allergy sufferers.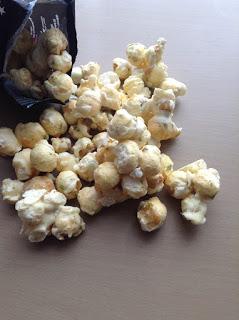 When I opened the bag I was a bit surprised to see the specks of mint leaves stuck to the popcorn...I know these had been advertised in the description but I didn't quite expect it to look like something savory!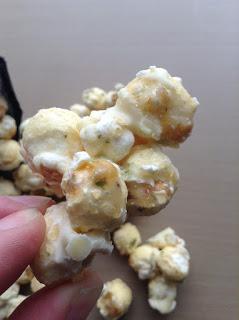 Despite the slightly of-putting green specks, I took a bite. The popcorn is very sweet with a nice peppermint flavour, but the white chocolate doesn't blend so well with it, it seems more like an afterthought and is a bit too sweet overall combined with the toffee. I think they should have just used mint flavoured white chocolate instead of the toffee. The actual mint leaves bring a garden mint flavor to the popcorn, which to be honest was a little weird. I'm used to having garden mint on my Sunday dinner, not on sweet popcorn.
Overall, this Tesco Finest Peppermint Dream popcorn is a bit of a mixed bag (quite literally!) It's not awful but I think they just tried to make it too fancy and lost something in the process. A simple, minty chocolate coated popcorn would have worked so much better...if you need a new product development manager, Tesco, call me ;)


7 out of 10.