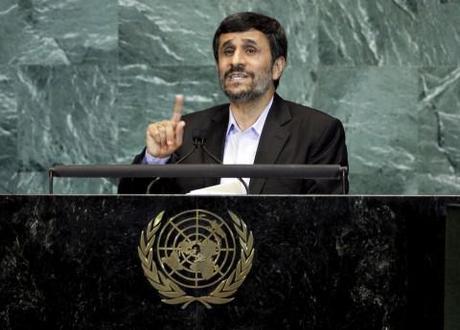 Mahmoud Ahmadinejad addresses the 65th session of the United Nations General Assembly, Sept. 23, 2010. Photo: UN photo, Richard Drew
Iran is prepared to carry out attacks on US soil, according to the director of national intelligence for the Obama administration. Speaking to Congress, US intelligence officials pointed to Iran's alleged role in an assassination plot against the Saudi ambassador in Washington as a possible sign that Tehran will meet perceived American threats with violence.
Reporting for The Washington Post, Greg Miller pointed out that US officials have no evidence to suggest Iran is "actively" planning attacks. But tensions between the two countries remain high due to US concerns over Iran's nuclear programme: President Obama issued a stern warning to Iran during his State of the Union address, insisting he would "take no options off the table" in preventing the country from building a nuclear weapon. Iranian officials have insisted the nuclear programme is for energy rather than weaponry and slammed the US for apparently sabotaging a uranium-enrichment programme.
Scaremongering. The US is trying to whip up "Iranphobia" in the media, argued Kaveh L Afrasiabi at The Asia Times, insisting the assassination plot against the Saudi ambassador is a smokescreen: "The indications are that the US has tried to frame Iran with a fictitious terror plot to up the ante against the Islamic Republic." According to Afrasiabi, the US is concerned because the Arab Spring has taken out "the US's favorite dictators", and is therefore fueling "political hysteria" against Tehran.
US Director of National Intelligence James Clapper told Congress that the suspected assassination plot "shows that some Iranian officials — probably including supreme leader Ali Khamenei — have changed their calculus and are now more willing to conduct an attack in the United States in response to real or perceived U.S. actions that threaten the regime", reported The New York Times.
Warmongering. "Judging by recent rhetoric, and implied threats, from Washington, predictably echoed in London, anyone would think they wanted any excuse for a military conflict with Iran," wrote Richard Norton-Taylor on The Guardian's Comment is Free. Norton-Taylor argued that by dialling up tensions with Iran, the UK and US risk causing an "accidental war", and that way forward lies in calming the situation: "It is not too late to calm the rhetoric and prevent a conflict whose consequences not even the most aggressive hawks in Tehran, Jerusalem, or Washington, could forsee."
Obama does not want war with Iran. "The Obama administration is trying to avert a war by warning Iran of the perils if it proceeds toward producing nuclear weapons, said three administration officials," reported John Walcott for Bloomberg. According to Walcott, administration insiders are well aware that even a small miscalculation by either side could lead to war. Walcott quoted former State Department official Jon Alterman as saying Obama is being more conservative than his predecessors in his approach to Iran: "That probably partly has to do with the fact that we're not in the disorienting period that followed 9/11, and partly that the difficulty of long wars in Iraq and Afghanistan has made ground wars a less attractive option than one might have appeared earlier," said Alterman.
"Senior U.N. nuclear inspectors plan another trip to Iran soon after holding what both sides described as 'good' talks about suspicions that the Islamic Republic is seeking the means to develop atomic weapons," reported Michael Shields for Reuters.
Sanctions are not enough. Writing for The Daily Beast, Leslie H. Gelb suggested that economic sanctions against Iran run the risk of inflaming tensions unless there is some negotiation: "As Western leaders back Iran into a corner and as they are locking themselves into a war policy they haven't seriously contemplated and don't really want, now is the time to offer a deal." Gelb said that Western countries should allow Iran to keep its uranium facilities but only with the capabilities for civilian use – a deal the country has rejected previously but may accept now under economic pressure. "If we don't at least try the negotiating track, a war of untold uncertainties and dangers can come upon us," wrote Gelb.