Summer is here and that means lots of tennis! Hooray! It also means that having the best gear for protecting yourself from the sun and the heat is more important than ever. That's why I am so excited to once again partner up with my friends at Tennis Trunk to show you some great tennis gear that will help you play your best tennis this summer and keep you safe out on the courts.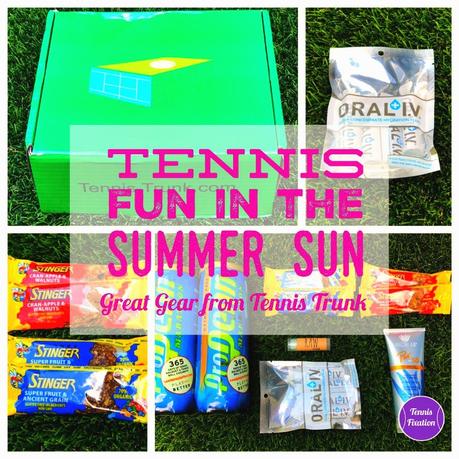 So you may have heard of Tennis Trunk - it is a monthly subscription box just for tennis players. A subscription box is a box full of fun surprises that you can have delivered right to your door each month. While there are all kinds of subscription boxes, Tennis Trunk is the one and only tennis subscription box and each box comes packed with cool, new tennis gear. In each Tennis Trunk, you always get two cans of tennis balls. But then comes the fun part - you get lots of other great gear to try out and maybe even fall in love with.
I happen to think Tennis Trunk is brilliant - the perfect gift for all of the special tennis players in your life - your partner, your captain, your coach. And I think it is also the perfect Father's Day present if you have a tennis-playing dad (yes, Father's Day is coming on June 18 so don't forget!). But I'm going to be completely honest with you - I love Tennis Trunk just for me! I tried out my first Tennis Trunk back in November (you can see that here - Play Really Great Tennis with Really Great Gear Delivered Right to You) and had such fun with everything I got. So I was very excited to try out two different Tennis Trunks this month.
Here's what I found in my first Tennis Trunk: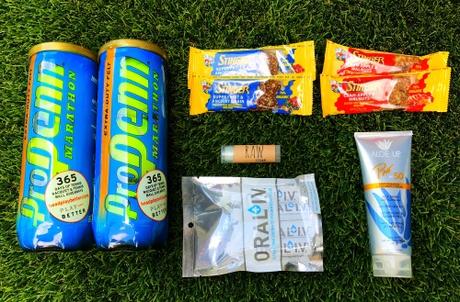 What I loved in this trunk was definitely the Aloe Up sunscreen and the Oral IV hydration fluids. The sunscreen has an SPF of 50, is non-greasy, has a very light pleasant scent and (best of all) blends right in to my skin - no ghostly whitish cast left behind. The Oral IV is a supplement that you can drink straight-up or add to water and it helps you stay hydrated and refreshed when you are working hard and sweating tons. I put one of the little tubes in my water bottle and really appreciated that it didn't change the taste of my water at all - my water still tasted like water!
I also received a second Tennis Trunk and it was just as packed with tennis goodness as the first. Here's what that trunk looked like: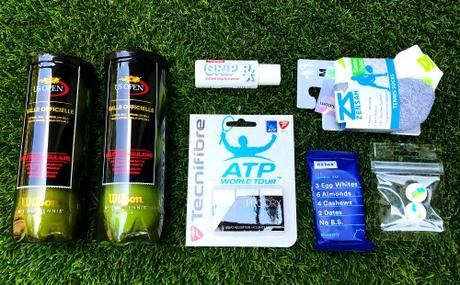 This trunk actually contained something I had tried and been meaning to buy for myself - the Tourna Grip RX grip enhancer. This is a clear lotion-like fluid that you rub on your hands to give you a better grip on your racquet which is especially important in the summer when your hands get extra damp from sweat. I had tried this stuff out at a match I played when one of my opponents was raving about it. She said that while she used it on her hands, her daughter actually had bought it to use on her heels to prevent getting blisters from some of her shoes. So we were all trying it out at that match and it is really nice because it goes on clear, dries quickly and doesn't easily come off and get all over your racquet or the tennis ball.
I also loved the Zensah tennis socks. My sister is a big runner and is very particular about her socks. I have not been in the past but playing in these socks especially designed for tennis players may change my opinion on that. They kept my feet feeling cool, cushioned and sweat-free.
Also - both of my trunks had snacks in them that were just right for playing outdoor tennis in the summer. The first trunk had four bars from Honey Stinger in two-different flavors (both yummy but I preferred the "Super Fruit & Ancient Grain" flavor). The second trunk had an RxBar in Blueberry flavor, one I had tried before and also like. The great thing about all of these bars is they don't melt into a sticky, goopy mess in the heat which is super-important when you are going to be out on the court right in the sun, possibly for several hours. I even left one of the Honey Stinger bars in my hot car all day and I was still able to eat it without making a complete mess of myself (because of course I'm not going to not eat it just because it has been sitting in a hot car all day).
If you're interested in trying out Tennis Trunk, for you or your best tennis buddy, the nice people at Tennis Trunk have a special deal just for Tennis Fixation followers. They are offering you free shipping on your first Tennis Trunk. Just visit their website - www.Tennis Trunk.com - and use the code TENNISFIXATION at check out to get your first trunk with free shipping.
If you get your own Tennis Trunk, let me know what you think about it and what your favorite thing is. I would love to hear from you!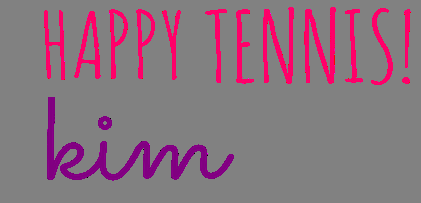 This post is sponsored by Tennis Trunk and they were nice enough to provide me with two Tennis Trunks to try out for this post.