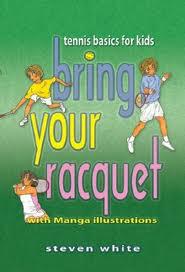 I just finished reading
Bring Your Racquet: Tennis Basics For Kids
by Steven White and all I can say is, "Where was this book when I was first started playing tennis?" Because it's written for younger players (maybe 7 and older) who are just taking up the game, the instructions are short, easy to understand and clearly illustrated.  Just what all beginning tennis players need, not just kids.
Because my 11 year-old, Matthew, has been playing for a few months now, I thought it would be fun and a true test of this book to give it to him to read and then to interview him about it. At least, it seemed like a good idea. Here's how that incredibly coherent interview went:
Kim: Did you like this book?
Matthew: Yes, I like to read about sports and I like tennis so this was a good book.
Kim: Was it easy for you to understand?
Matthew: Well, I know about tennis so this book was easy for me.
Kim: Did you like the pictures?
Matthew: Yes, kind of. They are kind of different. I don't know about Japanese stuff. But OK, they were OK.
Kim: Could you understand what the book was teaching you about tennis?
Matthew: Well, I know about tennis so I could understand it.  This is what I learn at (the club where he takes lessons) so I already knew this stuff.
Kim: Was it easy for you to understand though?
Matthew: Yes Mom! I could understand it.  Jeez. I am a good reader you know. Can I go now?
The interview rapidly degenerated from there. But my conclusion is that
Bring Your Racquet
was very appropriate for my 11 year-old. And with short chapters focused on single concepts and clear illustrations, any beginning player could learn quite a bit from this book.
Now, here's the best news: the author was nice enough to send me a copy of
Bring Your Racquet
, autographed no less, to giveway to one of my lucky Tennis Fixation followers during the
Tennis Fixation Super Giveway Extravaganza
being held all this month in honor of National Tennis Month. If you're interested in winning this great book, here's what you need to do:
For your FIRST entry, leave me a comment on this post before midnight Central Time on Saturday, May 21, 2011. To get to the comment form, click on the title of this post and you will find the comment form at the bottom of the page. You can do this one time for this post. Just go ahead and leave your comment right now so you know you're entered!
For additional entries, leave one comment on each post that appears between now and midnight Central Time on May 21. I'll try to do several posts so you have lots of chances to comment (and enter).
So leave a comment right now to make sure your entered in this giveaway. And then continue to check in and comment to gain entries throughout the week! I will draw the winning entry after midnight on May 21 and announce the winner on May 22. And then, guess what? We'll have another giveaway starting on May 23! Because that's what a Super Giveaway Extravaganza is all about!
Please note: Winners will be announced on this site. Winners must respond to me with their e-mail address within 3 days (by May 25) of being named. If I don't hear from the first winner within the 3 days, another winner will be selected.
If you are the least bit confused about how to enter this giveaway, just send me an e-mail at this address - kimselzman(at)gmail(dot)com - and I will give you all the help you need to become a Tennis-Fixation-giveaway-enterer!

© Kim Selzman 2011 All Rights Reserved