The summer is flying by and I had a fantastic 4th of July weekend at the beach watching Wimbledon. Isn't Wimbledon the best?  It comes during the funnest part of summer, when we're all on some sort of vacation. It's on during the hottest part of the day when we can't go outside anyway. You get virtually continuous coverage with ESPN and NBC passing the tournament back and forth throughout the day. And since everyone who's anyone in the world of pro tennis is there and most of the names are recognizable, my family actually feigns interest in this tournament to please me. (Thanks kids!)
So how great was Wimbledon this year? First, I was very happy to see German Petra Kvitova win the women's final. While I was surrounded by my family rooting for Maria Sharapova for some unknown reason (they'd actually heard of her maybe?), I'm personally ready to see the new wave of women's players step up. It was Li Na at the French Open and now Kvitova at Wimbledon. Here's a shot of the champ and the runner-up: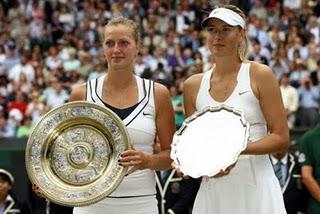 And I was also excited about Novak Djokovic beating out Rafael Nadal in the men's final. I know that's pretty sacriligeous to say but I really love watching Djokovic play - he just seems to enjoy it so much. Case in point - here's Djokovic nibbling on the grass at Wimbledon. It always tastes better when you win: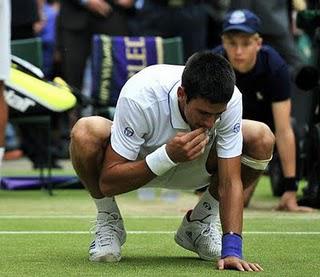 And of course, the Bryan brothers winning Wimbledon makes this their 11th Grand Slam championship. They are now tied with Mark Woodbridge and Todd Woodforde for most Grand Slam doubles championships - a record I'm sure they will beat as they are nowhere near being done with the ATP tour. Here they are doing their 2011 Wimbledon championship chest bump: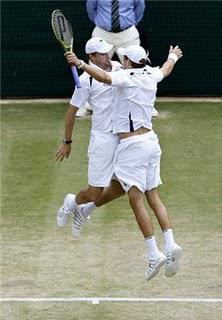 The women's doubles winners were Kveta Peschke and Katarina Srebotnik. They took out Sabine Lisicki, who made such a great run in women's singles, and Samantha Stosur. Here's a shot of the winners. And I think Peschke, on the left, may be a new fav for me since she looks to be of average height (like a lot of us normal tennis players).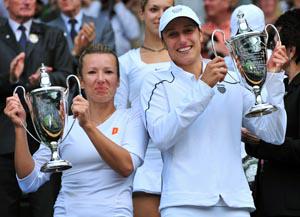 Finally, I want to say

Yay!

to Iveta Benesova of the Czech Republic and Jurgen Melzer of Austria for their mixed doubles championship win. I've been a big fan of Melzer ever since I saw him play several years ago in a final at the U.S. Men's Clay Court Championships here in Houston. Its great to see him playing doubles and winning on such a huge stage.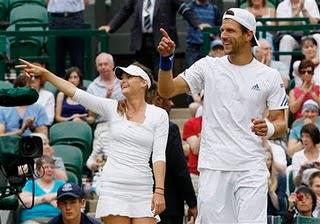 Ok. Enough Wimbledon. I'm moving on to Austin for Davis Cup this weekend! Roddick, Fish, Bryan Bros. and lots of cute Spanish players (although not Nadal). I'm sure I'll have lots of stuff to report from there. Like I'm a reporter or something. Hey - maybe I should find out how to get a press pass!


© Kim Selzman 2011 All Rights Reserved