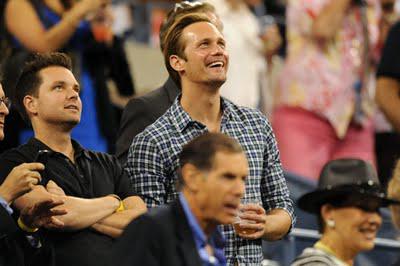 Just so you know, I didn't check out on the 2011 U.S. Open. Oh no. Instead, I wasn't posting about it because I was completely overwhelmed by it. As usual. And that feeling of "it's all just too much" did not go away until the entire thing ended yesterday.
But now that its all over, I want to be sure and get out my
Tennis Fixation
memorable 2011 U.S. Open moments:
It's always great to see which Hollywood super star will show up at the U.S. Open (a lot of them do) but seeing True Blood's Eric Northman, actor Alexander Skarsgard, on the grounds on Day 2 (see photo above, what a cutie!) would make anyone a tennis fan (or maybe a True Blood fan).
How could Bob & Mike Bryan possibly have been knocked out of the U.S. Open in Round 1? Well, they were, by one of my U.S. Men's Clay Court Tournament favs - Ivo Karlovic (and his partner, of course, whose name I can't remember).
I didn't even have a chance to dis Venus Williams' awful dress with large pink exposed zipper on the back. She played Round 1 and then withdrew from the tournament after announcing she had been diagnosed with Sjogren's syndrome, an autoimmune disease that can cause joint pain, swelling, numbness and fatigue. I hope this will not be the end of her and her tennis/fashion-designing career.
I personally was excited that Australian Samantha Stosur won the women's singles. She was due for a breakthrough and just think of all the pressure she'll now have on her for the next Slam - the 2012 Australian Open. I liked her outfit from Lacoste too. Here she is in her very cute dress (please note the size of her arms!):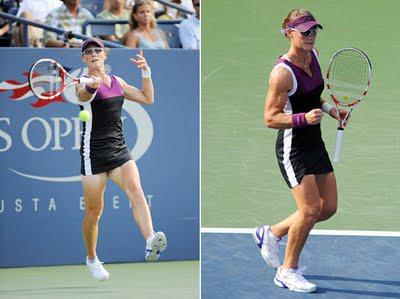 This same dress was worn by a couple of other players but with the colors switched around. Here it is on Yaroslava Shvedova, a finalist in women's doubles (again, note huge arms):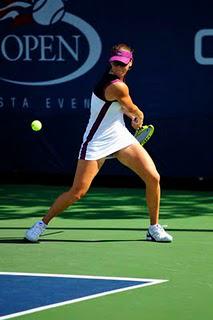 I'm usually not a fan of Adidas tennis wear for women as I find it kind of boring. But many women at the U.S. Open were wearing Adidas in one of my favorite ever color combos - a bright bubblegum pink (called "Intense Pink") and turquoise (called "Intense Blue").  Hey Adidas - just sticking the word "Intense" in front of a color does not make me feel like I'm getting my money's worth. Get creative a la Nike. Anyway, here is break-out German superstar Andrea Petkovic in this outfit (her arms are downright scary!):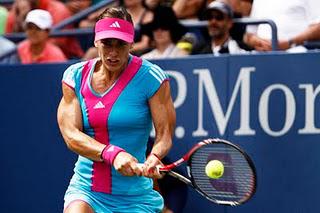 Finally, didn't you feel like you were seeing the beginning of the end for a certain generation of American tennis players? So many American teenagers were out there winning and I think they will all start coming into their own. Let's hope so - things are not going to get any better for Andy Roddick or Mardy Fish.
By the way, at this time, I am not going to address the whole "hindrance" issue that occurred with Serena Williams in the 2nd set of the final as I want to take that up in a separate post. Believe it or not, I think she did something that a lot of us do all the time but I don't think anyone, least of all Serena, should be getting away with it.
Photos by Philip Hall, Rob Loud, Andrew Ong and Don Starr, all of USTA via www.usta.org

© Kim Selzman 2011 All Rights Reserved