It's the end of the month and time for Tennis Fixation favorites!  This is when I tell you all of the fun things that I became obsessed with this month in my perpetual quest to become the best tennis player I can be.  The absolute, most exciting thing that happened to me this month is that I attended the U.S. Tennis Congress in Atlanta, Georgia so I'm linking to a video that we saw at the USTC that I know will make you want to sign-up for the next one.  I also spent a lot of time looking for ways to get more pumpkin into my diet (besides drinking a lot of Pumpkin Spice Lattes) (nonfat milk but don't hold the whipped cream) so my favorite recipes are here.  And, of course, I got way into my tennis this month and found a great article on how to deal with on-court jerks.  What?  You didn't know such people existed?
So grab your Pumpkin Spice Latte and enjoy these Tennis Fixation Favorites for October!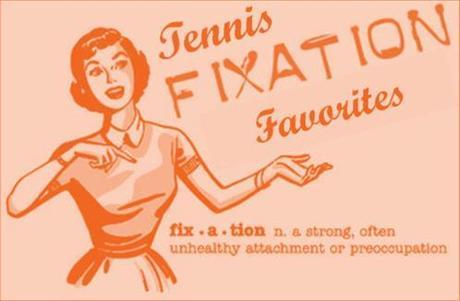 TENNIS STUFF
The Meaning of Tennis video – This is a YouTube link to the inspiring video that kicked off the inaugural U.S. Tennis Congress. I saw it at the opening night dinner and many of the people in this video were actually there in attendance. The video is only three minutes long but after watching this, you'll be excited and ready to hit the tennis courts.
Fuzzy Yellow Balls – I am a long-time fan of the on-line instructional site Fuzzy Yellow Balls and its founder, Will Hamilton. Somehow, Will is able to convince top tennis pros like the Bryan Brothers and Pat Rafter that regular-old recreational players like us can learn something from them. Will then puts together incredible videos with these guys and brings them to all of us. So I was very excited to meet Will at the U.S. Tennis Congress and sit in on his class called "Add 10, 15, even 20+ MPH to Your Serve by Eliminating Your #1 Serve Killer."  How's that for getting right to the heart of what every tennis player wants?  Anyway, his FYB site is packed with great FREE instructional videos.  Drop by and I guarantee it will be several hours before you're able to pull yourself away (or is that just something that happens to me)?
How to Handle That Jerk at Work – Okay, I know it doesn't sound like a tennis article.  And it's not written that way.  But, believe me – the tactics for handling that jerk at work are the same tactics you need to apply for handling that jerk on the court.  Read through this piece that gives you four simple tactics for dealing with these people and I promise you, you'll apply at least two of them in your next match.
NON-TENNIS STUFF
How to Make a Perfect Smoothie Everytime – I admit it. I'm much too involved with smoothies right now. For example, I'm about to post a video on my Tennis Fixation YouTube channel giving the recipe for my Tennis Fixation Green Smoothie. I've also forced convinced my husband and son to at least try a few of my smoothie concoctions to various degrees of grudging acceptance on their part. Anyway, this is a great article with some good guidelines for how to make not just a perfect smoothie, but a perfect healthy smoothie, every time. Come on – get on the smoothie bandwagon!
Favorite Healthy Pumpkin Recipes – Okay, so these are not all healthy, in my opinion.  But most of them look pretty darned delicious and, if you want to use up the rest of your can of 100% pumpkin (not pumpkin pie filling), I promise you're going to find something you like here.  Also, I love the name of this blog – ChocolateCoveredKatie.com.  I wonder if ChocolateCoveredKim.com is available?
Healthy Halloween Recipes – If pumpkin's not your thing, then check out this other post from Chocolate-Covered Katie where she takes your favorite Halloween treats and actually makes them somewhat healthy.  I am giving the Healthy Butterfingers (never thought you'd see those two words together) recipe a try.
Halloween Tennis Breakfast: Vanilla Pumpkin Smoothie – Meanwhile, back to pumpkin.  So here's my own pumpkin recipe.  This is a smoothie recipe that I created using canned pumpkin that I promise you is delicious and isn't going to make you say, "Why would anyone even buy a can of pumpkin let alone eat it (or in this case drink it)?"  Pumpkin is very healthy and this recipe makes it taste super yummy.
Have you found any incredible resources on-line (or elsewhere) that you think should be highlighted in Tennis Fixation Favorites?  Just let me know in the comments below as I'm always looking for that next great thing that's going to make me an incredible tennis player!

© Kim Selzman 2013 All Rights Reserved