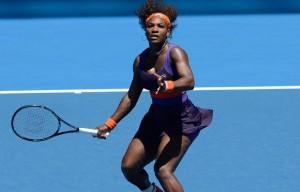 Serena Williams is already through to Round 3 of the 2013 Australian Open, despite rolling her ankle in her first match and smacking herself in the mouth in her second match.  Injuries aside, she looks strong enough to win this tournament and her dress is, in my opinion, spectacular.
Serena is wearing the Nike Women's Grand Pleated Knit Dress in Grand Purple with Electro Orange and Ultraviolet highlights.  This dress features very fashion-forward color blocking at the waist in the form of mesh inserts that are slightly sheer.  Sexy!  Serena is also wearing Ultraviolet compression shorts under the dress and coordinating wristbands and hair wrap that look like they are in Electro Orange.  My favorite part, however, is her shoes.  You can get a look at the whole outfit here and kind of see the shoes: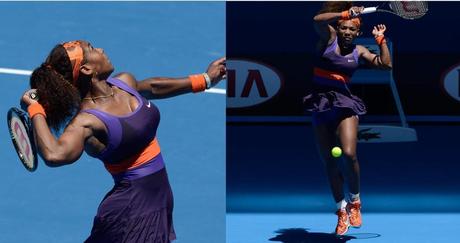 But here's an even better shot of the shoes, from a photo shot at the exact moment when Serena hit the ground after hurting her ankle in her Round 1 match: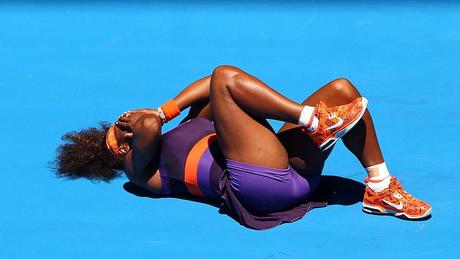 Anyway, I looked for these shoes on-line and couldn't find them anywhere.  And THEN I remembered that, during the 2012 Australian Open, Serena wore shoes from Nike's Black History Month collection (I told you about that in this post – Tennis Fashion Fix: Australian Open 2012 – Update On Serena Williams).  And that's exactly what she's doing this year!  Serena's shoes are from the 2013 Black History Month collection and that's why I can't find them anywhere on-line yet (isn't that impressive detective work by me?).
My conclusion about this dress is that, while it's not my style, it is very much Serena's style and looks fabulous on her.  I also think there are plenty of women with Serena's body type who would look beautiful in this dress.  I'm sure we'll be seeing plenty of it as Serena keeps mowing down her competitors in the Aussie Open.

Photos by ©Ben Solomon
© Kim Selzman 2012 All Rights Reserved