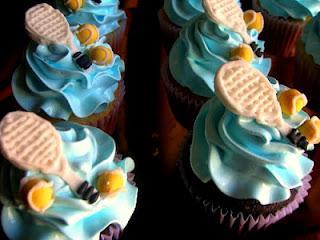 Just in case you thought things were getting too serious around here - look at these very cute tennis cupcakes!
These will be perfect for the next tennis party I host. Except - I'm not sure the color is right in this photo. It seems like the swirly icing should be green and not blue, right? And who took the time to make those little miniature racquets and tennis balls out of marzipan or royal icing or sugar dough or whatever? Should the day come when I have enough time on my hands to churn out something this sweet, you can be sure I will memorialize it with a

Tennis Fixation

post.
Want to see more tennis cakes? Just check out these great posts:
A Tennis Cake With Pink Cupcakes - Yum!
A Whole Tennis Cake TV Show!
Another Great Tennis Cake
Tennis Ball Cake, Anyone?


© Kim Selzman 2012 All Rights Reserved