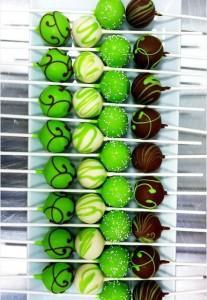 While looking for tips to improve my serve (the never-ending search), I somehow got sidetracked and started looking for tennis ball cake pops.  That seems logical, right?  You can see the progression – tennis serve > tennis ball > tennis ball cake pops.
Anyway, there are lots and lots of very cute cake pops in the shape of tennis balls on the Internet (and I pinned alot of them to my Tennis! Pinterest board).  So many that I started thinking how great it would be to have tennis ball cake pops at my next tennis party.  Since the holidays are right around the corner, its about time for a tennis party.
But then I came across this photo of some absolutely beautiful cake pops that aren't really tennis balls at all.  But they are the color of tennis balls.  Check out the photo – don't these look gorgeous?  Who cares what they taste like?  Although I bet they taste great.
So, based on this photo alone, I'm already planning my next tennis party.  Stay tuned!