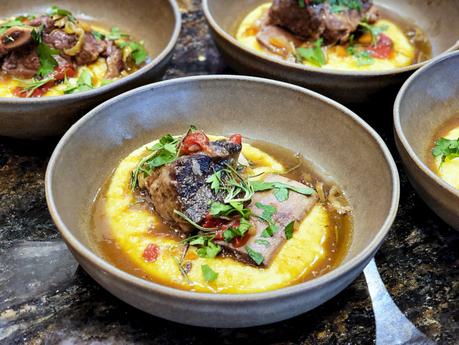 Braised Short Ribs take time to cook to fall-off-the-bone fork tender. Be patient. We're cooking them the old-fashioned way. In the oven.
Short Rib Recipe
OK, let's talk what are short ribs. Well, these are beef short ribs. They're larger than pork spare ribs. So to make it simple, short ribs are beef meat, and spare ribs are pork meat.
Short ribs are chunky looking and you'll want the bone in them.
The meat is really well-marbled. And, during this slow long cooking process, the meat and connective tissue give you truly amazing juiciness and flavor.
Salt and pepper the bone in beef short ribs. Simply lay the beef (bone side down) in a baking dish, snuggle the ribs close together, cover tightly with aluminum foil, and cook in the oven. Bake bone in short ribs in the oven at 275F for 3 ½ - 4 hours.
Beef Short Ribs
Beef short ribs come from the cow's plate cut or the cow's belly. It's also known as the beef chuck part of a cow.
And, like a chuck roast, they're not super tender. This means you have to have a long cooking to tenderize them. And, in my world, I want the bone in on my short ribs. It makes for a richer more intense 'gravy' with more nutrients.
Braised Short Ribs
The best way to cook beef short ribs, again, in my opinion, is in the oven. Braising is the traditional way to cook them. And, it takes time.
Some might cook the short ribs at a low temperature of 275 degrees. I like to cook them at 375 degrees and immerse them in both bone broth and water along with the spice mixture and other yummies to add flavor.
Braised Beef Short Ribs
There's nothing like tender fall-off-the-bone braised beef short ribs. And, this recipe gives you those velvety tender ribs in a rich and delicious brothy gravy that is perfect for sopping and spooning over mashed potatoes or polenta.
Without cooking short ribs for a longer cook time, you'll have something that's tough and chewy. This longer cooking time allows the connective tissue to break down. And, what you get is buttery tender scrumptious eating.
Short Ribs in Oven
My recipe requires about four hours in the oven for the beef short ribs. The ribs come in different sizes in the packaging, so in order to get the largest ribs to that perfect yummy texture, the smaller ones cook longer, too.
After about 3 hours, I'll check the ribs' tenderness. Just open your oven, carefully pull out the oven rack, remove the lid, and use a long pronged fork (like that you'd use while grilling), and check the tenderness. You'll know if the meat can be shredded easily from the bone. Or if the meat has fallen from the bone, check it for tenderness and shredding.
Best Short Rib Recipe
You'll find that this is the best short rib recipe because it's all in one pot. You're going to sauté the carrots, onions and garlic. Then you remove them from the large pot and add the dredged short ribs to brown. After that, it's simply dumping everything else into the pot with the meat.
Now I'm sure you could precook the short ribs in a pressure cooker or multi cooker then transfer to finish in the oven. Cook time would be certainly reduced.
I wouldn't recommend that you cook beef bone in short ribs in a slow cooker.
How Long to Bake Short Ribs in Oven
At 375 degrees, my beef bone-in short ribs required about 4 hours. Then I turned off the oven and let them sit in the oven until I was ready to serve them, which was about an hour's wait.