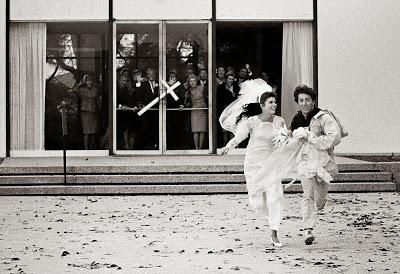 By Alex Simon
There are few rituals in life more chaotic, confounding and magical than the wedding. Appropriately, marriages have provided the backdrop for many a story spun through the ages. Whether it's sending out multitudes of wedding invitations, choosing the right dress, or whether to seat Aunt Mabel next to her second or fifth ex-husband at the reception, weddings both in life and on film are almost always guaranteed to bring forth a surge of emotions. Below are a few of our favorite cinematic nuptials:

1. The Searchers (1956)
John Ford's western masterpiece is full of many iconic moments, not the least of which is one of the screen's greatest knock-down, drag-out fights between Jeffrey Hunter and Ken Curtis for the hand of comely Vera Miles. Martin Scorsese loved this scene so much, he paid homage by having his characters watch it in Mean Streets (1973).

2. Rachel Getting Married (2008)
Anne Hathaway reinvented her squeaky-clean image with her no-holds-barred portrait of a self-destructive addict returning home for the nuptials of her very grounded sister (Rosemarie DeWitt), laying waste and destruction to everything and everyone in her path. Hathaway's confrontation scene with her mother (the great Debra Winger) will leave the most hardened viewer squirming in discomfort.

3. High Noon (1952)
Fred Zinnemann and Carl Foreman's thinly-veiled condemnation of McCarthyism opens with the wedding of town sheriff Gary Cooper and his Quaker bride, Grace Kelly. Vowing to hang up his badge to appease the peace-loving views of his new wife, these high hopes are dashed when Cooper learns a man he sent to jail years before is arriving on the noon train with some pals, looking for payback. Lovely Grace keeps her wedding dress on throughout the tense proceedings as Copper faces the villains down, with no help from his fellow citizens.

4. Four Weddings and a Funeral (1994)
One of the zaniest and most bittersweet of romantic comedies, Hugh Grant plays a perennial bachelor who always finds himself the best man or wedding guest, as opposed to the groom, at a succession of friends' nuptials. When he meets comely American expat Andie McDowell, however, he suddenly finds himself contemplating a lifestyle change.

5. The Godfather (1972)
Francis Ford Coppola's mafia epic opens with an equally epic wedding sequence that takes up most of the film's first act, establishing the rich tableaux of characters that make up the story. We learn all about the Corleone family during the proceedings: a true American dynasty based on vice, ambition, greed and avarice, ruled over by the benevolent Don Corleone (Marlon Brando), with his war hero youngest son (Al Pacino) a reluctant observer. Alas, not for long.

6. The Deer Hunter (1978)
One of the first American films to deal openly (and critically) with the Vietnam War, Michael Cimino's finely-drawn portrait of the war and its effect on a group of Pennsylvania steel worker friends (Robert De Niro, Christopher Walken, John Savage) opens with one of the longest weddings and receptions in film history, graphically detailing life before and after battle for these good-hearted, patriotic Americans. Don't miss the exchange between smitten lovers Walken and Meryl Streep (in her star-making role) during the reception.

7. The Wedding Singer (1998)
Adam Sandler had his finest hour in the first film to portray the 1980s nostalgically. Sandler is a sweet-natured, small-time musician in '80s New Jersey who makes his living as the lead singer in a cover band that specializes in playing wedding receptions. When his own fiancée walks out on him in the eleventh hour, Sandler thinks he's found redemption in the guise of lovely Drew Barrymore. There's only one problem: she's engaged to the biggest '80s douchebag since American Psycho's Patrick Bateman. Never have so many different weddings been portrayed with such verve on-screen.

8. Crimes and Misdemeanors (1989)
Woody Allen's masterful morality tale, a black comedy for the ages, is the Woodman's perfect blend of comedy and tragedy, which many view has his finest film. The story builds up to, and concludes with, the wedding of blind rabbi Sam Waterston's daughter, and also with the bittersweet denouement that one can literally get away with murder, both in the literal killing of a person and the metaphorical killing of a person's heart.

9. The Princess Bride (1987)
William Goldman's classic blend of comedy, fantasy and satire tells the tale of heroic Westley (Cary Elwes) who must rescue his true love Princess Buttercup (Robin Wright) from the dastardly clutches of the evil Prince Humperdinck (Chris Sarandon) before their wedding can take place. Peter Cook nearly steals the show as the vicar with a most memorable speech impediment.

10. The Graduate (1967)
Yes, we saved the best for last. Mike Nichols' classic film about the generation gap virtually defined the Baby Boomers with its barbed look at a recent college grad (Dustin Hoffman, in his star-making role) utterly adrift in his parents' wealthy, sun-kissed, Southern California world. When he engages in a meaningless affair with a family friend (Anne Bancroft), then promptly falls in love with her daughter (Katharine Ross), the final showdown in a steel and glass, post-modern chapel contains enough satirical symbolism for ten movies.