First thing to do is to PREVENT your dog from getting lost by ensuring that your gate at home is closed or locked and your dog cannot get out of it. When you are traveling, keep your dog on leash with you at all times. 
Prepare ahead of time for the worst case scenario. If your dog has a microchip, make sure that it is registered with the company with your current contact info. Cici's is with HomeAgain and they also have a service that if she is lost, I can call them and they will send alerts out to all of the locals including neighbors, vets, and SPCA. Plus, if she is found 500 miles away, they will fly her home for free.
Get good dog tags for your pet to wear at all times. And when you are traveling be sure that the contact info is correct.
Now a word here about Pet ID tags. We have tried numerous pet ID tags. By far the BEST ONE we have found is this one…
http://www.1cutepooch.com/
We LOVE the various options, the state driver's license tag is our favorite. Second is the Hello name tag version. Your dog's name and contact info and photo is imprinted on the ID tags. And what really set these apart for me (and Cici) is that you can put the tags into a leather pouch that attaches to the harness or collar. It was a little bit hard to open but once done, that was it. With all of Cici's rolling around on her back,, at home and in the grass, all of the other tags we've tried came off within an hour or two. NOT with these tags. She's worn them now for a few weeks. Imagine my surprise.  The ones below are similar to the ones sent us.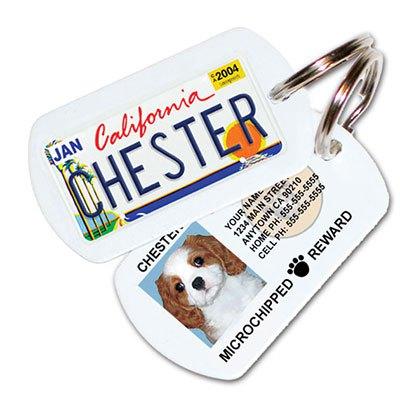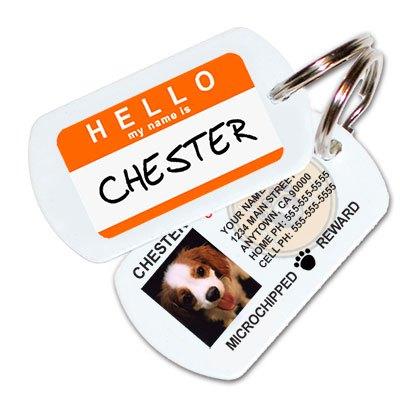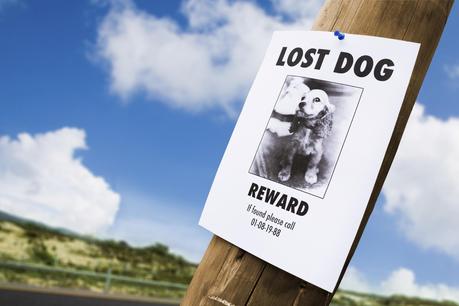 Nearly one in five lost pets goes missing after being scared by the sound of fireworks, thunderstorms or other loud noises, according to a survey by The American Society for the Prevention of Cruelty to Animals. And, while losing your pet can be a traumatic experience for both you and your pet, have hope as 93% of dogs and 75% of cats reported lost are returned safely to their homes according to another survey.
If you do lose your pet, here are 10 top tips to help reunite you with your furry friend as quickly as possible:
Contact or visit your local shelters and animal control organizations.  File a lost pet report with every shelter, dog pound and animal control office within a 60-mile radius of your home and visit the nearest shelters daily, if possible.


Get the word out to all veterinarians in the area.  Sometimes people pick up a stray and drive it to a distant clinic.

Search your neighborhood.  Walk or drive through your neighborhood several times each day. Enlist friends, family and others to help you.  Ask neighbors, letter carriers, and delivery people if they have seen your pet. Hand out a recent photograph of your pet and information on how you can be reached if your pet is found.

Go door to door and speak with your neighbors.  The more people know you have lost a pet, and that you are upset, worried and desperately trying to find your pet, the more people will call you if they see an animal in the woods or on the road, or in their backyard.

Place posters and flyers throughout the neighborhood.  Post notices at grocery stores, community centers, veterinary offices, traffic intersections, at pet supply stores, and other locations. Also, place advertisements in newspapers and with radio stations. Include your pet's sex, age, weight, breed, color, and any special markings. To avoid scams, when describing your pet, leave out one identifying characteristic and ask the person who finds your pet to describe it.

Post info about your pet on all pet recovery websites and services.  Sites such as Craigslist.org, TheCenterForLostPets.com and FidoFinder.com allow you to broadcast your missing pet info quickly.  National pet care providers can be hired to assist you in your search for your lost pet.

Consider using a lost pet recovery service.  There are now numerous lost pet alert services, such as FindToto.com, that will contact homes, veterinarians, shelters and animal control organizations for a reasonable fee.

Place food and water outside your home.  Your pet may eventually return to your home when they get hungry or thirsty.  Consider placing the food in a rented or purchased humane pet trap to capture them.

Tell everyone you see about your pet and ask them to keep their eyes open for her.  The more people you alert about your missing pet, the greater the chance someone will recollect seeing your pet in their area.

Don't give up.  

Be aggressive in your search, get lots of help, get the word out right away – don't wait a few hours "to see if she'll come home on her own "– you need those early hours to put up posters and start your search.