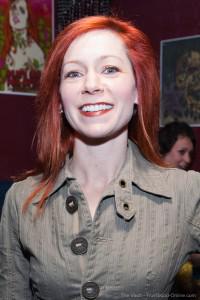 True Blood's Carrie Preston has given Wetpaint ten need-to-know facts.  They include some interesting information including facts about her education, her hair color and that she has a production company.
1. Her husband, Michael Emerson, played Ben Linus on Lost! This is some major geek-fest news for all you Lost fans out there — and it only gets better. Not only is Carrie married to the leader of "The Others," but she also appeared on Lost as Ben's mother! Wow, we can't even imagine all the mommy issues that made their way into the bedroom after that scene….
2. Her red locks are faker than the Kardashian sisters' boobs. Sorry to disappoint, but Carrie's natural hair color is not red. This beauty is a blondie, so she sported a wig for the first three seasons of True Blood! But she finally decided to take the plunge and dye her locks for Season 4, an experience she said was liberating. "It's fun being a redhead," Carrie told us in our exclusive interview.
3. She started her own production company at just 12 years old. In her front yard. But still, a harbinger of things to come — and way cuter than a bunch of random kids over-charging you at their lemonade stand. These days, Carrie co-owns Daisy 3 Pictures — a big-kid production company with a little kid name!
4. She was on Law and Order: Criminal Intent three times! We all know Law and Order recycles actors like empty bottles, but really? Three times? Carrie played a depressed mom who kills her kids (don't get any ideas, Arlene), a crazy housewife who kills her husband, and an innocent victim who gets infected with an animal virus and drops dead. It all sounds very True Blood.
5. She's fashionable! Carrie is a girl's girl through and through, and she has some major fashion don'ts to impart to her fans: No short-shorts and no thong-bikinis. OMG, what are we gonna do without our thongs and booty shorts?! Dang, guess we'll have to break out our belly shirts and tramp stamps instead.
6. She's dying to do a scene with Eric! Carrie says, "I think seeing Arlene square off with Eric in some kind of strange debate about vampire rights would be hilarious and scary." Please, we all know she just want to marvel at Eric's hot bod up-close and personal. You're not fooling anyone, Carrie.
7. She's nothing like Arlene. Carrie and Arlene might both be from the South (Carrie hails from Macon, Georgia), but the similarities stop there. Carrie's says, "I mean I'm not anything like Arlene. Nothing." So wait, Carrie doesn't have a spray tan and an evil baby living inside her? So bummed.
8. If she could be any super natural on True Blood, she'd be a shapeshifter! We can totally see Arlene morphing into an animal — specifically a high strung Chihuahua or maybe a pink bow-wearing Poodle. You know, something with long nails.
9. She went to Julliard! Carrie honed her skills at the best acting school in the country — it's no wonder she's such a hot commodity! They must have one stellar class in "The History of Fang-Banging."
10. She's a director. Talk about multi-talented! Carrie just finished directing That's What She Said, a Sex and the City-esque film starring Anne Heche. Look out for it in theaters this summer!
source: wetpaint.com