Do you think Darren Clarke or perhaps Phil Mickelson's golf performance at Royal St. George's should be added to this list of the top ten Open Championship appearances? Does a golfer have to win in order to be listed?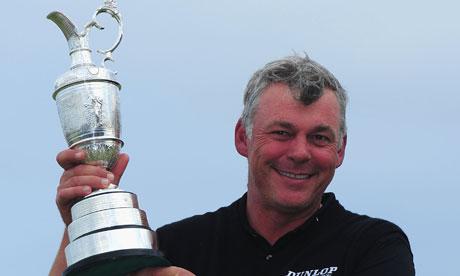 According to Bestonlinecolleges.com Jack Nicklaus' performance at St. Andrews in 1970 and Tom Watson with "one of the finest displays of golf in a major championship" at the 1970 Open Championship rank among the top golf on this list. Watson also displayed a third round this week worthy of a second look. At sixty-one years-old, the five-time British Open Champion "vaulted ten spots up the leaderboard" but I think it was his hole-in-one that gave fans a Champions Tour golfer to cheer for this week!
Seve Ballesteros has two spots in these top rankings with John Daly and, naturally, Tiger Woods making the cut. Woods was added to the list because of his performance at St. Andrews "winning the Open by eight strokes over Ernie Els and Thomas Bjorn."
Here is the list of the top-five: check out the rest of the best on the website, complete with great golf videos and see if you agree and who you would add or remove:
1.  Old Tom Morris, Prestwick, 1862
2.  Ben Hogan, Carnoustie, 1953
3.  Jack Nicklaus, St. Andrews, 1970
4.  Tom Watson, Turnberry, 1977
5.  Seve Ballesteros, Royal Litham & St. Annes, 1979
Voice your opinion on Golf4Beginners on Twitter,  Facebook  and read our blogs on Golf for Beginners.