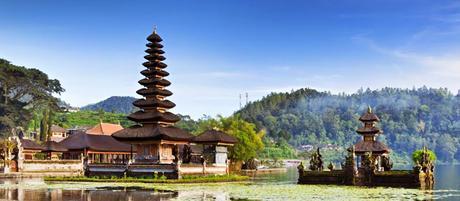 This tropical, exotic island offers various pleasure and entertainment activities. This versatile get away destination has so much to offer we are going to jot down ten things that you shouldn't miss out while you take a vacation of Bali packages.
1.   

   

Sea sport 

-  Bail is a well known destination for sea sports, whether it's the surf of the tides or a sink in the sea (diving).  Bali has it all, one doesn't not need to have prior experience to enjoy the this liquid playground as classes are available for surfing and diving.
2.

      

Mount Batur

 -  if you are in Bail you have to climb the Mount Batur, don't worry the mountain is foot friendly with its height, but the view it offers is not something that can be taken with the same ease. A tourist to Bali has to take in the spectacular view that Mount Batur has to offer.
3.

       

Fishing at Jemeluk

:- Jemluk is a town that is yet to be tainted by the blistering routine that big cities has, one can even go to the lengths to call it a droopy town, but none can ignore the simple and peaceful beauty that the town has to offer.4.

       

Tirta Gangga water palace

:- This is one of the main Bali tourist attraction,  this watery palace is like a beautiful female ornamented by exotic fountains and extravagant statues.
5.

     

Get pampered at the spa

 - Bali has a wide range of spa experience, say it a five star spa experience, Bali has it. Yet, Bali still has the shady massage parlor, if that's your thing.
6.

       

Nightlife in Bali 

- This town just knows how to party and at night they take the partying up a notch. Nightlife in Bali has their reputation to inhibit the inhibitions, if you take up Bali packages for a wild night of fun, you will not be disappointed.
7.

     

Jimbaran bay dinner

:- this sea laden town doesn't offer just sand and tides in its beach, but some mouth watering delicacies at the beach side restaurants of Jimbaran bay. After your day of soaking up the sun and sea, dinner at Jimbarian bay will be most relaxing and a refreshing rejuvenative experience.
8.

     

Experience the awe of Tanah lot

- This religious destination can be found at the edge of the sea, its isolation gives it an enticing appeal and it is a must visit attraction in Bali.
9

     

Barong dance performance 

-  This traditional dance is one to be watched by anyone who visits Bali. This dance form adorns many masks and depicts mythical elements. This traditional art will always leave the viewers awe-struck.
10.

  

The monkey forest, U bud 

- As the name suggests it is a forest with an abundance of our gene donors, visit this destination to watch the funny antics of these clever animals. 
These are the top ten must to experience on Bali packages .