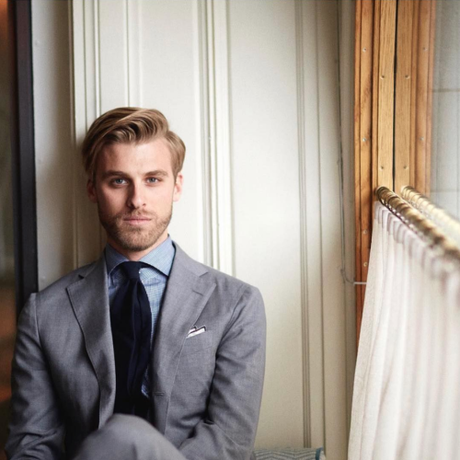 We're doing a Black Friday sales roundup at Put This On. The list is massive, reaching into the hundreds of stores, and we'll be updating the list from now until Sunday as we learn of new promotions. For those who want something more manageable, I thought I'd put together ten sales from the list that I think are worth specially highlighting. Combine this with this past week's posts on other Black Friday deals and you have nineteen Black Friday sales that I think are worth checking out. 
Marcus Malmborg: Up to 70% off Eidos
As you may have heard, Antonio Ciongoli is leaving Eidos as its Creative Director after next season's collection. The line will be taken over by Simon Spurr, who's known for his sleeker NYC sense of style, while Antonio is moving on to do a new men's line for Roller Rabbit. Word is that the line will be inspired by East Indian traditions, including hand block printing, which I find really exciting. 
For the moment, this season's Eidos collection is on sale at Marcus Malmborg. Trousers are as low as $204; sport coats start at $777. Eidos' one-piece collar polos (which look better with a jacket rather than worn on their own) are priced at $156 – not too far off from the price of nice dress shirts these days. I also really like the company's unstructured topcoats, which are a nice way to dress up a pair of jeans and a chunky sweater. For fit and styling questions, you can browse this thread at StyleForum.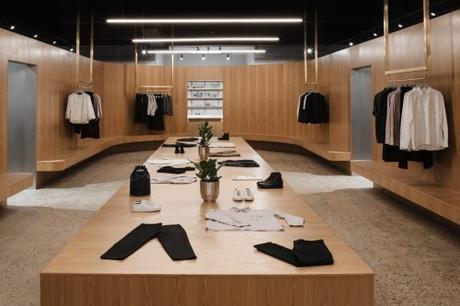 Need Supply: 20% Off, Code SHOP20

Don't let the photo of Need Supply's minimalist store presentation fool you – the selection here is massive. Much like End, you can find everything here from niche Japanese labels such as Engineered Garments, Visvim, and Orslow, to more contemporary styled lines such as Our Legacy, Unis, and Howlin' by Morrison. Need Supply in the last few years has become a big destination shop for casualwear and, more recently, exclusive sneaker releases (such as the corduroy Air Maxes, although those didn't go so well). I often come here for shoes.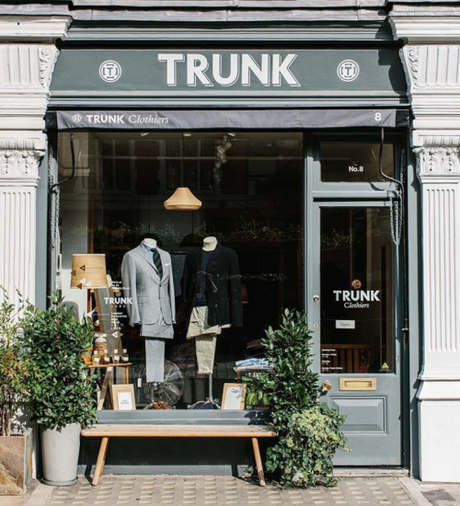 Trunk Clothiers: 20% Off Select Items, Code LASTCHANCE
I wish there were more stores these days selling genuinely good caualwear to classically minded guys. The market is largely bifurcated into tailored clothing shops with frumpy weekend clothes, then casualwear shops that are too fashion forward for conservative men. Trunk Clothiers is great in that they bridge these two worlds. For Black Friday, they have a small selection of items where you can take 20% off the listed price (on top of the ~20% discount for VAT, assuming you're located outside of Western Europe). I like this A Kind of Guise parka, Aspesi field jacket, Barbour Bedale, and pair of Common Projects Achilles low tops. There are also a ton of Gitman Vintage shirts in there, which would look great with jeans or chinos.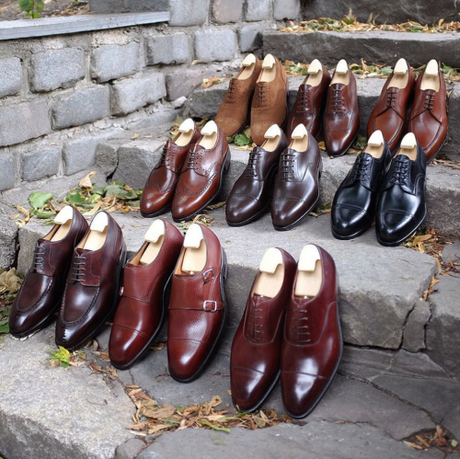 Skoaktiebolaget: Discounts on Select Shoes
Skoaktiebolaget, a sponsor on this site, has become one of the leading online boutiques for high-end footwear. One of the things I like most about their operations is how there's something for everyone – from the more affordably priced Carlos Santos to premium, handwelted shoes by Saint Crispin's. For Black Friday, they've put an assortment of their shoes on sale. These brown Carmina oxford cap toes, built on a handsome almond toe last, have been discounted to just $350. Mid-brown Carlos Santos boots are $275; suede John Lobb split toes $995. There are also a bunch of handsewn gloves from Hestra's higher-end Table Cut collection, starting at $150.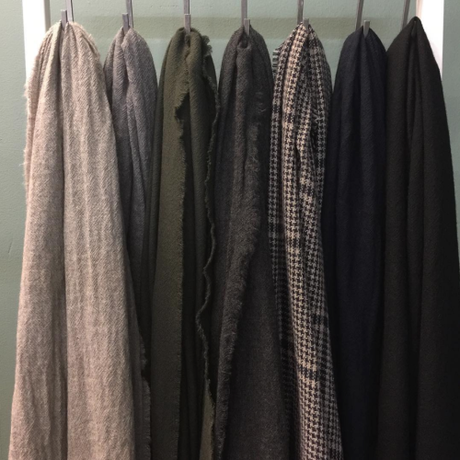 Begg of Scotland: 40% Off Select Scarves
Begg makes some of the most exquisite scarves in the world, but they're painfully priced. My favorites in their range are the large sized cashmere pieces. They're long enough to allow you to tie the scarf however you'd like. The width is also generous enough to allow the scarf to fold beautifully when it's just draped around your neck. At the moment, they have a small selection of scarves discounted 40%. Even with the promotion, these are pricey, but they're handsome pieces that you'll treasure for years.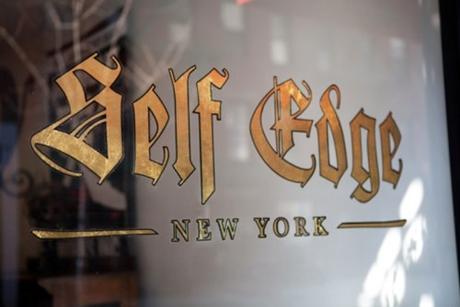 Self Edge: 16% off, Plus Free Shipping, Code BlackFriday2017
I suppose the mark of any good store is that you still enjoy your purchases many years later. That's true of all the things I've bought from Self Edge – jeans, boots, wallets, t-shirts, and jewelry. This weekend, they're having a storewide sale, where you can take 16% off and get free shipping (the discount isn't that deep, but Self Edge's sales rarely break past the 17% mark). I love 3sixteen's jeans, Flat Head's thick flannel shirts, Lady White's t-shirts, and everything in the shop's jewelry section. The distinction between style and fashion is often overwrought, but it says something that Self Edge's aesthetic has remained relevant and stylish since their opening in 2006.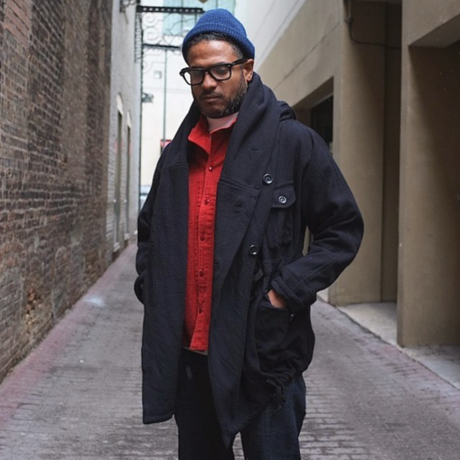 Independence: 20% Off, No Code Necessary

There are a million stores nowadays that specialize heritage style, Americana, and workwear, but Independence does these looks better than most. They're the sister company to Oak Street Bootmakers (who's also having a Black Friday sale). The Chicago-based boutique carries all the niche Japanese lines you'd expect – Battenwear, Engineered Garments, Orslow, and Kapital – as well as less widely distributed names such as Himel Brothers. 
There are some real deals here. Two Palms Aloha shirts are $25; Earls Apparel fatigues are $52; Donegal camp socks are just $8 a pair. Levi's Vintage Clothing 1947 501s would again be great for wear with either causal jackets or sport coats; Lady White tees are terrific for upgraded basics. There are even some Drake's accessories on discount.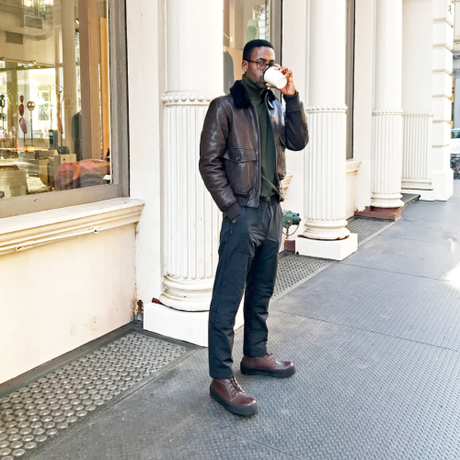 Blue in Green: Up to 30% Off, Depending on How Much You Spend

Maybe I haven't been paying close enough attention, but Blue in Green in NYC is one of the more interesting workwear stores right now. I've always thought of them as a somewhat straightforward denim boutique, another place to pick up Japanese imports, but in the last year, I've noticed they have some really daring inventory. Monitaly tanker jackets, Mackintosh dispatch coats, RFW slip-on boots, handwoven Orslow vests, gardening-inspired workwear from Sassafras, and the apocalyptic hobo madness you can expect from Kapital. This is still a place where you can buy high-end versions of workwear staples, such as red flannel shirts and military parkas, but the shop feels like something more these days. For Black Friday, you can take 20% off orders under $500; 25% off orders over $500; and 30% off orders over $1,000. The discount is automatically applied at checkout.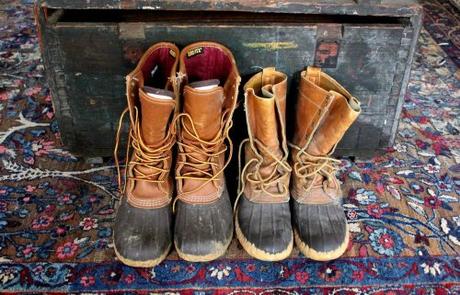 LL Bean: 25% off Bean Boots, Code FRIDAY25
LL Bean occasionally holds sales, but they rarely include their duck boots. The shoes are just too popular. For the past few holiday seasons, they've even had backorders – sometimes as high as 100,000 pairs – which can take up to six months to fulfill. Those left out in the cold have to contend with eBay resellers who flip Bean boots for 2x retail. 

Just for today, however, they're offering their iconic boots at a 25% discount (use the code FRIDAY25). These go great with parkas, waxed cotton Barbours, duffle coats, and almost any kind of workwear (from standard Americana to quirkier Japanese reinterpretations). Wear them with jeans, chinos, and Shetland sweaters. They offer a lot more protection in the snow and rain than your standard pair of leather boots, but are easier to wear than Wellingtons. They also look great if you enjoy a certain New England sense of style. 
The standard advice is to go a full-size down in the unlined version (or 1.5 sizes down if you wear half sizes), but to take your regular size for lined models. I don't have any experience with their lined boots, but can confirm that you'll want to go a full size down in the unlined ones – even if you plan on wearing thick socks.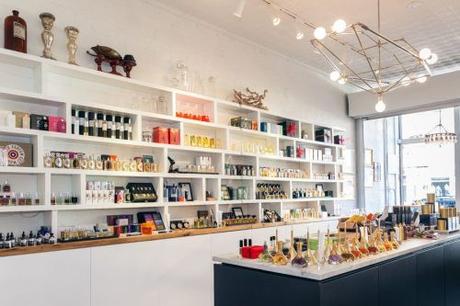 Twisted Lily: 20% Off, Code 48HOURSONLY
Twisted Lily is one of my favorite fragrance shops. Their selection is a little more niche and interesting than Sephora, and they're often generous with the free samples they include in orders. For Black Friday, they're offering a 20% off discount across the board. I'd never recommend blind buying a fragrance, especially niche ones, as tastes can be so specific. That said, maybe this is an opportunity to buy something you're familiar with or get a small 0.7 ml sample of something new (note, given the small size of the samples, you'll want an atomizer). Some of my favorite fragrance houses here include Olfactive Studio, Tauer Perfumes, and Ormonde Janye. For a safe scent, try Penhaligon's Sartorial, which is supposed to smell like a romanticized version of a tailor's workroom.