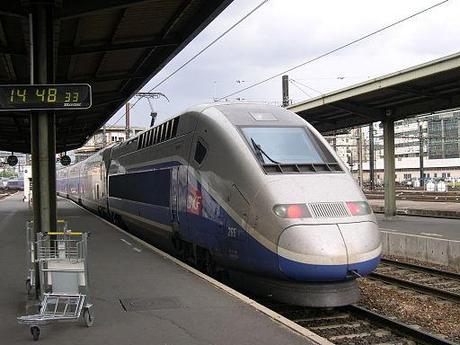 TGV Duplex leaving the Gare de Lyon of Paris (Photo credit: Wikipedia)
So what could be your reason why you are interested to learn French? Well, your reasons could be as listed in the ten items below:
You want to be counted as one of the French speakers in all the world
French is the native language of some 200 million people and is the second language of millions more. In fact, countries like France, Belgium, Switzerland and Luxembourg in Europe and Canada in America are just few of the places French is spoken.
It's the language of the well educated in parts of Southeast Asia, Northafrica and much of western and Central Africa.
We cannot deny that some of the progressive countries around the world are recognizing French as one of their languages. You would want to go to these countries for employment purposes, wouldn't you?
It is the language in the European Union and UNESCO
Considering that French is one of the official languages of the powerful organizations around the world, the language is a must to learn for those who wanted to work in here. Besides, considering that it has millions of speakers, wouldn't you want to be added in the list?
French is the language for learning foreign languages
Aside from English, French is one of the languages learned among various foreign learners around the globe. Spanish, Italian, Portuguese, and even Chinese Mandarin is among the languages learned.
French is a language of business
Starting your business in French-speaking countries is another reason why some people are compelled to learn French. Have you also thought of the same?
French is a language of technology and medicine
Dr. Luc Montagnier discovered HIV, the virus that causes AIDS. The Chunnel under the English Channel, the TGV high speed trains, and the Concorde are only a few examples of recent French technological advances.
So if you are indeed interested to learn French, just like choosing to learn English abroad, you can go for an option to go abroad also with your French learning by choosing to Study French in France.