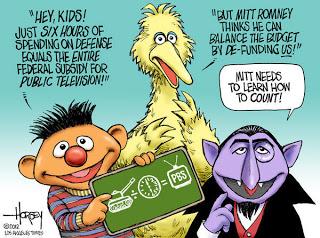 Retrieved from http://articles.latimes.com/2012/oct/09/nation/lat-na-tt-big-bird-20121008


With all of the recent election coverage, one of the most publicized news stories lately has been the comment Mitt Romney made during the debate regarding funding for PBS.  I do not want to go into his politics, but I do want to address what that kind of cut in funding would mean for us.  To begin with, funding for PBS only makes up 0.00012% of the budget, and costs taxpayers an average of $1.35 a year.  Cutting their funding would not cause even the smallest dent in the National debt.  Many local stations

would actually go out of business without the funding that public television provides them.  With all of the economic, social, and international issues facing us right now, latching on to a cause like cutting free educational television is just ridiculous. 

Regardless, I think any cuts in educational funding are a dangerous precedent to start.  Shows like Sesame Street, Reading Rainbow, and Bill Nye the Science Guy provide quality programming to children who might not have as much access to education.  Half a million teachers in this country use the educational resources provided by PBS.  They receive lesson plans and documentaries that are used in their classes.  In a nation where schools are already underfunded, I don't think our educational program can survive more cuts.  Especially since, when it comes to cuts in education, it does always seem to be the arts that suffer first.  During the debate, Romney went on to say, "I will eliminate all programs by this test, if they don't pass it: Is the program so critical it's worth borrowing money from China to pay for it? And if not, I'll get rid of it."  That statement, however, forces me to ask the question, "What is critical to our country?"  Who decides the critical issues?  I believe education and the arts are critical to the nation.  I'm a fan of sci-fi and fantasy, a genre that is largely ignored by the mainstream, but is critical to me.  As sci-fi and fantasy is a niche genre, it would suffer the most if the arts were to come under attack.  It's hard not to feel marginalized by politicians who treat the issues that I care about as unimportant in the grand scheme of things.   PBS may not matter to Romney, but it does matter to many others in this country.