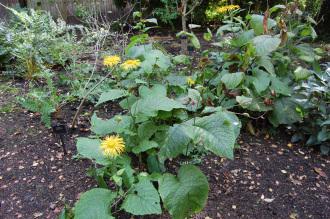 Telekia speciosa (28/09/2014, Kew Gardens, London)
Position: Full sun to dappled shade
Flowering period: Late summer to early autumn
Soil: Moist, well drained
Eventual Height: 1.8m
Eventual Spread: 1m
Hardiness: 4a, 4b, 5a, 5b, 6a, 6b, 7a, 7b, 8a, 8b
Family: Asteraceae
Telekia speciosa is a deciduous perennial with a clump forming habit. Its mid green leaves are ovate with double serrate margins, up to 30cm long and 20cm broad. Its yellow daisy like flowers have orange centres, are terminal and up to 8cm across. Its fruit are sunflower like and readily self seed. Its roots have rhizomes which aids its slow spread.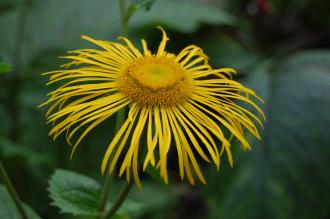 Telekia speciosa Flower (28/09/2014, Kew Gardens, London)
Telekia speciosa, commonly known as Ox Eye Daisy or Yellow Ox Eye, is native to central Europe, central and south Russia and the Caucasus. In its native habitat it grows at forest margins and glades. Telekia speciosa is synonymous with Buphthalmum speciosum.
The etymological root of the binomial name Telekia is named after Count Sámuel Teleki de Szék (1845 – 1916), a Hungarian explorer. Speciosa is from the Latin meaning 'spectacular'.
The landscape architect may find Telekia speciosa useful as part of mixed herbaceous planting scheme.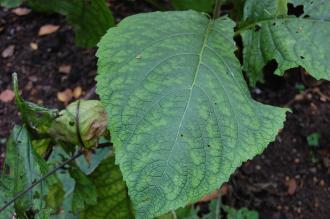 Telekia speciosa Leaf (28/09/2014, Kew Gardens, London)
Ecologically, Telekia speciosa flowers are attractive to pollinating insects. Its seed are attractive to bids and some mammals.
Telekia speciosa prefers moist, fertile, well-drained soils. It tolerates most pH of soil. It dislikes dry soils.
Telekia speciosa requires little maintenance.