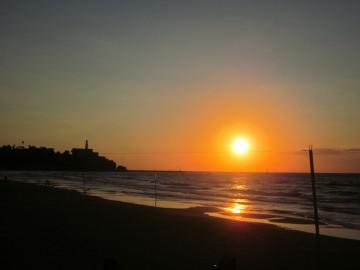 Winter sunset over Tel Aviv
Right at the heart of one of the most politically heated and conflict-prone areas of the world is a one-of-a-kind city that certainly knows how to party in a very "creative" way. With a population of less than a million people, but with a lot of attitude, Tel Aviv has rightly earned a reputation as one of the most appealing party and artsy capital cities of the world.
Israel is often unfairly pigeon-holed as a religious destination for spiritually-keen tourists from the three monotheistic faiths, or as a completely avoidable and no-go zone because of the constant security threats and sporadic terrorist attacks derived from its geographical situation and its political context amid the never ending conflict with its immediate neighbors. But Israel is much more than what spiritual preachers and the media or politicians say about it – especially when it comes to its entertainment, cultural and artistic offerings.
"I could not even conceive living someplace else. Life in Tel Aviv is simply as good as it gets," affirmed Dan Grossman, a 30-something American expatriate who has called Tel Aviv home since his early 20s. And most Tel Avivians, at least those around Dan's age, agree with him. They not only adore their town but are, in a way, infatuated with it. And many of them – Dan included: he owns a vintage haute couture shop on Shenkin Street, exactly at the epicenter of Tel Aviv's happening scene – are part of why Tel Aviv is such a vibrant and exhilarating city. They are visual and conceptual artists, sculptors, painters, writers, designers, actors, architects, dancers, musicians, artisans, dj's, iconoclasts, creators, curators and, above all, entertainers and entertaining, just like their town.
"This is a place that triggers inspiration. It provides joie de vivre and lives under the laissez passer motto. Tel Aviv is groovy and hipster, it's all about now and here. It's got a lot of mojo, if you know what I mean," Dan added, smiling.
Tel Aviv, founded by some of the first European Jewish settlers arriving in historic Palestine at the end of the 19th century, is not only the biggest and most affluent city in Israel, but is also its cultural melting pot. Its native Muslim and Jewish Arab inhabitants generally live elbow to elbow with a lot of the creative and bohemian crowd in the old ramparts of historic Jaffa, just south of downtown Tel Aviv. The city also has a vibrant community formed up by Jewish from the diasporas, Argentineans, Russians, Ethiopians or French, you name them and a colorful and quite active expat community, from Filipinos to Sinhalese and Sudanese, all allured by the city's vibrant economy and the country's porous Southern border with Egypt in the Sinai. This rich mixture, seasoned by a beautiful Mediterranean coast, spotted with sandy and low tide beaches and a year-round pleasant weather, make Tel Aviv simply irresistible.
The perfect weekend in town should start right there by the light blue sea. A jog or a bike ride along the Corniche, maybe some beach volleyball or racquetball (a local favorite). If you are more of a late sleeper, nothing compares to a light or heavy brunch (depending on your drinking the night before) along with a beer or a simple juice at one of the many stalls and restaurants along the coastline.  Next in your schedule should be a visit to Jaffa's street market, for art shopping between the Ottoman-built walls, followed by a stroll along Rothschild Boulevard to see the UNESCO World Heritage Listed Art Nouveau buildings. Take frequent breaks for a light coffee on one of the numerous terraces, where people watching could keep you entertained for hours.
Later on or maybe the day after – since in Tel Aviv, being in a hurry is simply not part of anyone's plan – be sure to visit the extended new wing of Tel Aviv's Museum of Art and the superb Holon Design Museum, both recent additions to the town's cultural scene. Try out Dizengoff Street and the new port, where you will have enough options to sate your shopping and eating cravings. And try to stop by the Suzanne Dellal Center to catch one of the many awe inspiring dance performances. Get yourself lost in the vast array of galleries and never ever miss the chance to go out at night, maybe even every night. Go have dinner and then some drinks, listen to some of the best jazz and dance to some terrific music. Say hello to the Sun as the day starts again by the Mediterranean and start all over again.