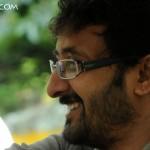 Music director Ramana Gogula returns as a composer after a very long gap. An album from the music director in an earlier age was very much awaited by many but that was a different time and times have changed now. With Teja as director can the music director show some innovation and try to reinvent himself. Let's find out.
Rumba Rumbapa begins the album on an upbeat note. Despite the poor beginning the song gets better as it progresses. 'Idi Vemana Padyam' is a fun number mainly because of the lyrics which keeps one engaging throughout. 'Konte Konte Choopulatho' has an interesting hook that feels heard before though. It gives the vibe of a typical Ramana Gogula melody.
'Nuvvu Aggipullavaithe' is another typical Ramana Gogula song that the music director tries to pep up with slightly upbeat arrangement. But despite his sincere attempts to peppy up the song, the dated underneath comes through. Lyrics once again steal the show in 'Puttinodiki Savu Tappadu' especially the refrain 'Ee pilla matharm naakesi choodadu' is very addictive. The albums ends with 'Devuda Mokkalira' another typical Ramana Gogula melody but thankfully the music director just lets it flow without tempering it with unnecessary arrangements to make it sound modern. And thanks to this, it has an old world charm quality to it that works to its advantage.
In Veyyi Abaddalu it's the lyrics which shine over the music when one thinks about the album as a whole. Not that the lyrics are literary gems but they are fun to listen to with music acting as a secondary element to it. Also on music the sound of Ramana Gogula feels very dated and clearly lacks the freshness and punch it once had.
Our picks: Puttinodiki Savu Tappadu, Devuda Mokkalira
Rating: 2.75/5